Patriots
This lineup reshuffle from Bill Belichick offers hope that Patriots offense is on the upswing
"I think everyone thought that was the best thing for us to do at this time."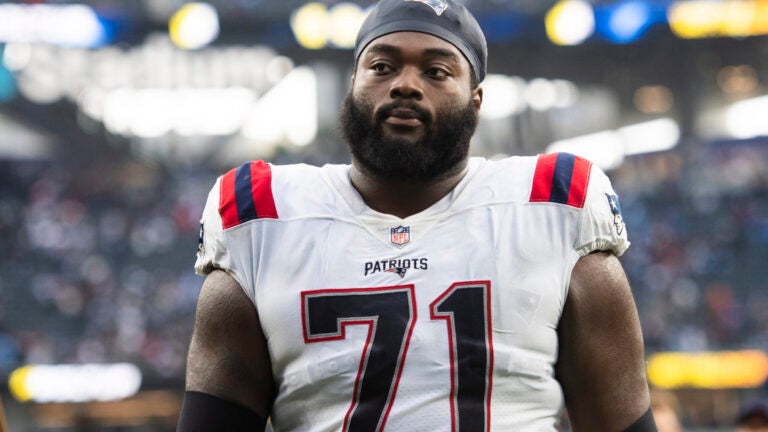 After weeks of futility, Mac Jones and the Patriots offense on Sunday was the best it's looked in … well, almost a year.
Jones delivered in the clutch after the Bills erased a double-digit Patriots lead in the fourth quarter, completing six of seven passes for 70 yards in under two minutes of play en route to his second career game-winning drive.
New England's run game averaged 4.0 yards per carry, with Demario Douglas' lone touch on the ground leading to the Patriots' first rush of 20 yards this season.
After not reaching the red zone in 29 straight possessions earlier this month, six of New England's nine drives against Buffalo made it within the Bills' 20-yard line.
The Patriots finished Sunday's 29-25 win over Buffalo with 364 total yards of offense, a breath of fresh air for personnel grouping that went 10 quarters with an offensive touchdown at one point in 2023.
Of course, it's likely asking a lot for Jones to complete over 83 percent of his pass attempts (25-of-30 against Buffalo) on any given Sunday.
But as New England tries to build some momentum off of Sunday's victory, the easiest avenue toward achieving consistent offensive production lies in the trenches — especially with a reworked offensive line that cleared a path toward a much-needed win in Foxborough.
And if the Patriots' O-line wants to continue winning battles at the line of scrimmage, Mike Onwenu needs to stick around at his new post at right tackle.
It should come as little surprise that New England's run game and Jones' precise aerial attack finally took off on an afternoon where the Patriots' big men up front didn't falter.
"The offensive line's play today was what really stood out to me," HOnes said postgame. "They made everything work — run game, passing game. I had a couple plays where I dropped my eyes, and that's not on them, it's on me."
Sunday marked the sixth time in seven games that New England rolled out a new starting five-man unit on the O-line. But the results were impressive, especially with Bill Belichick making the call to shift Onwenu from guard to tackle.
As noted by 98.5 The Sports Hub's Alex Barth, Onwenu only allowed one pressure and zero sacks over all 60 of New England's offensive snaps against Buffalo, with his 98.5% efficiency rate standing as the highest mark among Patriots right tackles this season.
The right-tackle position has been a revolving door of futility for New England this season, with free-agent pickups in Calvin Anderson and Riley Reiff hampered by injuries and poor play — and backup options like Vederian Lowe also laboring when pressed into service.
With Onwenu holding his own, the resulting domino effect led to positive results across the five-man unit.
Rookie Sidy Sow, now slotted back over to guard, posted an 86.4 PFF grade against Buffalo — the second-highest mark among right guards in Week 7.
New England only relinquished one sack to Buffalo and gave up seven total pressures against a Bills defense that routinely doled out damage this season thanks to a potent pass rush.
After yet another uneven offensive output in Week 6 against the Raiders, Bill Belichick acknowledged on Monday morning that Onwenu's shift back to right tackle was put in motion days prior.
"There are a number of things involved. I had a good conversation with Mike after the Raider game and ultimately, I think everyone thought that was the best thing for us to do at this time," Belichick said. "So, went with it. He had a good week and thought he did a good job for us.
"Mike played there his rookie year. He's a smart kid, understands probably all the different positions on the offensive line, pretty good fundamental player and obviously has got good strength."
It's been an uneven year for Onwenu, who put together lackluster returns at times during his snaps at right guard while battling back from offseason ankle surgery.
But so long as he can hold his own at that vacant spot at right tackle, Onwenu offers up hope that arguably the most glaring flaw on New England's offense is due to be remedied in the weeks ahead.
"I'm kind of indifferent," Onwenu said Monday of playing between guard and tackle. "I've played the position before. So it's just about adjusting and then going week-to-week with the team that we're playing.
Nothing specific, more so just getting the reps that I need or just getting the looks that I need in practice to feel comfortable to play there on the outside. … I'm really just approaching it wherever I'm at. I don't choose where I play. At the end of the day, I'm told where I will be. We'll just see where that happens to be.
Sign up for Patriots updates🏈
Get breaking news and analysis delivered to your inbox during football season.
Newsletter Signup
Stay up to date on all the latest news from Boston.com