Patriots
Featuring Mac Jones dressed as Buzz Lightyear, Patriots players celebrate Halloween with cancer patients
There were multiple Buzz Lightyears, including Jones and David Andrews.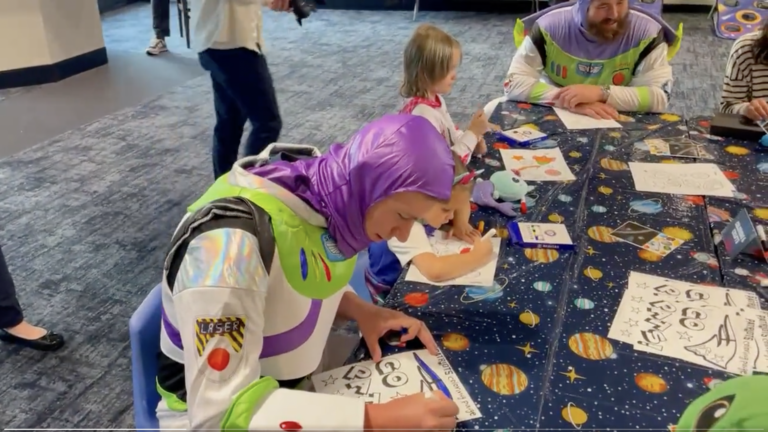 FOXBOROUGH – Buzz Lightyear was a popular costume among Patriots players at a special Halloween party thrown for pediatric cancer patients at Gillette Stadium Tuesday evening.
Mac Jones, David Andrews, and Myles Bryant were among the players who dressed up as the Toy Story character.
When asked which once was the real Buzz Lightyear, Jones pointed to Andrews.
The Patriots had a bit of a space theme going with their costumes. Bryce Baringer was an astronaut. Matthew Slater was Yoda. Mike Gesicki dressed as a person in a rocketship, which he said was a metaphor for how the Patriots' season is "trending up" after Sunday's win against Buffalo.
"I think the most important part about what we do is having the opportunity to do things like this," Gesicki said. "We come out here to see the smiles on their faces, but they honestly give us so much joy. Just really appreciative and it puts everything in perspective."
According to the Patriots, more than 40 children battling cancer and their families were scheduled to attend the event which featured food, ice cream, gift bags, and pictures with the players.
"It's huge, it brings you back down to earth," tight-end Hunter Henry said. "There are real things going on around us. These kids are going through some things that are challenging, so to be able to put a smile on their face is always a fun time. You get dressed up and be a superhero or whatever you want to be. It's awesome."
The Patriots will return to practice on Wednesday as they prepare to take on the Dolphins this week. They are 2-1 in division play after beating Buffalo.

"It was a good win. We needed it," Andrews said. "But, it's 1-1. Now we've got to go back this week, another big opportunity against another really good football team. In the NFL, that's every week. We've got to show up."
Sign up for Patriots updates🏈
Get breaking news and analysis delivered to your inbox during football season.