Patriots
Rob Gronkowski blasts the Patriots for 'ridiculous' victory celebration against Buffalo
"I'm like wow, they won a game and they went that crazy. They're acting like they've never been there before."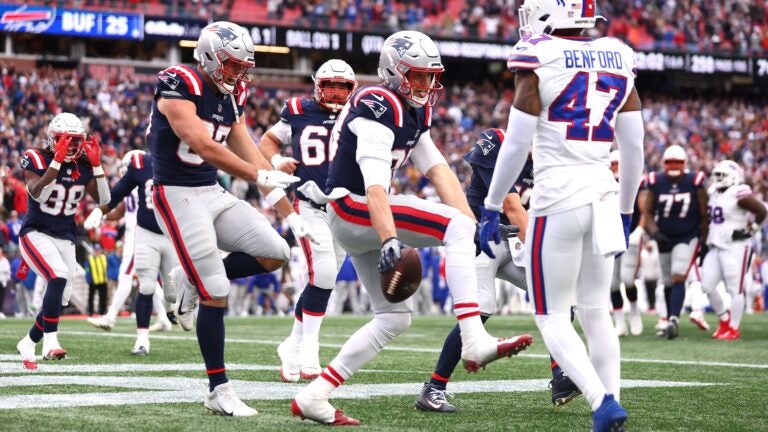 Sunday, undoubtedly, was a big win for the Patriots.
New England, which was sitting at 1-5 at the time and teetering on the edge of what could have quickly became a lost season, pulled off an upset against division rival Buffalo. It was their first home win of the season.
Mac Jones and Mike Gesicki hit the "griddy" dance after the win, among other celebrations.
Former Patriots tight-end Rob Gronkowski said it was "ridiculous" for the Patriots to be celebrating so much after a win that put their record at 2-5.

"If you ask me, that celebration was pretty ridiculous," Gronkowski told former teammate Patrick Chung during an appearance on the "Up and Adams Show". "Whenever we celebrated just a little bit we would get hounded. They just won one game and they celebrated more than we did when we won a Super Bowl.
"That was one of the most absurd celebrations," Gronkowski continued. "I'm like wow, they won a game and they went that crazy. They're acting like they've never been there before .. they were griddying all over the place to an absurd level."
Chung said it's a sign that times have changed, but didn't come down as harshly as Gronkowski did.
"Times are different, Gronk. You know that," Chung said. "It's younger kids. At the same time, it's a division win and very much needed, so that's a big booster for the team. Whatever you've got to do, celebrate how you want to just win some more games and we'll be good."
Chung attempted an impression of Patriots coach Bill Belichick while reminiscing about the discipline that came with celebrations during his era.
"We did get hounded though," Chung said. "I used to try to pump the crowd up when I was younger and Bill would say 'stop worry about pumping up the crowd and cover the tight-end'. I was like 'oh damn,' alright coach, my bad."
"But, it's a different time," Chung continued. "Let the kids have fun. Let it boost their morale and get them going in the right direction. I'm all for it."
Sign up for Patriots updates🏈
Get breaking news and analysis delivered to your inbox during football season.