Patriots
What Bill Belichick, Joe Mazzulla said about the shootings in Lewiston, Maine
"It's obviously a tragic situation. They're great fans of ours, great friends up there. Maine's a great place."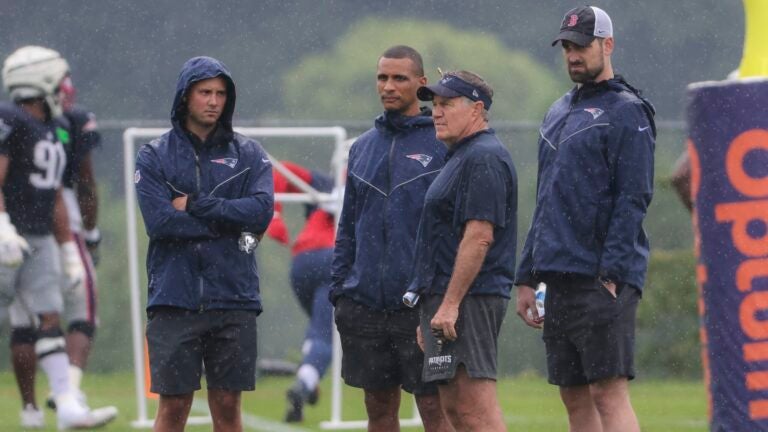 Patriots coach Bill Belichick opened up his press conference on Friday sending his well wishes to the people of Lewiston, Maine, just two days after a mass shooting in the area killed 18 people.
"Just want to start by sending our — from the team, players have talked about this, captains yesterday, too — by sending our thoughts and prayers to the people of Maine," Belichick told reporters. "It's obviously a tragic situation. They're great fans of ours, great friends up there. Maine's a great place. I feel bad for the pain and the situation that they're going through. Lewiston's [where] Bowdoin [is]. A lot of connections, a lot of friends of mine went there, know the area pretty well. It's just sad, difficult.
"So, we're thinking about you down here, with the Patriots."
When asked how the players and team staffers broached talking about the shooting in Lewiston, Belichick said that it was brought up by both players and coaches.
"It could be any community. We all know that," Belichick said. "So, just given the fact that it's our fans, our area. It's kind of like [the Sandy Hook] situation a few years back. Not the same, but it's just sad, tragic. Sadly, it's not over yet."
Belichick sending his condolences to the people of Lewiston, Maine, came a day after Patriots owner Robert Kraft offered similar thoughts.
"The senseless act of violence that unfolded last night in Lewiston, Maine, has left all of us across New England in shock and mourning," Kraft wrote in a statement Thursday. "My heart goes out to the families, friends, and loved ones of the victims, who are dealing with unimaginable pain and loss. Let us remember the victims, honor their lives, and continue to fight hate and violence in order to prevent these horrific tragedies."
The Patriots weren't the only local professional sports team to discuss the shooting in Maine. Celtics coach Joe Mazzulla changed the focus of a press conference on how his team performed in Wednesday's season-opening win to discuss the shooting instead.
"I'm a little frustrated," Mazzulla told reporters. "Not you guys, in particular, but the media in general picks and chooses when you want to ask about certain things that are going on in our society. We should always have to talk about when something is going wrong in the world.
"For us, the same thing as the Israel/Palestine situation — the Maine situation is very important. We have to talk about those things. I was really hoping someone would ask that, but I spent time in Portland, Maine, 37 miles from where it's at. You see people go through difficult situations that they didn't ask for. It's really hard. We have a really important job in society to make the world a better place. It's getting really hard, but we can't be disturbed in that. Just praying for all of the people that are there and we've gotta work to help them get through that."
When asked in a follow-up question if he'd like the media to help him spread awareness and discuss these issues, Mazzulla said he would. He acknowledged that he might not have the answers, but that he's "keen" to what's going on in the world.
"I'd like to be more than just basketball," Mazzulla said. "I'm not saying I'm going to be a spokesperson for everything, but I think it's important to at least acknowledge the stuff that's going on because we do have a platform. Especially coming out of the bubble year, we saw the impact that the NBA had. You saw the players had and the coaches had. I was still young in the league and I didn't really understand the impact you could have.
"So, watching the players, especially our guys, stand up for that and go through that and see the coaches do it, it was like, 'Hey, you've got a bigger platform here.' We've got to try our hardest to help with that the best we can."
Bruins coach Jim Montgomery, who was a college hockey star at the University of Maine, also paid tribute to the victims in Lewiston on Thursday. In addition, the Bruins held multiple tributes prior to their game against the Ducks, announcing that the team's foundation created a fund to help those impacted by Wednesday's shooting. The team pledged to donate at least $100,000 to the fund as they raffle off player-signed sticks from both teams used in Thursday's game.
Elsewhere in the sports world, Sacramento Kings coach Mike Brown's comments on the shootings in Maine drew a lot of attention as he called for change.
"First thing I'd like to say is, I don't know everything that's going on, I'm not that smart, but I know we as a country got to do something," Brown told reporters following his team's win on Wednesday, saying he didn't want to discuss the game. "I'm walking over here and somebody says there was a mass shooting in Maine walking over here with [18] dead.
"If that doesn't touch anybody, I don't know," Brown added. "I don't even know what to say. That is absolutely disgusting and it's sad. And it's sad that we sit here and we watch this happen time after time after time after time. And nobody does anything about it."
Sign up for Patriots updates🏈
Get breaking news and analysis delivered to your inbox during football season.