Patriots
Bill Belichick offers a little insight on Patriots' trade deadline approach
The Patriots have several impending free agents as they sit at 2-5.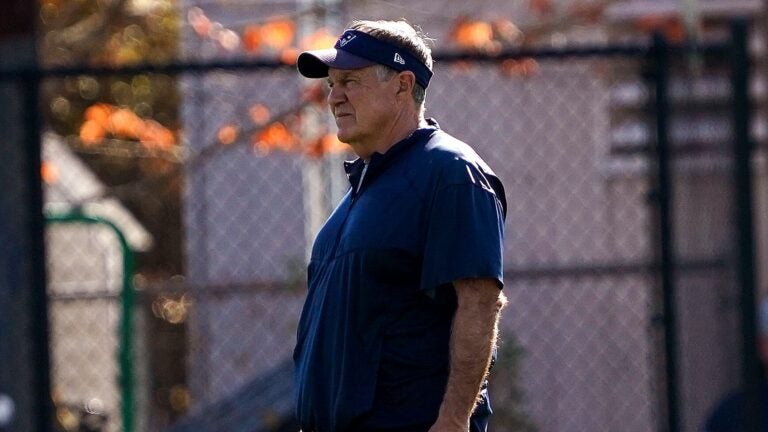 The Patriots are sitting in a spot that would indicate that they are likely to be sellers ahead of Tuesday's trade deadline.
They're 2-5 with several contributors set to become free agents at season's end, potentially allowing them to stockpile draft picks for a rebuild over the offseason.
With the deadline just days away, Bill Belichick gave a little bit of insight on what his team could do ahead of Tuesday. Of course, the Patriots coach didn't get too far into the specifics of what could happen, giving a usual answer when asked about the challenge of fixing the team's immediate needs at the deadline.
"Yeah, we're just focused on Miami right now," Belichick said as the Patriots face the Dolphins on Sunday. "(Patriots director of player personnel) Matt [Groh] and his staff, if there's something to talk about, I'm sure we'll talk about it."
Belichick continued to play coy when asked if he's been in regular contact with Groh and if there's been a lot of back-and-forths, saying his office is "30 feet away."
"If we need to see each other, we'll see each other," Belichick said. "If something comes up about anything, yeah."
But Belichick rejected the notion that only players on expiring deals can be traded at the deadline when asked if contract situations come into play during trade talks ahead of Oct. 31.
"There's a lot of factors involved with players' contracts," Belichick said. "Everyone's different, so I don't think there's any specific rule."
When asked in another follow-up about the contract situations of impending free agents, Belichick implied that the team has had extension negotiations with at least some of those players.
"We've talked to a number of players," Belichick said. "The ones that we've reached an agreement with, we've reached an agreement with. The ones we haven't, we haven't."
Even if the Patriots' impending free agents don't re-sign with the team, they might be able to recoup something for them in the form of compensatory draft picks. Typically, teams that lose a player can get a pick as good as a third-round selection for a player they lost in free agency, which depends on the contract they signed and how much money that team spent in free agency.
Belichick admitted that the compensatory draft pick process could come into play with how the team approaches the trade deadline.
"Well yeah, it has some relevance," Belichick said when asked if the compensatory pick formula is a "sort of tertiary factor" in making a trade.
As the Patriots weigh what they could get back in draft compensation if their players were to leave as free agents next offseason, they'll also have to factor in that they're set to have the most cap space in the league next spring. If the Patriots spend similarly to how they did when they had a similar amount of cap space in 2021, it's possible that they wouldn't be able to nab any draft pick compensation for their departing free agents due to the rule.
For instance, they didn't get a comp pick in return for losing Joe Thuney to the Chiefs in 2021 despite him signing an $80 million deal because they spent so much money themselves that offseason.
Among the players the Patriots have who are on expiring deals include Kyle Dugger, Josh Uche, Hunter Henry, Kendrick Bourne, Trent Brown, and Mike Onwenu.
Uche appears to be the player drawing the most interest from that group as the team might seeking similar draft compensation in a trade than it would if he left as a free agent, according to multiple reports.
"And the more people I talked to last week, the more I got the idea that they're gonna be fishing around for, like, third- and fourth-round picks a little bit," Sports Illustrated's Albert Breer said on 98.5 The Sports Hub's "Zolak and Bertrand" On Thursday. "So, if they can add one of those or two of those for a player that maybe isn't playing a lot, or they're not gonna re-sign, I think that would be the sort of idea that they'd be looking at."
If the Patriots don't trade any of their impending free agents at the deadline, they can still extend them later in the season. However, many notable players typically pause extension negotiations during the season.
Sign up for Patriots updates🏈
Get breaking news and analysis delivered to your inbox during football season.