Patriots
Was the Patriots' return to competence real or a mirage? We should find out against the Dolphins.
A win over the Dolphins would give the Patriots a 3-1 record in the division, some momentum ... and perhaps a convincing argument that the restart had the desired effect.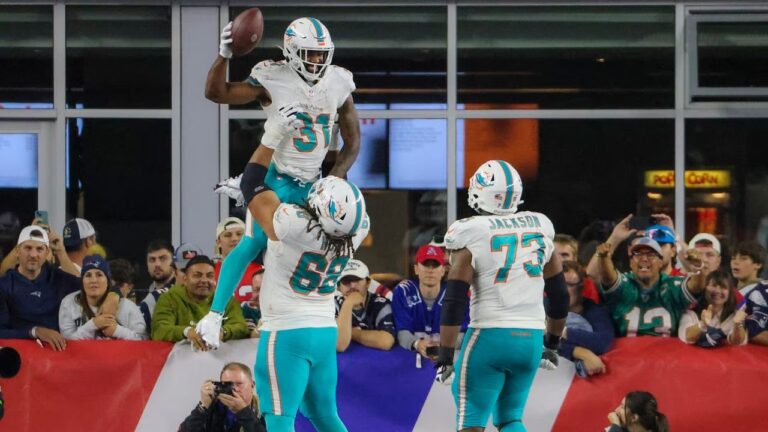 Welcome to Season 12, Episode 8 of the Unconventional Preview, a serious yet lighthearted, nostalgia-tinted look at the Patriots' weekly matchup . . .
After the Patriots got clobbered by the Cowboys and Saints by a combined score of 72-3 in Weeks 4 and 5, coach Bill Belichick acknowledged that his mistake-plagued team needed to "start all over."
A 21-17 loss to the Raiders in Week 6 suggested the reset hadn't worked. But then came an unexpected 29-25 victory over the Bills last Sunday in which the Patriots still made mistakes, but overcame them in part because so much that had gone wrong over the course of the season — particularly offensive line and quarterback play — suddenly went right.
Perhaps it was the "start all over" Belichick was looking for, just delayed by a week.
We should find out for sure whether the Patriots' return to competence was real or a mirage when they travel to Miami to take on the high-powered Dolphins Sunday.
Quarterback Tua Tagovailoa, who leads the NFL in passing yards (2,092) and completion percentage (71.2) and is tied for second in touchdown passes (15), helms an offense that already has scored 240 points, including an absurd 70 on the Broncos in Week 3. But star receivers Tyreek Hill and Jaylen Waddle are dealing with injuries, and the Dolphins are coming off a lethargic 31-17 loss to the Eagles last Sunday night. And they are beginning to develop a reputation for bullying bad teams but failing to match up with good ones (in Week 4, the Bills throttled them, 48-20).
Where do the Patriots fall on that spectrum? Good team? That cannot be said with a 2-5 record and some obvious talent deficiencies still on the roster. Bad team? At last, they did not look like one last Sunday. Ultimately, they'll probably end up somewhere in the middle. But a win over the Dolphins would give them a 3-1 record in the division, some momentum . . . and perhaps a convincing argument that the restart had the desired effect.
Kick it off, Ryland, and let's get this one started . . .
Three players to watch other than the quarterbacks
Tyreek Hill: For a suspenseful stretch of hours midweek, it looked as though the Patriots might catch a break. The Dolphins' star receiver missed practice on Wednesday with a hip injury, and comments by Tagovailoa seemed to indicate that his top target could be absent. "You've got to continue to play and somewhere down the line, we're going to get Tyreek back in," he said.
So it was a mild surprise Thursday when Hill returned to practice, running routes at full speed and telling reporters afterward, "Yeah, baby, I'm good," when asked about his status for Sunday.
Hill's absence would have a massive impact on the Dolphins' top-ranked offense, which leads the league in passing yards per game (300 on the nose), total offense (462.3), and points per game (34.3). The 29-year-old Hill leads the NFL in receiving yards (902) and touchdowns (7), and ranks third in receptions (53). The Dolphins' offense has the kind of speed usually reserved for the US Olympic track trials, but Hill is the No. 1 option, the one who makes it all work.
The Patriots have done a decent job containing Hill, who spent the first six seasons of his career with the Chiefs before coming to the Dolphins before last season. In seven regular-season games against the Patriots, he's averaged six receptions for 83 yards, with approximately a touchdown per game. In the Week 2 meeting, he was limited to five catches for just 40 yards and a score, with rookie Christian Gonzalez doing superb work in coverage in his second career game, including collecting the first interception of his career on a pass aimed Hill's way in the fourth quarter. With Gonzalez on injured reserve (shoulder), Hill could become the responsibility of Jack Jones, Jonathan Jones (who has defended him well in the past), and/or Myles Bryant.
Demario Douglas: Say, is it a step too far to suggest that Douglas could be the second coming of Hill, a receiver overlooked in his draft year because of his size but who makes up for it with his speed and shimmy? No, of course it's not a step too far. It's about 20 steps too far. Settle down over there. We're not fitting anyone for a red jacket just yet.
That disclaimer out of the way, it is not difficult to have high hopes for what Douglas, the sixth-round pick out of Liberty, could become, perhaps soon. Kendrick Bourne is the Patriots' most well-rounded receiver, but Douglas is already their most dynamic, and he's coming off the best game of his young career. In the win over the Bills, Douglas had four catches for 54 yards (a career high), ran for another 20 yards, and returned a punt 25 yards.
That performance occurred after he had missed the loss to the Raiders while in concussion protocol. And it occurred five weeks after he was benched during the first Dolphins game when Bradley Chubb punched the ball from his grasp and Miami recovered the fumble at the end of a nifty catch-and-run on the final play of the first quarter.
Douglas is still learning — he's one receiver Mac Jones doesn't hesitate to bark at if he's in the wrong place — but he seems to have taken the benching to heart. He's got a chance for redemption against a Miami defense that expects to have cornerbacks Xavien Howard and Jalen Ramsey on the field together for the first time this season. Is Douglas the next Hill? It's way too soon for that. But he might be the shiftiest receiver Belichick has ever drafted. As he figures it out, he's going to become even more fun to watch.
Raheem Mostert: Here's another reason it's imperative for the Patriots to take an early lead for the second week in a row: It would help limit how much the Dolphins can rely on their running game, which also ranks first in the league (162.3 yards per game). The Dolphins fell behind the Eagles, 17-3, in the second quarter last week, and it was no coincidence that Miami had its worst rushing game of the season, with just 45 yards on 12 attempts.
Mostert had nine of those attempts, a season low, while gaining 45 yards. (Tagovailoa lost 3 yards on a carry, while Salvon Ahmed gained 3 on two runs.) It was quite a contrast to Mostert's performance in Week 2 against the Patriots, when he ran for a season-best 121 yards on 18 carries and a pair of touchdowns, including a 43-yard burst in the third quarter that put the Dolphins up, 24-10.
Mostert leads the NFL with nine rushing touchdowns, and his 474 yards are fifth — and only 18 fewer than the 492 combined rushing yards by Patriots backs Rhamondre Stevenson and Ezekiel Elliott. Mostert may have a high degree of difficulty in getting where he wants to go for the second straight week. The Dolphins' offensive line is banged up — left tackle Terron Armstead, guard Isaiah Wynn (name sounds vaguely familiar), and center Connor Williams missed the Eagles game — while the Patriots' defensive front has solidified in recent weeks (100.7 rushing yards per game, 13th in the NFL).
Grievance of the week
This is more a general gripe than something specific to this week, but I've been meaning to ask this. When Belichick's record for drafting wide receivers is mentioned in a story or on a program, how come David Givens is rarely cited as one of his hits? It's pretty much canon that his only two draft success stories — amid all of the Taylor Prices, Chad Jacksons, and N'Keal Harrys — are Deion Branch in the second round in 2002 and Kent State quarterback Julian Edelman in the seventh round in 2009.
Givens was a seventh-round pick himself in '02 out of Notre Dame, with Ernie Adams advocating for him. He was here just four seasons, never had 60 catches or 900 yards in a year, but he was tough, fought for every yard, and owns one of the coolest records of the Patriots dynasty: Givens had a touchdown catch in seven straight postseason games.
Patriots fans that have first-hand recollections of Phase One of the dynasty will not forget him, even though the national media apparently has. Here's to you, David Givens, postseason touchdown-maker and outstanding draft choice.
The flashback
On Sept. 4, 1994, the Patriots opened their season with a 39-35 loss to the Dolphins. It might have been the most enjoyable and optimism-inducing loss in Patriots history. Dan Marino, returning from torn a Achilles' that ended his 1993 season, let out all of his pent-up frustration of his absence on the Patriots, throwing for 473 yards and five touchdowns, including three to ex-Patriot Irving Fryar. But Patriots second-year quarterback Drew Bledsoe matched him dart for dart, slinging 51 passes and completing 32 for 421 yards, 4 touchdowns, and 2 interceptions. The Patriots faltered at the end — Ben Coates committed a rare fumble to thwart one late drive, and a final possession stalled out — but the vibe after that game and Bledsoe's performance was one of delight and great hope. Robert Kraft couldn't have had a more entertaining game for his first as Patriots owner.
Prediction, or do you know Don Shula did not win a Super Bowl in his final 22 seasons?
The Patriots did so much wrong in their 24-17 loss to the Dolphins in Week 2, including making Dolphins edge rusher Andrew Van Ginkel look like the second coming of Jason Taylor. But the Patriots did hold the Dolphins to 7 points in the second half, and if the shift of Mike Onwenu to right tackle permanently shores up the line while fully restoring Mac Jones's confidence, the Patriots are capable of making it two in a row. It's always tough to win in Miami. But it feels good, even if it ends up being fleeting, to have some faith in the Patriots again. Patriots 22, Dolphins 20.
Sign up for Patriots updates🏈
Get breaking news and analysis delivered to your inbox during football season.