Patriots
Mac Jones credits Dolphins, but says Patriots need to improve execution
Jones explained what happened on his "bad throw" that led to a Jalen Ramsey interception late.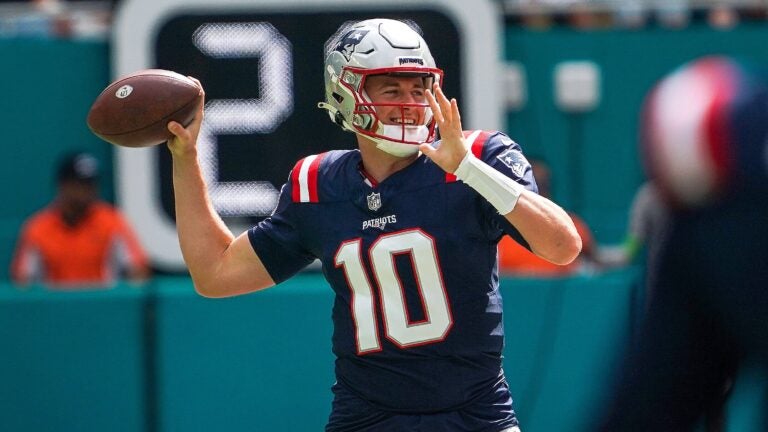 The Patriots had an opportunity to showcase an improved offensive flow on Sunday after finally clicking in last week's victory over the Bills.
There were times where the offense found a rhythm — resulting in an early touchdown for Kendrick Bourne and a long scoring drive in the fourth quarter — but Mac Jones and the Patriots reverted to their pattern of inconsistency in a 31-17 loss to the high-flying Miami Dolphins.
"I always talked about [how] every week is different and the game plan changes, and like I said, we just need a little bit more production from me and from everybody," Jones said. "It starts with the quarterback, and I can be cleaner on my reads and all that stuff. You've got to be really sharp against a team with a really good offense."
Jones completed 19 of 29 pass attempts for 161 yards and two touchdowns, connecting with nine different pass-catchers. But he also threw one ill-timed interception to star defensive back Jalen Ramsey, who made his Dolphins debut after recovering from a knee injury.
Jones credited Ramsey for his talent and awareness on the play, but said he also simply made a poor decision.
"I knew the coverage, I knew everything — just made a bad throw really late," he said. "Didn't really drive it, and that's what happens on that play. The guy either takes it and it's a touchdown [for the receiver], or the guy falls off and that can happen. But I can't do that as a quarterback — just throw it out of bounds or take the check down, and move on."
Miami's defense again limited New England from making big plays; the longest offensive gains were Bourne's 24-yard touchdown catch and another 24-yard reception from Pharaoh Brown.
"It's one of the big things they do well," Jones said. "It's easy to do with the scheme, but then you have really good players as well, and you get both. They got both over there, and like I said, it's a good football team with a lot of talent everywhere, really. Veteran guys who play a lot of football, so respect to them. They had our card today."
Jones acknowledged that New England found success in the fourth quarter with some hurry-up calls and a faster offensive pace. The team's last touchdown, a 3-yard completion from Jones to JuJu Smith-Schuster, capped a 13-play drive that lasted 5:17.
"I think our tempo plays are good and something we can expand on as an offense," Jones said. "But like I said, you don't want to be in that position. It's hard for everybody and hard for the defense when we go three-and-out, and they have to go back out there against that great offense. We want to just have longer drives, and have explosive plays, and throw the ball downfield, and all that stuff."
The loss and subsequent 2-6 record threaten to erase any momentum from New England's upset of the Bills. Jones also saw two of his top targets go down with injuries in Bourne (knee) and DeVante Parker (head). To Jones, it's back to the film room for both him and the team.
"And it's hard, right?" he said. "You don't want to be here. You don't want to be in this position. But at the end of the day, we're playing football, and we've got to go out there and figure it out."
Sign up for Patriots updates🏈
Get breaking news and analysis delivered to your inbox during football season.