Patriots
Bill Belichick on the trade deadline, NFL officiating, and the future of Kyle Dugger with the Patriots
Belichick referenced a specific play that happened against Ezekiel Elliott, saying that "there shouldn't be any place for that in football."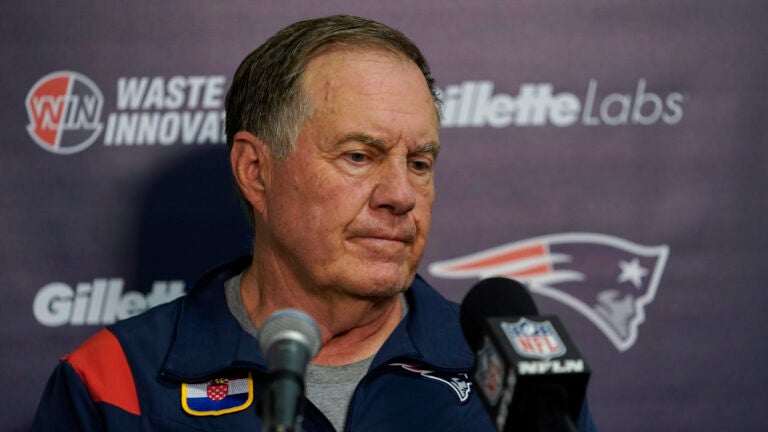 A day after the Patriots fell to 2-6 with a 31-17 loss to the Dolphins, Bill Belichick offered a quick overview of what went wrong in his team's latest setback.
"Just couldn't make enough plays in critical situations, and Miami did," Belichick explained during his weekly interview on "The Greg Hill Show" on WEEI. "That was obviously the difference."
New England was able to pull the game back to a one-score deficit in the fourth quarter following JuJu Smith-Schuster's touchdown on a fourth-and-goal with 8:30 remaining.
Yet just when Belichick needed his defense to make a stand, the Dolphins were able to put together a 10-play, 75-yard touchdown drive. It culminated with Miami wide receiver Jaylen Waddle making a wide open catch before scampering 31 yards for the touchdown.
"We blew the coverage on Waddle," Belichick said of the critical moment. "That was a terrible mistake."
The Patriots' coach pinpointed the issue on defense.
"Third and long," said Belichick. "We got them in third and long and weren't able to convert all of them. We should be able to convert them and we didn't."
One of the talking points that emerged from Sunday was the officiating, with several calls (and perceived non-calls) drawing attention.
Belichick was asked about his "mindset" in how he coaches defensive players to be within the rules, and how he expects officials to make calls.
"We coach it the way we've always coached it, which is the safe way to play, leading with the shoulder," he said. "We don't ever want to hit in the head. Those are defenseless players and all that.
"I don't know, I'd like to feel like our players are getting protected like everybody else's," Belichick added of the officiating. "The tripping on Ezekiel Elliott, that's another dangerous play. Stuff like that, there shouldn't be any place for that in football."
Later, in the virtual press conference following the radio interview, the subject was raised by ESPN reporter Mike Reiss.
Asked by Reiss how important it is "that your players are protected," Belichick responded by simply saying, "Very important."
When queried for what steps he could take if he feels that his players aren't being protected, Belichick offered a terse response.
"Let's hope it happens."
With the NFL trade deadline (4 p.m. ET on Tuesday, Oct. 31) approaching, New England could be a potential seller.
"Yeah I don't know, we just got back from the game last night," said Belichick of possible trades. "We'll regroup here today and see where things are at."
"Every situation's different," he said of the team's approach to the deadline. "It takes two people to make a trade. It'd have to work out for both teams, whichever teams those are."
The Dolphins, featuring arguably the fastest wide receiver group in the NFL, contrasted with the Patriots' lack of playmakers on Sunday. Does Belichick wish the Patriots had tried to put more offensive weapons around Mac Jones?
"Everybody wants fast players," he said. "We have fast players. I mean, I don't know if anybody's as fast as Tyreek Hill, but we have some fast players."
And on the subject of player personnel, Belichick — who is both head coach and has final say on roster decisions — was asked about the process of how the team finds possible trade targets or free agent signings.
Specifically, the question was raised about if he personally scouts players or is relying on others in the personnel department to do that.
"There's no way I could possibly do that," Belichick said in the radio interview. "I mean, coaching is a full-time job. Personnel is a full-time job. At some point, they have to merge together and be on the same page and figure out what's best for the team. But you can't be a full-time personnel person and be a full-time coach. It's impossible."
One player whose future is in question beyond the 2023 season is safety Kyle Dugger, whose contract is up after the current season. Belichick was asked by WEEI if he'd like to see the 27-year-old stay in New England over the long term.
"Yeah, of course," Belichick replied. "Absolutely."
Have there been any discussions about a new deal?
"No, I'm not going to get into any contract conversations."
Sign up for Patriots updates🏈
Get breaking news and analysis delivered to your inbox during football season.