Patriots
What Mac Jones, Patriots said about Kendrick Bourne's season-ending injury
"Your heart's broken for him. You hate that that's part of the game."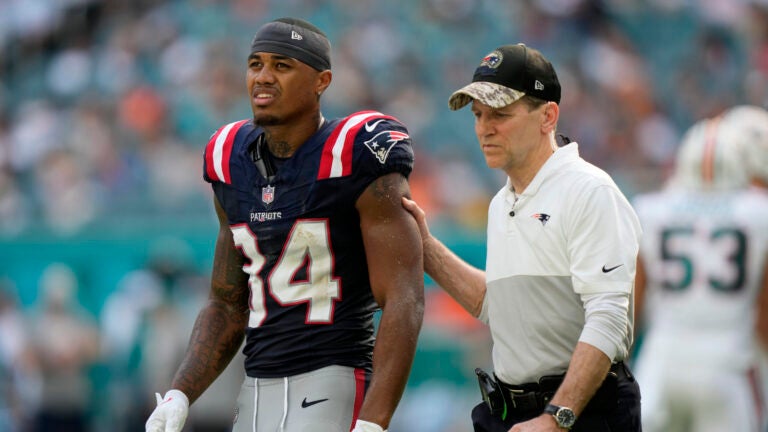 A 2023 Patriots season where seemingly little has gone right for Bill Belichick's team hit another major setback on Sunday afternoon in Miami.
Not only did New England drop to 2-6 with another frustrating loss to the Dolphins, but an already laboring Patriots offensive unit lost its most impactful receiving option in Kendrick Bourne.
According to multiple reports, Bourne suffered a torn ACL in the opening minutes of the fourth quarter on Sunday and will miss the remainder of the regular season.
Bourne, currently in the final year of the three-year contract he inked with the Patriots, has been one of the few bright spots on an otherwise listless New England offensive unit this fall.
The 28-year-old pass-catcher led the Patriots in receptions (37), targets (55), receiving yards (406), and receiving touchdowns (four) at the time of his injury.
Only two other players on New England's roster have eclipsed 200 receiving yards this season in Hunter Henry (238) and rookie Demario Douglas (222), while Rhamondre Stevenson is second on the Patriots in targets at 34 — 21 fewer than Bourne.
Bourne's chemistry with Mac Jones, versatility in New England's offensive gameplan, and ability to extend plays after the catch will clearly be missed moving forward this season.
But both Jones and Patriots captain Matthew Slater stressed that Bourne's presence in the locker room was just as valued as his production on the field.
"I mean, everyone knows KB. He's a really nice, fun guy and obviously [a] great teammate," Jones said of Bourne's impact during his latest interview on WEEI's "Jones & Mego Show" on Monday. "But [he] just brings a different element of energy. Just thinking about the first day I threw with him, at some public park — just coming out, smiling, laughing.
"He's just always laughing and smiling. So I enjoy that about him. He always brings positivity. And I think we have multiple people on our team that can do that, myself included. And that's part of the game is the relationships. It's about the people. It's about your friends and your teammates and your co-workers, right? We're in the NFL. So we're also working together. And this is a big challenge for us."
After being largely phased out of New England's offensive playbook in 2022, Bourne rebounded in a major way under Bill O'Brien. Prior to his injury, Bourne was projected to finish the year with 79 receptions, 863 receiving yards and nine touchdowns — all of which would have been career-highs.
"You never want to see any of your teammates go through something like that, but especially him," Slater said Monday via video conference. "I think he's been through so much the last couple of years, and he's really grown tremendously in his faith and who he is as a man, and that's been so fun to watch.
"But I think more than anyone in our entire building, Kendrick brings authenticity. He is true to himself. He's the same person each and every day. He brings a contagious energy that I think is unmatched in this building. His positivity is unmatched, and we'll certainly miss that. I don't know if I've ever played with someone who's had the type of joy that Kendrick has."
Bourne stands as just the latest key cog on New England's roster expected to miss the rest of the season. Christian Gonzalez, Marcus Jones, and Matthew Judon are currently all on injured reserve.
"Your heart's broken for him," Slater added of Bourne's status. "You hate that that's part of the game, and you'll certainly be praying for a speedy and full recovery."
With Bourne now on the shelf for the remainder of the 2023 season, Jones and the Patriots' passing game will need to embrace a youth movement.
Given DeVante Parker's unclear status after suffering a head injury on Sunday, coupled with JuJu Smith-Schuster's lack of reps, the onus might fall on Douglas, fellow rookie Kayshon Boutte, and second-year wideout Tyquan Thornton to pick up the slack.
"Really want them to take advantage of the opportunity," Jones said of New England's younger crop of receivers. "I've seen [Kayshon] Boutte play, in college, and worked with him early in training camp and in the first game and stuff, and I have a lot of confidence in him. Same thing with Tyquan [Thornton].
"Tyquan, he's from Florida, I've seen him play in high school, I've seen him play in college, and I've been really impressed with what he's done in the NFL. He just needs an opportunity and I know he's going to take advantage of it. And I believe in a lot of those guys and, like I said, I want to grow with the young players, like Pop [Douglas], and everybody and grow with then and see what we can do to kind of build for the future too."
Newsletter Signup
Stay up to date on all the latest news from Boston.com