Patriots
Bill Belichick used a familiar tactic to avoid questions about the NFL trade deadline
He was also asked about the Josh McDaniels.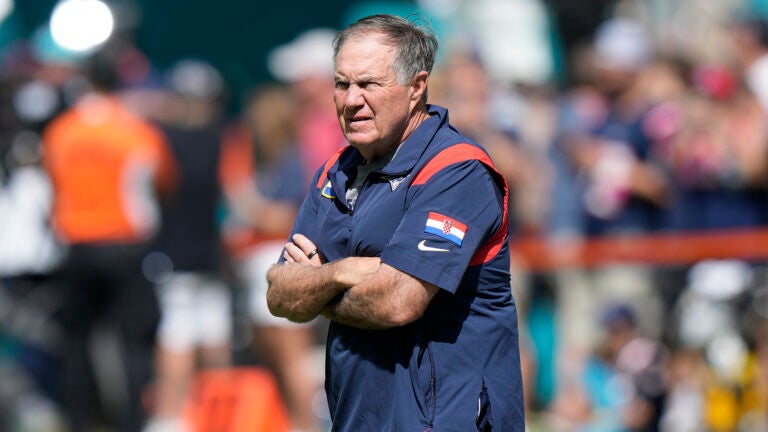 Echoing his famous "We're on to Cincinnati" refrain, Bill Belichick had a ready-made response for several topics during his Wednesday morning press conference.
In the wake of Tuesday's trade deadline — in which the Patriots were inactive despite reported discussions — Belichick was asked if it was a "busy day" for the team.
"Yeah, we're getting ready for Washington," he replied.
Responding to a follow-up about if New England was "close" to making any trades, Belichick offered an almost unchanged response.
"Spent time getting ready for Washington."
A continued flow of trade deadline questions eventually coaxed additional sentences from the Patriots' coach.
"We've talked about this 50 times," Belichick said when asked about how he works with the personnel department on potential trade. "If they have something they think I need to know about, then we talk about it. If I have a personnel situation that I think they need to know about, I tell them about it and then they look into it. It's the same thing I've said the last 50 times we've talked about this. We work together when there's something to work together on. When there isn't something to work together on, then I coach, they do personnel."
Belichick, who has final say on personnel decisions (along with his head coaching role), was pressed for additional details about how the Patriots' system works.
Is he separate from the personnel department or not?
"If there's something that we need to talk about, then we talk about it," said Belichick. "And if there isn't something to talk about, we don't just sit there and stare at each other all day. We both have other stuff to do. Their department, the coaching apartment, there's other things going on. So we don't just sit there and stare at each other and see if the phone's going to ring or there's going to be something on the news or whatever. We have stuff to do."
In addition to the topic of the trade deadline, reporters were curious if Belichick had any thoughts regarding the overnight news that the Raiders had fired head coach Josh McDaniels (formerly the Patriots' offensive coordinator).
Las Vegas also fired two other former members of New England's staff: Ex-Las Vegas general manager Dave Ziegler and offensive coordinator Mick Lombardi.
Belichick maintained his consistency.
"Yeah, I just heard about it this morning," he said. "Again, just trying to get ready for Washington."
Sign up for Patriots updates🏈
Get breaking news and analysis delivered to your inbox during football season.