Patriots
Former NFL QB Dan Orlovsky said that Mac Jones reached out to him for advice
"Mac reached out a while back and had kind of said, 'Hey, if you see anything good or bad, please let me know.'"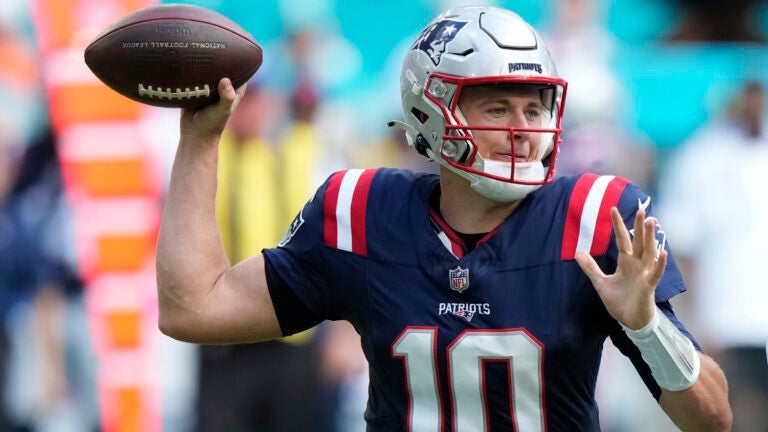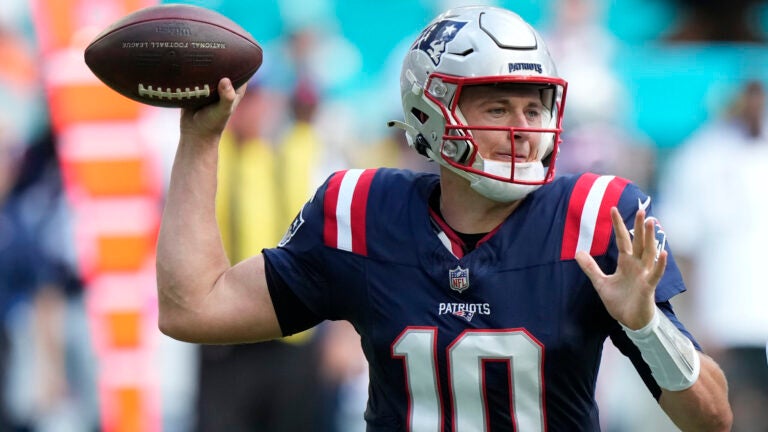 Former NFL quarterback and ESPN analyst Dan Orlovsky has been one of the more vocal supporters of Mac Jones, even amid this miserable 2-6 start to the Patriots season.
Orlovsky has regularly taken the Patriots to task for their lack of weapons and support around Jones in his third season in the NFL, drawing criticism last month by stating that the New England QB would be "playing like Brock Purdy" if he was on a roster as loaded as the 49ers.
Of course, even if Orlovsky believes that Jones has the makeup to be a successful quarterback in the NFL, he has also been willing to call him out when his mechanics and execution have been out of sorts — revealing last week that he regularly texts Jones to discuss things like his footwork.
"I still don't like Mac's feet," Orlovsky said on WEEI's "Jones & Mego" show on Oct. 25. "I text Mac that almost every week. Like, 'Your feet still … ' He's gotta get better at that. Even the game-winning touchdown, he's falling away. So, directly to the performance, I still believe in Mac Jones."
It was a transparent bit of information revealed by Orlovsky, who seems committed to getting Jones playing at a high level.
But during his latest WEEI spot on Wednesday, Orlovsky said that it was Jones who initially reached out to him to pick his brain on the quarterback position.
"I've had guys reach out to me and ask for it," Orlovsky said. "Mac had reached out a while back and had kind of said, 'Hey, if you see anything good or bad, please let me know.'"
Earlier on Wednesday, Jones was asked ahead of practice about what kind of intel a former QB like Orlovsky provides.
"Um, yeah, a lot of people text me throughout the week," Jones said. "Sometimes it's hard to get back. I don't talk to everybody. But I do see some texts from people. And I always take advice, whether it's players or coaches or whatever. But I'm not really focused on that.
"I kind of focus on, 'What are we doing in the building,' right? That's the important part. What can I do with my coaches to communicate, make sure we're on the same page? And, you know, I'm always gonna take advice. That's what I do. I'm trying to get better. I'm always trying to listen."
Orlovsky's comments seem to paint the picture of a QB who is leaving no stone unturned in his efforts toward correcting his play under center.
Still, Jones might want to tread carefully.
Jones reportedly drew the ire of Bill Belichick and the Patriots' coaching staff last season for going outside of the organization in search of additional pointers amid a lost 2022 campaign.
"He was telling people he wasn't happy," former NFL QB Chris Simms said during an appearance on "NBC's Pro Football Talk Live." "He was calling people about, 'Hey, can you help us with ideas and do stuff like that?'"
"From my understanding, Belichick found out all these things. He found out that Mac was talking to people, and all this, and there was some back-channel conversations going on behind Belichick's back. And I think that's where it did get personal."
If Jones is looking to learn from Orlovsky, it seems like following his advice remains a work in progress.
Despite Orlovsky's emphasis on footwork, Jones was knocked for throwing off his back foot on Sunday against the Dolphins en route to a momentum-sapping interception from Jalen Ramsey just before halftime.
Sign up for Patriots updates🏈
Get breaking news and analysis delivered to your inbox during football season.