Patriots
Last week showed that the Patriots would be better off looking to next year. Will that begin against the Commanders?
Moral victories? Always welcome. Actual ones just interfere with the necessary bottoming-out before they can rise again.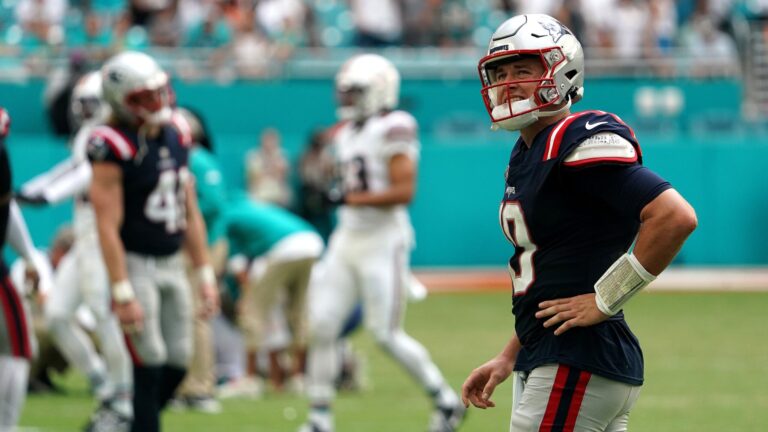 Welcome to Season 12, Episode 9 of the Unconventional Preview, a serious yet lighthearted, nostalgia-tinted look at the Patriots' weekly matchup . . .
At least the Patriots came away from their disheartening 31-17 loss to the Dolphins last week with something of value: Complete clarity, not only on who they are, but how they must proceed.
The Patriots, coming off a stunning 29-25 victory over Josh Allen and the Bills in Week 7, entered their rematch with the Dolphins hopeful a corner had been turned. Instead, Miami's abundance of high-end skill players gradually revealed the Patriots as lacking in too many areas to beat a good team for the second straight week. The win over the Bills was a mirage, and the Patriots were exposed as the same talent-thin team they were before that victory.
The best hope for the Patriots' future is to lose, lose again, and then lose some more as this schedule plays out. Wins are detriments to what is best in the long run. How must they proceed? By playing hard, and coming up just short.
They're not going to end this season with just two wins. I know that. The defense is competent. Bill Belichick still can coach. There will be another unexpectedly sharp performance against a quality opponent. And there are enough opponents of modest-to-low quality — such as Sunday's foe, the Commanders, who have lost 5 of 6 and traded pass rushers Chase Young and Montez Sweat on Tuesday — that another win or two will come the Patriots' way, despite what is best.
Moral victories? Always welcome. Actual ones just interfere with the necessary bottoming-out before they can rise again. This sure is a weird place for the Patriots to be. But it's the reality. Time to embrace it, Bill.
Kick it off, Ryland, and let's get this one started . . .
Three players to watch other than the quarterbacks
Christian Barmore: When discussing the players on this Patriots' roster who ought to be long-term keepers, Barmore's name should be in the discussion. The third-year defensive tackle from Alabama was pegged as a breakthrough player last year, but injuries and inconsistency left a small cloud of disappointment over his sophomore season.
That breakthrough, it turns out, was delayed until this year, and particularly over the past three weeks, when he's played his best stretch as a Patriot. Barmore has sacks in back to back weeks, and over three games against Las Vegas, Buffalo, and Miami, he has been a disruptive force while registering 13 tackles, 3 tackles for loss, 2 passes defensed, 2 quarterback hits, and the pair of sacks.
Barmore and colleagues Lawrence Guy, Davon Godchaux, and the rapidly improving Keion White must be stout against the Commanders' running game. Even if linebacker Ja'Whaun Bentley, the Patriots' second-leading tackler (he has 55 to Kyle Dugger's 58), is sidelined with a hamstring injury, that shouldn't be a problem against Brian Robinson and a Washington running game ranked 26th in the league (85.9 yards per game). The Patriots rank ninth in run defense (97.9 yards per game), and did a decent job for most of the game against the Dolphins' explosive Raheem Mostert last week.
Barmore and friends could have some real fun when the Commanders pass. Second-year quarterback Sam Howell has been sacked 41 times in seven games. Surprisingly, the Eagles got to him just once last week in their 38-31 win, but there should be enough leaks in the Commanders' line to allow Barmore to collect at least one sack for the third straight game, which would officially count as a streak.
Demario Douglas: Countless stats will confirm the ineptitude of the Patriots' passing game, but this one, mentioned during the broadcast last Sunday summarized it better than most: JuJu Smith-Schuster's 3-yard touchdown reception with 8:30 left in the game was the first TD catch by a Patriots receiver other than Kendrick Bourne all season.
To put it another way, the Patriots have played eight games, and Shockmain Davis, Bam Childress, and Stephen Starring have as many touchdown receptions for the 2023 Patriots as DeVante Parker, Tyquan Thornton, and Douglas do. Correct, that would be zero.
With the likable and energetic Bourne (37 receptions, 406 yards, 4 TDs) out for the season with a torn ACL, someone has to pick up the slack for the Patriots' best and most well-rounded receiver.
While Kayshon Boutte appears in line to make his first appearance since Week 1, the best bet to actually produce on Sunday is the quick and nimble Douglas, who is second among receivers in receptions (19) and yards (222). He has the longest reception by any Patriot not named Pharaoh Brown this season, a 42-yarder against the Cowboys in Week 4.
Against a Commanders pass defense that ranks 29th (256.8 yards per game), Douglas has a chance to have the best game of his young career.
Terry McLaurin: There's plenty of competition when attempting to determine which of Belichick's draft and personnel moves over the past few seasons have hindered the franchise the most.
But I know which one comes immediately to mind, every single time: the decision to take Arizona State wide receiver N'Keal Harry with the No. 32 pick in 2019. Harry drew heady comparisons to Anquan Boldin for his alleged ability to make contested catches — something Belichick inexplicably seems to value more than the ability to get open. In 33 games over three seasons with the Patriots, Harry had 57 catches for 598 yards and 4 touchdowns. He's now with the Vikings, and honestly, they'd probably be better off rostering 43-year-old Anquan Boldin.
Patriots fans require no reminder of this, but the decision to take Harry was especially egregious because the likes of A.J. Brown, Deebo Samuel, and DK Metcalf were still available. So, too, was McLaurin, who went to Washington in the third round at pick No. 76 and immediately became a reliable weapon. McLaurin — who already has 341 catches for 4,776 yards and 23 touchdowns in his career, is having a typically excellent season. He leads the reliable crop of Commanders receivers — which also includes Curtis Samuel (35-332-2) and Jahan Dotson (30-291-2) — with a 42-495-2 stat line of his own. Belichick had high praise for McLaurin this past week, noting that he is a "very explosive player, threatens all three levels of the defense, very good after the catch." Too bad he didn't appreciate those attributes enough to draft him four years ago.
Grievance of the week
Have to admit, I don't get why anyone thinks it's a wise idea for deposed Raiders coach Josh McDaniels to return to the Patriots right now in any capacity where he might actually help. McDaniels is a two-time bust as a head coach — he was 3-0 against Belichick and 17-33 against everyone else during his stints in Denver and Las Vegas — but he is a proven asset as an assistant. As the Patriots' offensive coordinator in 2021, he worked with Mac Jones through a rookie season promising enough that he was picked as a Pro Bowl replacement. (Hey, that counts for something. Not a lot, but something.)
The notion is that McDaniels could help salvage Jones, to which I say two things: no, he can't, and why would you want him to at this point? Offensive coordinator Bill O'Brien has not been the problem. I can think of multiple instances where he drew up clever plays, only to have the lack of cohesion and talent among the players lead to failure, most recently with Jones's awful interception to the Dolphins' Jalen Ramsey last Sunday. Jones was broken last season by the pompous and inept Matt Patricia, and it's clear now that he's beyond repair.
And I'm not sure what the benefit in repairing him now would be to the Patriots anyway. They have to decide by May 2024 whether to pick up Jones's fifth-year option, which would cost in the $23 million-$30 million range for one year. His weaknesses (throwing on the move, arm strength) have remained weaknesses, and many of his perceived strengths (accuracy, decision-making) coming out of Alabama have become weaknesses. The Patriots aren't going to pay him, and they don't need to fix him. They need to keep losing so they can have the best shot at finding a superior successor.
The flashback
The Patriots and Commanders have met just 11 times, with Washington winning six but New England taking the last four. Among those Patriots victories was perhaps the most ruthless of the dynasty era, a 52-7 throttling in Week 8 of the 2007 season. The Patriots scored the first 52 points, racked up a franchise-record 34 first downs, and Tom Brady threw three touchdown passes, including a 2-yarder to Wes Welker with 9:06 to play that put New England ahead by a 45-0 margin. (Brady's three TD passes gave him 29 on the season — a career high — through just eight games.) The margin of victory was tied for the fourth largest in Patriots history — the 59-0 clobbering of the Titans in snowy conditions in October 2009 is the standard-bearer — but it might have been their meanest performance. The Patriots had relished crushing opponents after the revelation of "Spygate." After this one was over, Belichick was asked postgame why he went for it on fourth down on the drive that eventually led to the Welker touchdown, the implication being that he ran up the score on Washington's three-time Super Bowl-winning coach, Joe Gibbs. Belichick was having none of it. "What did you want us to do, kick a field goal?" he said.
Prediction, or how the heck did Mark Moseley, a kicker, win NFL MVP in 1982? . . .
Fine, I might as well keep predicting this until it proves right. So here goes: This is the week that the Patriots get Rhamondre Stevenson going. No, really. This is the week. Though his final stats were modest (10 carries, 39 yards) against the Dolphins last week, he showed flashes of his 2022 form, breaking an assortment of tackles. Against a Commanders run defense that allows 117.4 yards per game, 21st in the league, Stevenson will surpass 100 yards for the first time since Week 15 against the Raiders last season. Meanwhile, the Patriots defense will dupe Howell — who cannot resist attempting high-risk throws — into a crucial mistake or two. That will be enough to win a game that they really should not. Patriots 20, Commanders 19.
Sign up for Patriots updates🏈
Get breaking news and analysis delivered to your inbox during football season.