Patriots
'We're right there': Mac Jones stays optimistic despite late interception, another Patriots loss
"We're all in it together. I can throw a better ball."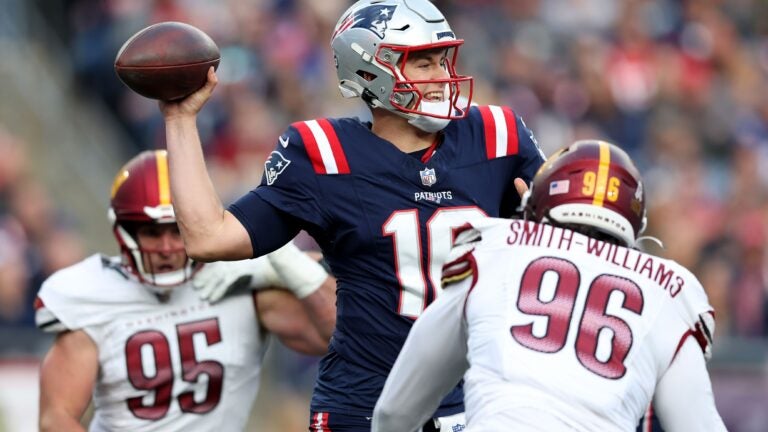 FOXBOROUGH — In just his third NFL season, quarterback Mac Jones has more experience than he would like answering all-too-familiar questions following predictably disheartening losses.
Even though his late interception in Sunday's 20-17 loss to the Commanders was clearly on wide receiver JuJu Smith-Schuster – a fact Smith-Schuster acknowledged postgame – Jones took ownership and didn't blame his teammate. He said the Patriots wouldn't have even been in that spot without Smith-Schuster, who made a key grab moments before the pick.
"It was a bang-bang play," Jones said. "Obviously, when you lose the game, it's frustrating. It's not on one person or one player at all. JuJu made some great plays. We're all in it together. I can throw a better ball."
Jones is right about the fact that it was a bang-bang play, but in this case, he couldn't have thrown a much better ball.
His stats (24 for 44, 220 yards, 1 TD, 1 INT) weren't remarkable, but they were good enough to keep the Patriots afloat. Jones delivered a beautiful pass to Hunter Henry for a touchdown, and otherwise, he managed the game and played situational football. Sunday's setback ultimately came down to New England's receivers not capitalizing when Jones put them in position.
Jones said he's confident there are receivers who can make plays, and it's his job to get them the ball.
"The whole group is very much so close together," Jones said. "They work really hard. It's not like we're not on the same page. We're really close. We're right there. We're just a little bit short."
Demario Douglas had a strong game overall but dropped a key pass. Jalen Reagor missed a deep ball that fell in his lap. Smith-Schuster couldn't deliver with the game on the line.
"I think that was really the read," Patriots coach Bill Belichick said. "You don't want to lose the ball there. We're in field-goal range. It's a long kick, but the ball gets tipped up in the air, and he made the interception."
Jones wasn't perfect – he missed a wide-open Tyquan Thornton on fourth down, for instance – but he looked like a competent NFL quarterback. In his last three games, Jones has completed 68 of 103 (66 percent) of his passes for 653 yards and thrown five touchdown passes compared to two interceptions.
That'll generally win you some games, but the Patriots have now lost five of six and are showing no signs of turning the trajectory of their season. Even so, Jones continues to maintain faith.
"The biggest thing is remaining confident in yourself," Jones said. "If you do everything you can every day, you should have no regrets. I have no regrets. I do need to do things better, but I'm always going to work hard and put in the hours. That's all I can do."
Sign up for Patriots updates🏈
Get breaking news and analysis delivered to your inbox during football season.