Patriots
What JuJu Smith-Schuster and Mac Jones said about game-ending interception
"It's all on me," Smith-Schuster said. "He put the ball in a good position. I've just got to get the catch and secure it."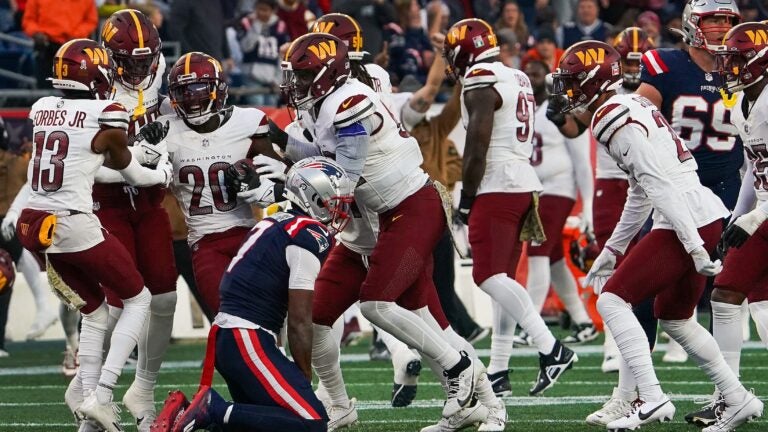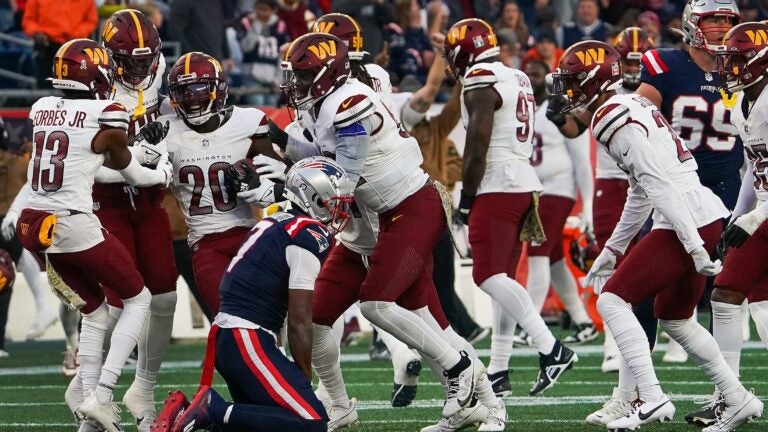 FOXBOROUGH – JuJu Smith-Schuster summed up what happened at the end of the Patriots' final drive in a succinct manner.
Mac Jones threw a catchable ball, and Smith-Schuster dropped it. The ball bounced into Jartavius Martin's hands for an interception, which gave Washington the ball back.
"Middle of the field was open," Smith-Schuster said of the drop. "Ran an in cut. It was a good ball, it went through my hands. Interception. Game over."
The Commanders ran out the clock and secured a 20-17 win at Gillette Stadium Sunday afternoon.
Smith-Schuster said the blame for the play belongs to him. New England needed a field goal to tie the game. A touchdown would have won it. The turnover sealed the loss.
"It's all on me," Smith-Schuster said. "He put the ball in a good position. I've just got to get the catch and secure it. Now we're in field-goal range, and obviously, I didn't do that. Fell short."
After the game, Jones noted that Smith-Schuster made a catch earlier in the drive on fourth-and-4 that extended the drive.
"JuJu made a great play the play before, or we wouldn't even be in that situation. I just went through my reads and fired it in there," Jones said. "It was just a bang-bang play. Obviously, when you lose the game, it's frustrating. It's not on one person or one player at all. Like I said, JuJu made some great plays. We're all in this together. I can throw a better ball and protect him a little bit more and all that stuff."
Smith-Schuster finished the game with six catches for 51 yards. He did not start the game, even with Kendrick Bourne out for the season and DeVante Parker out with a head injury. Jalen Reagor and Demario Douglas got the start for New England at receiver.
"I'm not a guy who is going to make excuses for playing time or anything like that," Smith-Schuster said. "I just know when my time comes, I try to make the best of my opportunities. Like today, I didn't play until the towards end of the game, going in and out. It's tough, man. This is a tough job because you put so much into it all week and it can all be gone by one play."
Four of New England's seven losses, including Sunday's result, have been by a touchdown or less.
"It's very frustrating, week after week, drive after drive," Smith-Schuster said. "It gets frustrating. At the same time, you just have to stick in it."
Sign up for Patriots updates🏈
Get breaking news and analysis delivered to your inbox during football season.