Patriots
What Mac Jones told JuJu Smith-Schuster after costly drop against Commanders
"It's a bang-bang play. It's always like that in the NFL, right?"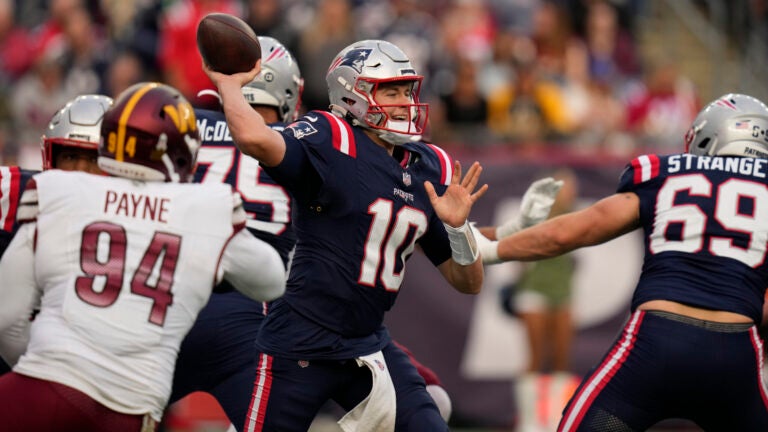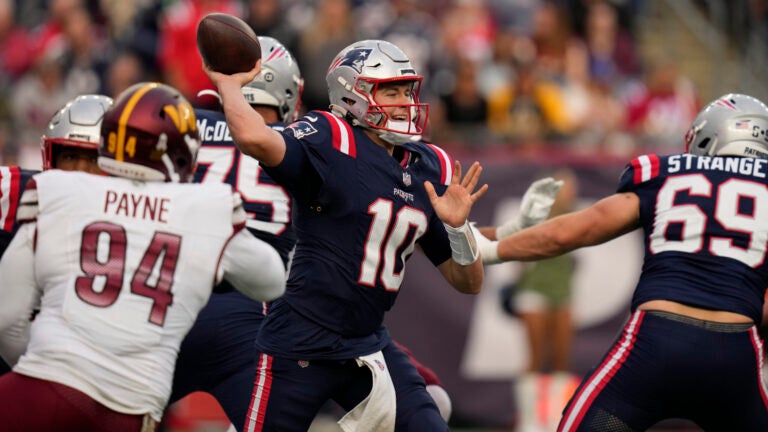 Patriots QB Mac Jones appeared on WEEI's "Jones & Mego" show on Monday, touching on a variety of topics — including JuJu Smith-Schuster's costly drop on Sunday, Kayshon Boutte's reps, and more.
Here are a few highlights from Jones' extended radio interview:
Mac's message to JuJu
Sunday marked yet another frustrating afternoon for the Patriots, who failed to capitalize on multiple opportunities in every facet of the game en route to a 20-17 loss to a tanking Washington Commanders team.
In another game where little seemed to fall New England's way, JuJu Smith-Schuster's costly drop in the final minute of play was the icing on the cake.
With New England trailing by three points and the ball on Washington's 41-yard line, Mac Jones and the Patriots' offense were on the cusp of putting themselves in field-goal range.
With Chad Ryland warming up on the sidelines, Jones hit Smith-Schuster with an eight-yard pass that hit him square in the hands. But the veteran wideout could not corral the pigskin, with Jones' pass bouncing off of him and eventually into the grasp of Washington rookie cornerback Jartavius Martin for a game-sealing interception.
It was another crushing result for Smith-Schuster, who is trudging through a disastrous first season in New England after inking a three-year, $33 million contract with the Patriots in March.
On Monday, Jones was asked about what he told Smith-Schuster following his costly drop.
"We're good," Jones said. "I told him if you don't make the play before that one, then we're not there. It's football. It's a bang-bang play. It's always like that in the NFL, right? It goes one way or the other. You make the play and maybe you go into overtime. And if you don't, you don't.
"It is what it is. I can do things better throughout the game to not even be in that position. Everyone wants to put one thing on one player, but we're all in this together. That's how we approach it."
Boutte still waiting
Bill Belichick offered up some high praise for rookie wideout Kayshon Boutte in the days leading up to Sunday's loss to Washington.
"This has probably been his best week," Belichick told reporters on Friday of Boutte's effort in practice with Kendrick Bourne out for the year and DeVante Parker recovering from a concussion.
But even with those added reps and strong practice performances, Boutte was still placed on New England's inactive list on Sunday.
It remains to be seen if the 2023 sixth-round pick has the talent and mettle to develop into a solid player in the NFL ranks. But New England also will not be able to assess Boutte's potential if he doesn't start getting snaps in game situations.
And with New England already floundering with a 2-7 record, it does seem like Sunday was the ideal opportunity to see what this team has in the 21-year-old wideout.
"I mean, I don't [make] those decisions," Jones said of Boutte's status. "And at the end of the day, I have a lot of trust in all those guys. I really do. And a lot of those guys are young football players and they have a lot of skill, a lot of talent and honestly they've done a good job. So I've been happy with everybody."
Separating from the pack
Jones' own decision-making and lapses in execution have cost the Patriots in several games this season.
But New England's lack of playmakers around Jones hasn't made things any easier on the third-year QB.
As noted by Patriots.com's Evan Lazar, New England's receivers generated just 1.8 yards of separation on Sunday, forcing 36 percent of Jones' throws to go into tight windows when the Commanders' defense played man coverage.
Meanwhile, Washington QB Sam Howell only threw into a tight window 4.5% of the time, with his receivers gaining 3.1 yards of separation against New England's man coverage.
Despite a season-long trend of his receiving options struggling to break loose against defensive backs, Jones opted to not throw any of his teammates under the bus on Monday.
"I think that we have guys out there that are really trying and doing a good job. Really, it's football, right? It's the NFL — the window for separation is very quick. And it might be there for .1 second and you got to kind of fit it in there. So it just depends on the play too, right? One play could be — maybe the defense is not taking that away, or they're giving you the shorter throws or whatnot.
"So there's a lot that goes into each play. Really, it's based on the play. Some plays, there's a tight windows, some plays, the guys are wide open, some plays, it's kind of 50/50 either, there's a guy there, but is he really there? And that's kind of the NFL."
Even with a few positive developments such as Demario Douglas' emergence as a viable receiving threat, New England hasn't been able to build any momentum during those rare stretches where things have gone their way.
"The record wouldn't say so, but that's really what you get judged on," Jones said of New England's overall play this season. "It's the performance business. For us, it's a lot of things. You want to have better games. You want to stack games. You want to stack days."
Sign up for Patriots updates🏈
Get breaking news and analysis delivered to your inbox during football season.
Newsletter Signup
Stay up to date on all the latest news from Boston.com