Patriots
What the Patriots are saying about going to Germany for the Colts game
"This is my first time out of the country," Demario Douglas said. "So, it's going to be different, a different atmosphere."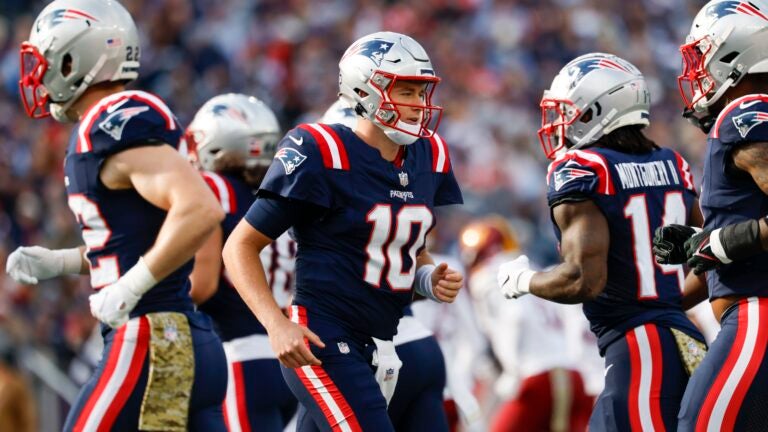 FOXBOROUGH – There were plenty of rolling duffle bags in the Patriots' locker room on Thursday as the team prepares to travel to Germany for Sunday's game against the Colts.
Wide receiver Demario Douglas said he is excited to see a new place.
"This is my first time out of the country," Douglas said. "So, it's going to be different, a different atmosphere."
Defensive end Deatrich Wise Jr. said he's watched highlights of German soccer games. He appreciated the fireworks at the games and hopes there will be some for the Patriots game too.
Wise said he plans on getting as much sleep as possible on the plane to help his body acclimate to the time change. He doesn't typically use neck pillows, but he said he's bringing one for this trip.
Wise hopes to find a little time for sightseeing but remains focused on preparing for the game.
"I think a little bit of balance," Wise said. "Kind of like do a little bit of both, while you're there the day before the game kind of like see around and stuff like that and see how everything looks as you're going into the city, see how everything looks and stuff. But, at the same time, remember that you are there for business."
Patriots coach Bill Belichick said Thursday that the organization has been preparing for the trip since it was announced.
"Whenever it was scheduled," Belichick said. "When was that announced, sometime in the spring? So, made a couple trips over there, different people in the organization to plan for it. All the logistics, practice facility, stadium, hotel, meals, airlines, stuff like that. So, a lot of work has gone into this."
Belichick said he has to do some homework on what German phrases he wants to learn while the team is in the country.
"'Win', maybe?" a reporter suggested.
"Yeah, 'Patriots win?'" Belichick said. "What's the word for that? I've been spoken to in German, just don't know what was said."
Wise was asked if the trip is coming at a good time. With the Patriots' record at 2-7, would it be nice to get away from Foxborough for a while?
"I'll more say the bye-week is coming at a good time because we're going to Germany," Wise said. "That's going to be a long trip there and back. It's good to have that week off to kind of relax."
Quarterback Mac Jones said he is looking forward to the opportunity.
"I think it's cool, right?" Jones said. "It's a great opportunity for us to go out there and play the game that we love in front of a different crowd. Definitely looking forward to it."
Sign up for Patriots updates🏈
Get breaking news and analysis delivered to your inbox during football season.