Patriots
The Patriots simply don't have enough firepower to keep up with even the mediocre Colts
The Colts have scored at least 20 points in every game this season, while the Patriots have surpassed 20 just once.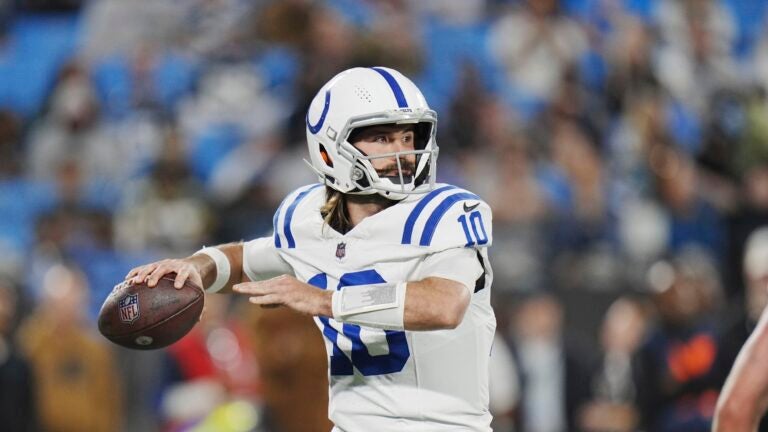 Welcome to Season 12, Episode 10 of the Unconventional Preview, a serious yet lighthearted, nostalgia-tinted look at the Patriots' weekly matchup . . .
Maybe it went wrong with Mac Jones much sooner than I'd realized.
Consider this assessment after one of his uninspiring performances. It probably sounds pretty familiar, even repetitive:
"Jones . . . was adequate. But skills that are supposed to be his strengths — accuracy, quick processing, seeing the field — have sometimes been inadequacies this season. He missed an open Rhamondre Stevenson on a deep throw on the second possession, and there were other occasions where he didn't see open secondary receivers."
Ignoring the specifics of the receiver (Stephenson) that he missed in this instance, that paragraph could have come from at least a half-dozen postmortems this season. But it's not from this season, or even last. I wrote that in 2021, Jones's hopeful rookie season, when the Patriots fell to the Colts in Week 15, 27-17. Jones's performance in the loss, in which the Patriots trailed, 20-0, looks like something of a harbinger of the demoralizing situation they find themselves in now. But who could have known? The Patriots dropped to 9-5 with that defeat. They are 11-19 since.
Maybe getting away to Germany, where the Patriots will face the Colts Sunday (9:30 a.m. EST kickoff), will offer some sort of respite. But it's unlikely to yield the Patriots' third victory of the season. Jones is coming off another disheartening performance in which he missed open receivers — most notably Stevenson on an alley-oop of a throw — and didn't see secondary options breaking open.
And when Jones did make a genuinely impressive throw, his receivers — most inauspiciously Jalen Reagor and JuJu Smith-Schuster — failed to make a play. It was jarring to watch Commanders quarterback Sam Howell, a former fifth-round pick, look considerably more skilled than Jones, the No. 15 overall pick in 2021.
The Colts are led by Gardner Minshew, an erratic but entertaining replacement-level quarterback who was thrust into the starting job when rookie Anthony Richardson was sidelined with a shoulder injury. The Colts snapped a three-game losing streak with a win over the hapless Panthers last Sunday, and scoring isn't their issue — they average 25.8 points per game, seventh in the league. If Minshew can curb his reckless tendencies, the Colts should have the game in hand before most of us have completed the Sunday morning Dunkin' run.
Kick it off, Ryland, and let's get this one started . . .
Three players to watch other than the quarterbacks
Rhamondre Stevenson: Confused. Bewildered. Mystified. Well, don't leave it all to me. Go ahead and add your own synonym to the collection regarding our puzzlement as to why Stevenson — who looked as elusive and aggressive with the football in his hands as he has all season — got just 13 touches against the Commanders. Stevenson ran just nine times, gaining a season-high 87 yards, including a 64-yard touchdown that stands as the Patriots' longest play from scrimmage this season. He added 42 yards on four receptions, meaning he accounted for 129 yards, or roughly 10 yards per touch. It's perplexing that on a day when he finally looked like the explosive 2022 version of himself, he ceded carries to workmanlike Ezekiel Elliott and often became an afterthought while Jones threw 44 times. Stevenson's season high in carries is 19, in the Week 3 win over the Jets. He hasn't had more than 14 since. Last season, when he ran for 1,040 yards, he had two massive games. A 25-carry, 161-yard performance in a Week 5 win over the Lions, and a 19-carry, 172-yard effort in that weird Week 15 loss to the Raiders. Those were his two highest attempt totals of the season. Give him that kind of workload against the Colts' 24th-ranked run defense (125.6 yards per game), and he'll produce his best numbers of this disjointed season.
Jonathan Taylor: Patriots defenders who were with the team in 2021 have experienced first-hand what it's like trying to stop the Colts running back when he's at his best. In Week 15 that season, Taylor ran 29 times for 170 yards, including a game-breaking 67-yard touchdown just before the two-minute warning. The Colts prevailed, 27-17, ending a seven-game Patriots winning streak. Taylor was an offense unto himself that season, leading the NFL in carries (332), rushing yards (1,811), and touchdowns (18), catching 40 passes for another 360 yards and 2 touchdowns. Taylor hasn't been that player for a while. Injuries limited him to 11 games last year (he finished with 861 yards), and this season got off to a bizarre start, with a contract dispute nearly leading to a trade to the Dolphins, before he landed on injured reserve with a hamstring injury. Taylor is healthy now, and his relationship with the Colts is apparently mended. In early October, he signed a three-year, $42 million contract to remain in Indianapolis. The Colts, who rank 10th in the league with 123.3 yards rushing per game, got surprising production from Bills expatriate Zack Moss (615 rushing yards this season) in Taylor's five-game absence. Taylor had just 14 total carries in his first two games, but he ran for 95 yards in just 12 attempts in Week 8 against the Saints. He ran 18 times for 47 yards — but contributed a TD reception — last week against the Panthers, and it certainly does not look like a job share at this point. Taylor played 43 snaps to Moss's 11. The Patriots' run defense — which allows 100.8 yards per game, 11th in the league — has been one of the team's few positives, with Christian Barmore looking like a star in the making with his recent disruptive play at tackle.
Kenny Moore: Because he never played a regular-season game for the Patriots, his name won't be found on the franchise's all-time roster, among the eight Moores to have suited up for the team when it counts. But the Colts' ball-hawking cornerback was a Patriot briefly, from May 2017 until he was cut eight days before the season opener. The Colts immediately signed him, and it turned into a savvy decision for them and a welcome break for Moore, who does not look on his brief time in Foxborough fondly. Moore has started 82 games in his seven seasons with the Colts, made the Pro Bowl in 2021, and was named the 82nd-best player in the league in the 2022 top-100 poll. He has 17 career interceptions, including three of the Colts' nine this season, and will face his first NFL employer Sunday coming off the best game of his career. Last Sunday in the 27-13 win at Carolina, Moore returned a pair of interceptions for touchdowns, one 66 yards and the other 49, also contributing two passes defensed and eight tackles. Moore, who is likely to have the assignment on Demario Douglas, the Patriots' only dangerous receiver, should have opportunities to add more big plays to his highlight reel. Jones has thrown six pick-6s in his career, three this season.
Grievance of the week
The Patriots have had so many injuries at cornerback that they're probably one more torn labrum away from checking in to see if Hank Poteat and Earthwind Moreland are available. We all miss watching Christian Gonzalez, and Marcus Jones would have been an asset in multiple ways. But the tipping point has to be near for Jack Jones and J.C. Jackson, doesn't it? Jones and Jackson saw delayed entry into last Sunday's game, and it was later reported that both broke curfew at the team hotel. Jones did what all unremorseful young people do when they think a punishment is unfair; he got passive aggressively cryptic on social media about it. Jackson, meanwhile, didn't even make the trip to Germany. Their behavior is what happens when a winning team becomes a regular loser and its culture erodes. Malcontents push back on discipline and structure and revel in seeing what they can get away with. Both are decent players. Both are bad actors. Bill Belichick should have brought them both to Germany, then left them at the airport like discarded baggage when it was time to come home.
The flashback
We'll save the assorted epic Brady-Manning duels for another time. Right now, let's go back to nearly a decade before the Patriots' dynasty began, when some soon-to-be-familiar names offered a fleeting moment of joy in an otherwise lost season. In Week 11 of the 1992 season, the 0-9 Patriots traveled to Indianapolis to take on Jeff George and the 4-5 Colts — and they did so without their coach. Dick McPherson was hospitalized for an intestinal ailment that required surgery, leaving assistant Dante Scarnecchia in charge of the team. The Patriots also made a change at quarterback, turning to second-year passer Scott Zolak, who had made his NFL debut in relief the week before. The Patriots trailed by 10 early in the fourth quarter despite Zolak touchdown passes to Ben Coates and Greg McMurtry — the latter a 65-yarder just before halftime. But a Chris Singleton pick-6 and two Charlie Baumann field goals helped the Patriots rally to send the game to overtime. A 24-yard completion from Zolak to Jon Vaughn set up Baumann's winning 18-yarder in OT. Zolak, who had sat behind Hugh Millen and Mac Jones-prototype Tommy Hodson to start the season, was named AFC Player of the Week for his efforts. He led the Patriots to their second and last win over the season the following week, too. Someone should really do a Where Are They Now? on that guy.
Prediction, or Bert Jones would have been an all-time great if he'd stayed healthy . . .
Let's keep this simple: The Colts have scored at least 20 points in every game this season, including games of 38 and 31, and two of 27. The Patriots have scored 20 points on the nose once (in the Week 1 loss to the Eagles) and surpassed it once (when they scored 29 in their outlier of a win over the Bills in Week 7). The Patriots are 26th in the NFL in points allowed, 27th in yards allowed, and 29th in points scored. They don't have the firepower to keep up with even the mediocre Colts, and there's no reason to believe they have the discipline. The best hope for the Patriots, whose main priority should be draft position, is that they lose with dignity and without dysfunction. Colts 32, Patriots 17.
Sign up for Patriots updates🏈
Get breaking news and analysis delivered to your inbox during football season.