Patriots
What experts are predicting for Sunday's Patriots-Colts game
The Patriots head to Germany at the lowest point in the franchise's recent history and are in desperate need of a win.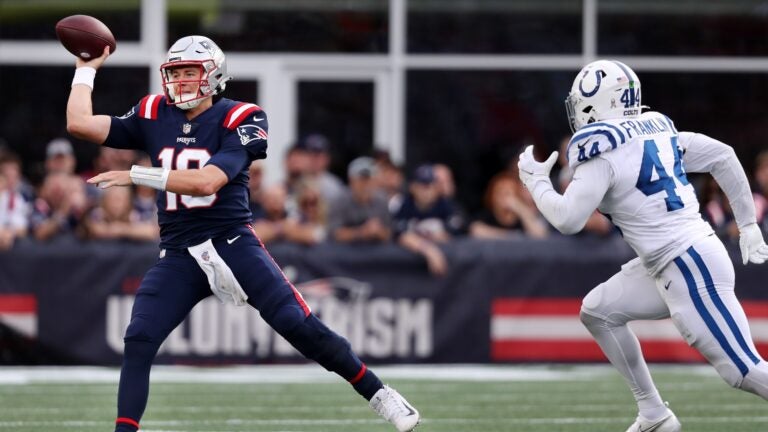 COMMENTARY
The Patriots haven't been sending many self-congratulatory emails about the team breaking any Nielsen TV ratings lately. I doubt Sunday morning's 9:30 start is going to aid any in that department.
For most of us, the Patriots will always be appointment viewing. We remember Sunday afternoon network blackouts and still have a morsel of PTSD every time the network switches to the local feed. Sunday morning? Saturday night? The Patriots are playing on the moon? What time? Odds are, unless there's an ill-timed indoor soccer match on your family's calendar (by the way, we need to have this discussion with too many youth leagues in this state), we'll be watching.
That includes Sunday morning, when the Patriots and the Colts will probably set back any framework the NFL had built with last week's Chiefs-Dolphins showdown. That game had offensive firepower. This one has Mac Jones.
Ten years ago, the NFL should have been proud to push Colts-Patriots on our overseas friends. These days, it's the equivalent to sending the Columbus Blue Jackets and Nashville Predators to Paris. Tell me the reason anyone should care.
American football in Germany. This one won't be blacked out in New England.
For the sake of good football though, they might want to limit how much a German television audience can see of this game.
This week's predictions:
Greg Cote, Miami Herald: Patriots 23, Colts 20. "Upset! Another 9:30 a.m. kickoff for second of two games in Frankfurt, though this matchup pales compared to Chiefs-Dolphins last week. (Maybe casual German fans think they're getting Peyton Manning vs. Tom Brady?) I've taken some hits believing Pats can't be this bad and expecting a turnaround … and yet here I go again. NE has won nine of past 10 vs. Indy and Beleaguered Bill will find a way again."
Neil Greenberg, Washington Post: Patriots (-3.5).
Sam Farmer, Los Angeles Times: Colts 23, Patriots 14. "Colts often don't play well against Bill Belichick's teams, but these aren't the same Patriots. Indianapolis front seven is stingy, and DeForest Buckner is one of the NFL's best-kept secrets."
Pete Prisco, CBS Sports: Colts 20, Patriots 14. "The Patriots are reeling and there is talk Bill Belichick could be in trouble. I don't buy it, but that's not a good thing to have hanging over this team. The Colts beat the Panthers last week, thanks to their defense with two touchdowns off picks. The offense didn't do much, but the Patriots don't do much on offense either. This will be a low-scoring game won by the Colts."
CBS Sports staff: Five of eight take Indy (-1.5)
ESPN staff: Split
Michael Hurley, CBS Boston: Colts (-1.5). "The Colts aren't exactly a good team, no. They just beat the aforementioned 1-7 Panthers to snap a three-game losing streak. But I bet their vibes are much better heading over to Frankfurt, and I bet Gardner Minshew can play just as well as Sam Howell did against the Patriots a week ago."
Jimmy Kempski, Philly Voice: Colts (-1.5). "If you're an NFL fan in Germany, hopefully you got tickets to Dolphins-Chiefs last week, and not this game."
Frank Schwab, Yahoo! Sports: Colts (-1.5). "It's a Germany game and that can get wonky. It's impossible to tell how the travel will affect this game but it's pretty obvious the Colts are the better team, even though they're flawed too."
Sheil Kapadia, The Ringer: Colts (-1.5). "You should not gamble on this game. I'm making a pick only because I have to."
MMQB staff: Five out of seven like the Colts.
Vinnie Iyer, The Sporting News: Colts 24, Patriots 20. "Gardner Minshew is taking some hits in the passing game, but he's been lifted by Jonathan Taylor and Zack Moss running every week and the defense is starting to get better, especially on the back end vs. the pass. Mac Jones has been more competent with more diverse weapons and a running game revival, but he's still missing throws and making a few key mistakes."
Bill Bender, The Sporting News: Patriots 20, Colts 19. "The Colts and Patriots will play at Frankfurt Stadium in Frankfurt, Germany in a matchup that used to define the AFC championship hunt. The Colts rank seventh in the NFL with 14 takeaways, and the Patriots have been miserable on offense the last three weeks. New England has won the turnover battle the last three weeks and is still 1-2. Why do we have a hunch that Bill Belichick will pull an overseas upset, however small?"
Mike Florio, Pro Football Talk: Colts 23, Patriots 17. "Sorry, Germany. A once-compelling rivalry has gone from apple strudel to road apple."
Chris Simms, Pro Football Talk: Patriots 23, Colts 20.
It says here: Colts 21, Patriots 6. I wonder what we're teaching the Germans about Deflategate this week.
Sign up for Patriots updates🏈
Get breaking news and analysis delivered to your inbox during football season.