Patriots
If Bill Belichick is done, here's who could replace him in New England
"It's over in New England," said one NFL general manager, who has discussed the Patriots situation with many power brokers in the league.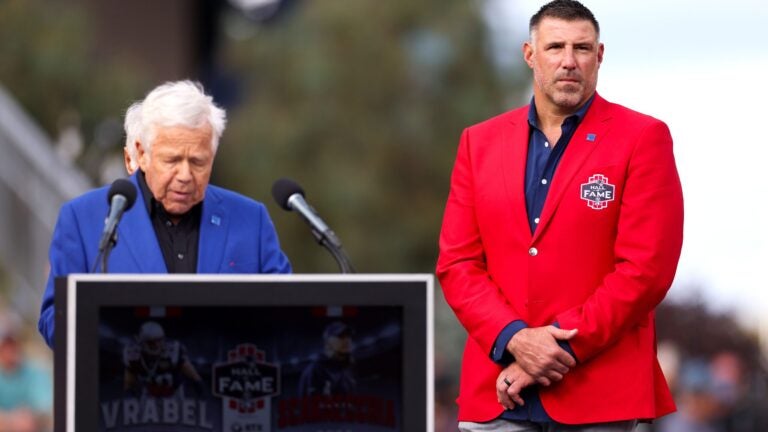 We've reached the point in the New England Patriots' descent where fan and media fiction have intertwined, with fever dreams emerging about whether (and how) Bill Belichick's ultimate demise might play out this weekend.
Some would have you believe that the Vince Lombardi of the salary cap era might find himself munching on a currywurst Sunday afternoon following yet another troubling defeat, still adorned in a tattered hoodie while contemplating how Gardner Minshew and the Colts got the best of him in Frankfurt, as owner Robert Kraft saunters into the locker room to inform him he'll need to arrange his own transportation back to Massachusetts. It's quite a visual bouquet, for sure, but I'd reckon the biggest postseason winner in NFL history will make it through Week 10 no matter what this game in Germany has to offer. Even if it were to drop his record to 2-8.
That's not to suggest that there aren't a smorgasbord of rumors, rumblings and opinions swirling about where Kraft will turn when – not if – he inevitably moves on from Belichick in 2024. It would take a remarkable turn of events for the Patriots not to be among the half-dozen or so teams looking for a new coach next season. And, much more immediately, Kraft finally finds himself, after decades of mulling parade routes by Thanksgiving, having to join hoi polloi of owners who endure week after week of pathetic displays while soliciting advice from trusted advisers about who should manage his football operations throughout the year as well as on game day.
There's not much to belabor at this point, as things have only gotten worse since we last took the pulse of the league about the Patriots. They have few discernible strengths, they no longer have any semblance of a home-field advantage, they have one of the weaker rosters in the NFL and they have yet to win a game outside the AFC East after stumbling in Foxborough against the Commanders on Sunday. New England is now 27-33 since the start of 2020 – its first without Tom Brady as quarterback – giving the franchise one fewer win in that span than the Raiders, who just fired Belichick protégée Josh McDaniels, and one more victory than the Commanders, who multiple general managers and personnel executives believe will be moving on from Ron Rivera barring quite a second half.
Perhaps most ominously, New England and Washington rank 21st and 22nd in victories since the start of 2020; every franchise below them on that list has already made a coaching change since 2021, and some have made multiple.
"It's over in New England," said one NFL general manager, who has discussed the Patriots situation with many power brokers in the league. (He spoke on the condition of anonymity because he is not permitted to publicly discuss the inner workings of other NFL teams.) "Kraft is already starting to sniff around." Another GM said: "Belichick knows what's up. He's got something up his sleeve. He'll know where he's going before he's gone. Trust me on that."
Of all that I've heard this week, the concept that rings most correct – and the endgame I believe would most appease Kraft – is a reconnection with accomplished men who lived the Patriot Way at its peak. A coach and general manager who have the chops to win at least relatively quickly, who have strong résumés and ample experience, but who are also young enough to provide stability and productivity well into the days when Kraft's son, Jonathan, is running everything.
Specifically, that would be former Patriots linebacker Mike Vrabel as his head coach and longtime Patriots personnel executive Nick Caserio as his GM, czar of football operations, or some such title. That could be the master plan for life after Belichick, and it might not be all that far-fetched, even considering Vrabel is currently employed as the Titans' coach and Caserio has finally turned around the Texans after a tumultuous stint as their general manager.
Both general managers, who know Caserio fairly well and have at least a decent feel for what life in Houston is like for him, maintain all is not perfect despite the club's ascent in the standings; that he's an odd mix for that part of the country; and that it's quite different working for Cal McNair, who is, shall we say, a far less steady owner than Kraft. And they believe Kraft could get creative in terms of a potential job title and description to provide Caserio a promotion above the standard GM position, making it more difficult for the Texans to block their advances. (It's worth noting these franchises already have quite a history after a tug-of-war over team chaplain-turned-team executive Jack Easterby back in the day).
As for Vrabel, well, there was the oddly timed firing of Tennessee general manager Jon Robinson, another former Belichick guy, in the middle of last season, and the coach is still in the feeling-out process with new general manager Ran Carthon. This team was considered among the AFC's elite not that long ago, and now it's transitioning. with rookie QB Will Levis displacing veteran Ryan Tannehill as the starter, something Vrabel seemed more hesitant in embracing than some in the league expected.
Sure, he signed a contract extension in early 2022 – but so did Robinson, and he barely made it through Thanksgiving that year. There's no comparison to be made between the Patriots and Titans franchises. The chasm in pedigree of ownership is, frankly, massive, and that is the characteristic Belichick has always told his pupils to weigh most heavily when considering potential career opportunities. Some in the league are already suggesting Kraft would pursue a trade for Vrabel if need be.
"I think those two guys could work together there, too," the first GM said of Caserio and Vrabel. "I think the egos and personalities could fit. I think Kraft could probably pull that off."
No matter what Kraft does, it seems a stretch that anyone would inherit the virtually unfettered levels of power Belichick amassed over his time in New England; some separation between coaching and football operations is in order. Surely, the owner grasps that now. Going from Belichick to someone totally unproven at either position also probably wouldn't sit well with Kraft, although Patriots inside linebackers coach Jerod Mayo will undoubtedly be a serious candidate for the coaching opening once it becomes official.
Staying within the Patriots family seems a safe bet to those in the league who've been sizing up Kraft. Pulling off a Vrabel and Caserio coupling would almost certainly be championed by his fan base and renew hope that not all was lost when Brady went to Tampa – and that life after Belichick doesn't have to be as bleak.
Sign up for Patriots updates🏈
Get breaking news and analysis delivered to your inbox during football season.