Patriots
One NFL insider says Bill Belichick, Patriots could 'mutually part ways' at year's end
"But if people I talk to had to bet, their money is on a mutual parting of the ways at the end of the season."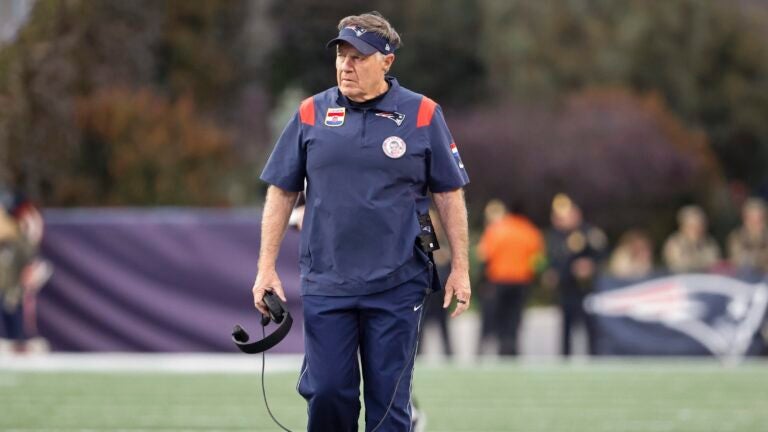 With the Patriots' record at 2-7 for the first time under Bill Belichick, rumors are swirling about his future in New England.
The Athletic's Dianna Russini said she's hearing from sources that both parties could cut ties once the season is over.
"In talking to those who have spent time around the Patriots organization and understand the dynamics between team owner Robert Kraft and Belichick, I don't expect anything to be determined with so much season remaining," she wrote. "But if people I talk to had to bet, their money is on a mutual parting of the ways at the end of the season."
This news comes just days after Belichick fielded questions about his job security in Foxborough from a reporter during his Nov. 6 press conference. When asked if he has been given assurances about his job status and if he feels he is coaching for his job this week in Germany, Belichick gave his classic "onto Indianapolis" response.
Russini's report also follows Pro Football Focus' Mike Florio's Nov. 1 comments stating he heard from "someone (he) trusts" that New England could trade Belichick to the Washington Commanders. That report came in the days leading up to the Patriots' game versus the Commanders in Week 9.
NFL Network's Ian Rapoport relayed news about a "lucrative, multi-year" deal that Belichick and New England agreed to before this season on Oct. 22, the day the Patriots faced the Buffalo Bills in Week 7. Perhaps that was simply standard procedure for both parties and the deal could be reworked or paid out if the two do end up parting ways.
Regardless, New England is experiencing its worst start to the season since 2000. It only makes sense that reports are surfacing about the possibility of his position being taken by someone else.
With such reports, the likelihood of Belichick surpassing Don Shula's 347 all-time NFL head coaching wins diminishes by the day. The 71-year-old stands at 331 overall wins with eight games left in the regular season. Belichick and his team would need a miracle for him to make any significant progress toward that record. A change of scenery may be Belichick's only shot at breaking the record now, giving more legitimacy to the "mutual parting" aforementioned by Russini.
The Patriots look to secure their third win of 2023 against the Colts in Frankfurt Sunday at 9:30 a.m. Eastern Time.
Sign up for Patriots updates🏈
Get breaking news and analysis delivered to your inbox during football season.