Patriots
Bill Belichick benched Mac Jones again. Should it be permanent? Plus, other final thoughts
Should the Patriots continue to let Mac Jones regress like this after the bye week?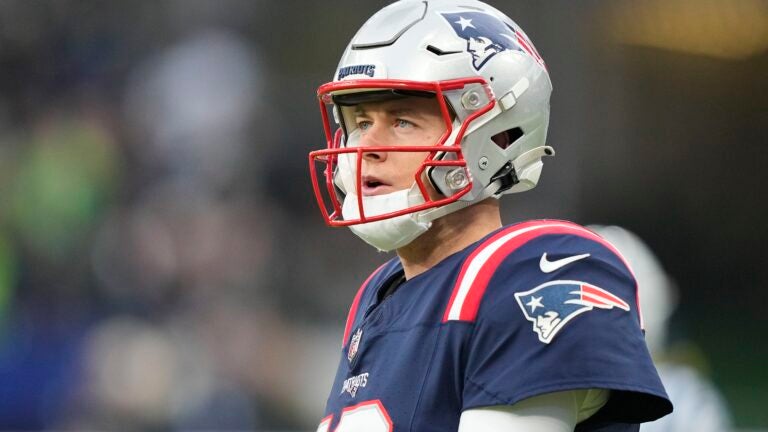 COMMENTARY
Mac Jones was removed from the game again, and this time Bill Belichick made it clear that it was a benching.
It was not taking the quarterback out of a blowout. It wasn't injury-related, Jones said he has "a little bruise" but is otherwise healthy.
It was the coach's decision to switch quarterbacks in the middle of the game with one final drive to go.
In response to a question about what made Bailey Zappe the best option to finish the game instead of Jones, Belichick said: "I just thought it was time for a change."
After failing to finish three of the 10 games that the team has played, and with New England's record sitting at 2-8, one of the biggest questions surrounding the Patriots as they head into the bye week is if the change should be permanent.
Should the Mac Jones era be over after the bye week? Here are a few final thoughts.
Is it time to give up on Mac Jones?
Whether Jones remains as the Patriots' starting quarterback depends on how many excuses one wants to give him.
Ten games in, he's thrown 10 touchdowns and 10 interceptions. He's completing completing a career-worst 64.8 percent of his passes for a career-worst 6.1 yards per completion. His numbers across the board are worse that they were when he was a rookie.
He's missed open receivers at times, he's made poor decisions that have reportedly infuriated people inside the team, and he's made throws like the one at the end of his time Sunday that were nowhere near when they needed to be.
"It was a terrible throw. We've practiced it, hit it in practice," Jones said. "Not a good throw. I knew where to go and I didn't do it."
The offensive line has been porous – Jones was sacked a season-high five times Sunday. For the most part, Jones has been under heavy pressure this season and he hasn't responded well to it.
Other than Kendrick Bourne (out for the season) and rookie Demario Douglas, the Patriots' receivers have struggled to create enough separation to get open consistently. JuJu Smith-Schuster, who caught his first touchdown pass of the season last week, is the only Patriots receiver with a touchdown.
That said, we're three years into the Mac Jones era. He started off well, but has steadily gotten worse every year. At some point, you just are what you are. Jones has been given every opportunity to show that he can elevate the players around him and win games. He hasn't shown the ability to do that job in quite some time.
Maybe, he's the kind of quarterback who can be good on a team that has more weapons and evaluates offensive talent better. But, as far as this team and who is currently here? Jones doesn't appear to be the right guy to lead them.
Zappe wasn't much better.
It took Jones more than three quarters to throw his only interception of the day.
Zappe only completed three passes before throwing an interception on the final drive.
Overall, he was 3 for 7 on Sunday with the interception on a fake spike that went awry. He's completing 40 percent of his passes in limited action this season.
But that's the key word – limited action. Zappe went 2-0 as a starter last season when Jones was out with an injury. He completed 70 percent of his passes over four games and threw five touchdowns against three interceptions.
Granted, the starts were against the Lions and the Browns and he had a poor performance against the Bears before being shelved for the rest of the season.
This year, Zappe has been asked to come in during only the most dire of circumstances and he hasn't fared any better than Jones. But, at this point could he really be much worse than Jones if given the opportunity to start? If the team is going to lose anyway, wouldn't it make sense to find out?
The defense held up its end of the bargain.
The defense held Indianapolis to 10 points, 70 yards rushing, and under 200 yards passing.
And, it wasn't enough to win.
"It's just tough, man," tight end Hunter Henry said with a sigh. "It's just not good enough in any aspect. We're going into a bye here and we've got to improve on. We've got to get a lot better. It's just not good enough in any aspect."
The defense's performance should have been enough to win.
Spreading the blame equally doesn't make much sense when the offense can't score more than a pair of touchdowns against the Colts, who climbed back to .500 with the win on Sunday.
Despite this, defensive end Deatrich Wise Jr. says there isn't any division among the Patriots' offensive and defensive units.
"There's no division. As a defense we have high exceptions on ourselves," Wise said. "Personally felt like the first half and the second half were a little different. If we just stopped them in that first half, they wouldn't have even scored those points, so that's kind of how we think in a sense."
The running backs were a bright spot.
Rhamondre Stevenson appears to be breaking out of his slump. He topped 80 yards for the second game in a row. Ezekiel Elliott added 54 yards on 13 carries.
The Patriots had almost 100 more yards than the Colts did on the ground.
The defense had a number of bright spots. Davon Godchaux posted eight tackles on the defensive line. Myles Bryant picked off a Gardner Minshew pass that Jahlani Tavai tipped. Christian Barmore, Jabrill Peppers, and Shaun Wade all found their way into the backfield for tackles for loss.
If you're looking for one positive on the offensive side of the ball, the running backs should count.
Sign up for Patriots updates🏈
Get breaking news and analysis delivered to your inbox during football season.