Patriots
What current, former Patriots said about Mac Jones' latest benching against Colts
"Right now, everybody's counting him out. I'm sure there's a lot of negativity."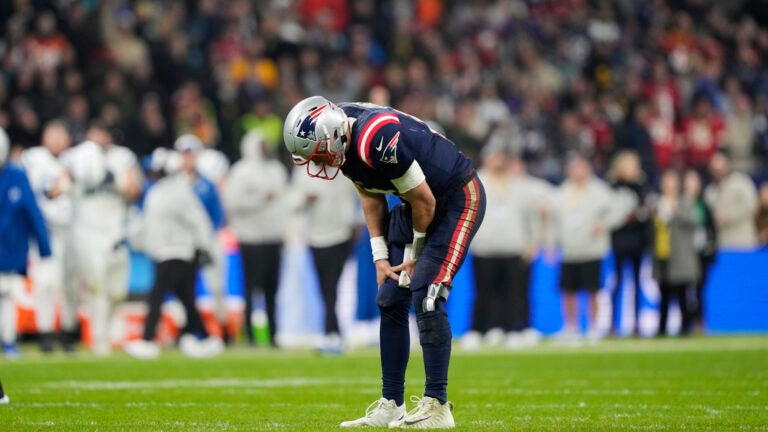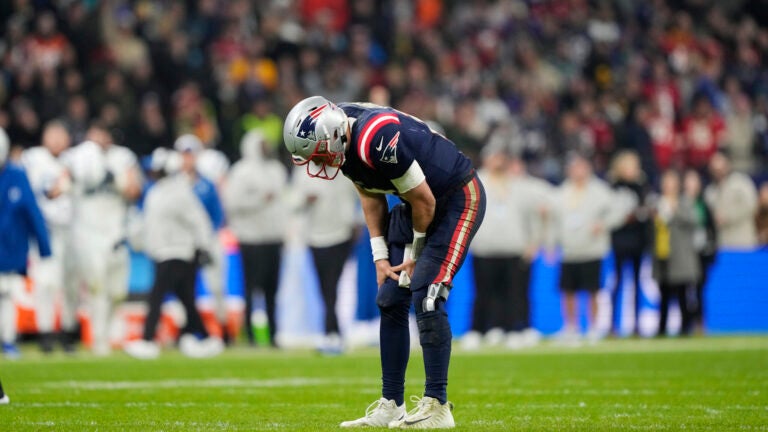 For the third time in 10 games this season, Mac Jones was relegated to the bench in the closing minutes.
With less than two minutes to go in regulation, Bill Belichick opted to put the ball in Bailey Zappe's hands for a potential game-winning drive against the Colts — giving the second-year QB his first snaps since Week 5 at a critical stage of a must-win game in Germany.
Belichick's sudden roster reshuffle was not unwarranted, especially with Jones knocked for a brutal backfoot throw that resulted in an interception on the Colts' two-yard line.
Jones' lapses in decision-making and errant throws have often cost New England in crucial spots throughout the 2023 season, with Jones now leading the NFL with 10 picks through 10 games.
As expected, Belichick did not elaborate much on the decision to pull Jones from the game in favor of Zappe following New England's eventual 10-6 loss.
"I just thought it was time for a change," New England's coach said.
Patriots players were also asked about Jones' latest benching and the long-term ramifications of such a move.
Several Patriots captains opted to take a page out of Belichick's book when asked about Jones' latest stint on the bench.
"I play football. That's what I do. I play," center David Andrews said. "I don't make those decisions. Coaches do what they think [is] best for the football team."
"I don't make all of those decisions," tight end Hunter Henry added. "I think you'll have to ask Coach about that one."
Speaking to reporters in the Patriots' locker room, JuJu Smith-Schuster said he was "surprised" to see Jones benched, per Andrew Callahan of the Boston Herald.
When asked about his level of confidence in Zappe as a potential replacement at QB, Smith-Schuster added: "I'm very confident in him. He shows spurts in practice, what he can do. I don't doubt that he can come in and do the job."
Even if New England's players may not want to comment about the moves made by Belichick, the question remains as to how much faith Jones' teammates have in him after a poor throw resulted in another close win slipping through their fingers.
"We put a lot of work in so I still have faith," Henry said of Jones' standing as QB1.
Regardless of whether or not Jones gets the nod as New England's starter in its next game against the Giants on Nov. 26 at MetLife Stadium, it's clear that New England will have to augment its approach on offense, especially if it leads to fewer throws from its quarterbacks.
When asked if New England needs to make a change at QB, Ezekiel Elliott told Chad Graff of The Athletic: "I think today we showed how good of a running team we have."
New England's ground game was one of the few positives in what was an otherwise frustrating game at Deutsche Bank Park. Both Rhamondre Stevenson and Elliott combined for 142 total rushing yards, with both backs averaging over four yards per carry.
For captain Matthew Slater, the most important thing for Jones moving forward is limiting the outside noise following yet another crushing result.
"He's got to stay positive," Slater said of Jones. "Right now, everybody's counting him out. I'm sure there's a lot of negativity. There's a lot of negativity surrounding our team. We got to ignore all that, because it shouldn't impact how we operate day to day.
"You can't let people that don't know half of what's going on inside the building impact what's going on inside the building. So he's got to stay positive. He's got to ignore the noise. Keep his head down. And keep working just like the rest of us."
Keeping off of social media stands as a sound move for Jones moving forward, as even a few former Patriots in Julian Edelman, James White, and Deion Branch could not mask their frustration following his costly interception in the fourth quarter.
Sign up for Patriots updates🏈
Get breaking news and analysis delivered to your inbox during football season.