Patriots
Watch: German fans kept singing 'Sweet Caroline' during a play in Colts-Patriots game
The Patriots' pass rush forced Gardner Minshew to throw the ball away on the play, but the singing fans might have helped, too.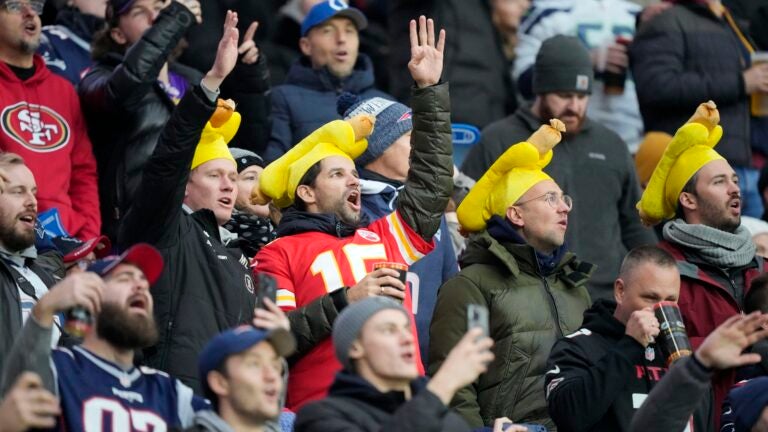 A taste of Boston made its way over to Germany during Sunday's Colts-Patriots game.
During a break in play, fans at Deutsche Bank Park in Frankfurt sang along as "Sweet Caroline" played. Unlike Red Sox fans at Fenway Park, though, the fans in Germany kept singing the Neil Diamond hit after the music cut off when play resumed.
As the Colts began a drive from their 13-yard line, Gardner Minshew heard fans belt, "Sweet Caroline! Ba ba ba!" right as he snapped the ball. The fans kept singing as Minshew roamed the pocket when he dropped back to pass. When the Colts quarterback evaded the Patriots' pass rush and threw the ball downfield, fans were just finishing the outro, singing, "Good times never seemed so good! So good, so good, so good!"
Minshew's pass ended up falling incomplete as he tossed it over to the sideline just to get the ball away and avoid a sack.
Rich Eisen and former Patriots defensive back Jason McCourty, who were on the call for Sunday's game on NFL Network, got a kick out of the moment.
"Minshew, amidst the Neil Diamond, throws it away!" Eisen announced.
"Amidst the Neil Diamond," a chuckling McCourty added. "You have to love it. There's nothing like coming over here, playing this game in Frankfurt, Germany, with a little 'Sweet Caroline.' I just love it, Rich."
"That's a first for everyone involved, I would imagine," Eisen jokingly replied.
The Patriots were able to get a good result following the stadium singalong of "Sweet Caroline," forcing a three-and-out. However, the Patriots' decision to go nearly all out to try to block the ball on the ensuing punt didn't work out. Rigoberto Sanchez's punt bounced down the field, going 69 yards and pinning the Patriots back at their 18-yard line.
Sign up for Patriots updates🏈
Get breaking news and analysis delivered to your inbox during football season.