Patriots
Patriots fall to Colts, 10-6: Quick observations after Jones is benched in fourth quarter
Poor pass protection and a brutal fourth-quarter pick from Mac Jones led to yet another loss for New England.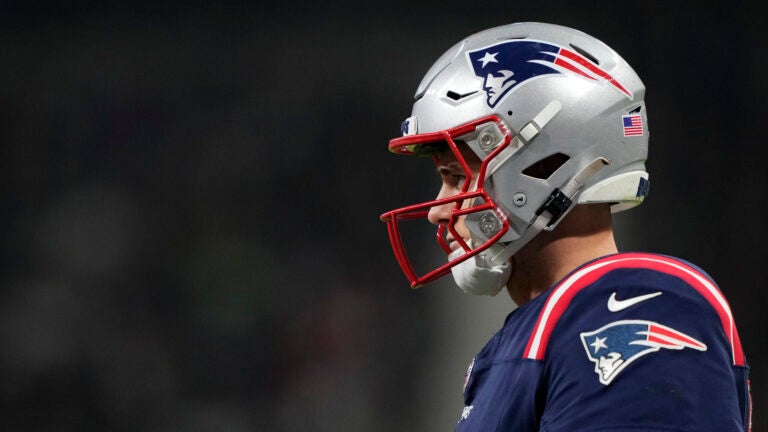 The same issues that have plagued the Patriots all season in North America followed them over to Frankfurt, Germany.
Despite a spirited showing from New England's defense for most of Sunday's game at Deutsche Bank Park, New England came up short to the Colts in a game plagued by poor pass protection and a brutal pick from Mac Jones.
Jones was eventually benched in New England's eventual 10-6 loss to the Colts, finishing with 15 completions on 20 throws for 170 yard and that interception. Bailey Zappe took over on offense with under two minutes remaining in regulation, with New England's final drive ending with another interception.
The Patriots are now 2-8 on the season, while the Colts are 5-5.
Here are a few early observations from New England' loss in Germany.
Same old woes overseas as Jones gets benched
Chad Finn might have said it best earlier this week when summing up how we should assess the 2023 Patriots for the remainder of this miserable season.
"The best hope for the Patriots, whose main priority should be draft position, is that they lose with dignity and without dysfunction," Finn wrote in his "Unconventional Preview" ahead of Patriots-Colts.
Indeed, the Patriots further validated their claim to a top-five pick in the 2024 NFL Draft with yet another loss to a pedestrian Indy squad. But a loss "without dysfunction"? No can do for a Patriots team that seems to find a new way to bottom out with each new week.
Even though New England's defense managed to corral Jonathan Taylor and the Colts offense for extended stretches, a woeful showing from New England's O-line and lapses in execution once again had the Patriots' offense sputtering en route to another frustrating loss for Bill Belichick and Co.
The 2023 season is already lost at this point, but there's little optimism that an already broken offense has the means to improve over these final seven games left on the docket — especially with Sunday's loss punctuated by another inexcusable interception from Mac Jones.
That costly fourth-quarter pick near the end zone to Julian Blackmon prompted Belichick to bench Jones for Bailey Zappe with just 1:52 remaining in the game.
Zappe was eventually knocked for an interception of his own after a fake snap play led to a throw into a sea of Colts defenders.
Just yet another ugly result in a season where little has gone right for New England.
A strong start
For the 10th time this season, the Patriots failed to score a touchdown on their opening drive of a game.
But a run-heavy gameplan on that initial drive offered up hope that New England was going to be able to beat Indy in the trenches for most of Sunday's showdown in Frankfurt.
As part of a 13-play, 61-yard drive to open the game, Rhamondre Stevenson and Ezekiel Elliott totaled 50 yards both on the ground and through the air — allowing New England to move the chains regularly and keeping the ball out of Jones' hands.
Despite those positive gains with both Stevenson and Elliott, New England's offense did run out of gas in the red zone — a third-down sack on Jones (a sign of things to come) led to a 37-yard field goal from Chad Ryland.
Sunday was a strong showing from both Stevenson and Elliott, with the duo finishing with 190 total yards.
O-line woes implode New England's gameplan
The Patriots' offensive line was already poised for some tough sledding on Sunday with starting left tackle Trent Brown ruled out due to injury/personal reasons.
But Sunday's loss represented a new low for an O-line that has labored all season long.
Mac Jones and the Patriots' passing game have rarely delivered in 2023. But New England's quarterback could barely drop back to pass in a game where the Colts posted five sacks — all in the first half.
The Colts, who entered Sunday averaging 2.8 sacks per game, were led by Dayo Odeyingbo — who recorded three sacks before halftime. The 24-year-old defensive end had three sacks in his first nine games of the season.
Indy's pass rush was often the coup de grâce on several failed drives, with four of those sacks coming on third-down situations.
Say what you will about Jones' decision-making and the lack of separation from New England's wideouts — two facets of New England's offense that have regularly led to poor results in 2023.
But even a star QB in the NFL would struggle to get into a rhythm when almost even dropback leads to a crushing sack.
That being said …
Mac Jones is not absolved
Yes, Jones and the Patriots' offense struggled to get in a rhythm against Indy's pass rush.
But with a win still within reach, Jones once again imploded during the second half due to some brutal throws.
After a failed read from Jones and a costly toss nearly led to an interception in the red zone in the third quarter, Jones received an earful from Patriots OC Bill O'Brien on the sidelines.
Jones was also nearly knocked for another red-zone interception in the fourth quarter just before Ryland connected on another field goal.
Eventually, the dam broke for Jones in the final quarter of play.
With Gesicki open, Jones once again threw off of his backfoot on a weak pass that was snagged by Blackmon.
Just can't have that in crunch-time situations.
Defense stands tall
Sunday could have been a long day for New England's defense, especially with Ja'Whaun Bentley ruled out due to injury.
But after relinquishing a touchdown to Jonathan Taylor on the Colts' opening drive, New England's defense clamped down on Indy for most of Sunday's game — giving Jones and Co. ample time to try and right the ship.
Along with limiting the Colts to just 70 rushing yards, New England forced a turnover in the third quarter after Jahlani Tavai tipped a pass from Gardner Minshew that was picked by Myles Bryant.
Ultimately, that momentum-shifting play didn't lead to all that much — with Ryland missing a 35-yard field goal to waste a promising drive for New England.
Odds and ends
An already banged-up Patriots offensive line took another hit on Sunday when Brown's replacement in Conor McDermott needed help getting off the field in the fourth quarter after getting rolled up by Jones. Vederian Lowe replaced him at left tackle for a brief stint before a clearly laboring McDemott finished the game.
Kayshon Boutte reeled in the first catch of his NFL career in the fourth quarter — picking up 11 yards off of a slant route. But a hit from Zaire Franklin dazed Boutte after reeling in the catch, with the Colts assessed a 15-yard penalty for unnecessary roughness.
Demario Douglas finished with a career-high 84 receiving yards in Sunday's loss. For the second-straight game, cornerback Jack Jones was benched for the first two defensive series for New England on Sunday. It was reported earlier this week that missing curfew played a role in the benching of both Jones and fellow corner J.C. Jackson in the Week 9 loss to the Washington Commanders.
A bold move by the Patriots to not have a punt returner back … on a punt return.
—
Follow along here for live updates from Sunday's international matchup, and check back once the game wraps for some early observations.
LIVE UPDATES
12:11: Zappe is in the game. Jones benched.
12:08: looks like Bailey Zappe is warming up.
12:01: Mac Jones – interception. Brutal. 10 picks for Jones.
11:58: Huge third-down conversion from Pop Douglas. Up to 75 receiving yards.
11:58: Connor McDermott needs help getting off the field. Vederian Lowe in at left tackle.
11:52: Kayshon Boutte with his first NFL catch. Does seem dazed after getting hit in the helmet.
11:50: Indy's 51-yard FG is good. Colts extend lead to 10-6.
11:46: Really nice tackle for a loss for Shaun Wade.
11:43: Stevenson is questionable to return with a back injury.
11:41: Ty Montgomery just stopped a potential return TD for the Colts there. McKenzie picks up 41 yards.
11:38: Jones is nearly picked. But Ryland's field goal is good.
Patriots trail, 7-6.
11:37: Looks like Stevenson is getting treated along the sidelines.
11:31: Might want to keep running the ball.
11:29: A third-down completion for the Patriots? JuJu with the pick-up.
11:24: What is the german word for "refund" for all of the people who showed up to watch this game?
11:20: Bill O'Brien is not pleased.
11:17: Annnnnd Ryland's 35-yard kick is no good. Brutal.
11:15: An ill-advised throw from Mac there. Could have been disastrous.
11:08: The Patriots have life. Myles Bryant with an interception. Good play by Tavai to tip the pass.
11:05: Also, not great!
10:55: Not great!
10:50: Colts 57-yard FG is short. Patriots trail the Colts, 7-3, at the half.
10:42: The Patriots just cannot pass on third down today. Four sacks on third down tonight.
10:26: Yet another third-down sack against Mac Jones. He can't drop back at all today. Four sacks for the Colts.
10:25: Not really a good sign when your running back collides with your QB.
10:23: Mack Wilson is back. Good news for LB depth.
10:21: Patriots defense responds by forcing Colts to punt. Nice TFL from Kyle Dugger.
10:19: Jack Jones now in the game after sitting out the first two defensive series.
10:16: Make that three sacks against Jones on New England's last 5 dropbacks. Patriots go 3 and out.
10:14: Bold move to go all out on the punt block there. Yikes.
10:13: No snaps for Jack Jones in New England's first two series.
10:12: Sweet Caroline in Germany?
10:08: Mack Wilson is questionable to return with a head injury.
10:07: Mac Jones sacked on third down, again.
10:06: Hunter Henry fumbles, but David Andrews jumps on the loose ball.
10:05: Direct snap to Rhamondre Stevenson for the first down.
10:03: Not good for an already thin linebacker group.
9:56: Jonathan Taylor scores on a 4th-and-1. 7-3 Colts.
9:54: Sure looked like Pittman scored there on that screen play.
9:52: Something worth keeping tabs on regarding Jack Jones' availability.
9:50: Isaiah McKenzie burns Myles Bryant for a 30-yard completion.
9:48: Patriots have to score a touchdown in their 10 opening drives this season.
9:45: Patriots' drive stalls after Stevenson is stuffed and Jones is sacked.
But Ryland does connect on a 37-yard field goal. 3-0 Patriots.
9:38: A strong start for both Stevenson and Elliott. Need to get the ground game going.
9:36: A loud cheer in Germany after Gesicki picks up the first down.
9:34: Colts win the coin toss and defer. Mac Jones and the Patriots offense will get the ball first.
9:25: Sure sounds like a home game in Frankfurt for the Patriots.
9:05: A look at the Patriots' O-line without Trent Brown.
8:40: Here are Patriots inactives:
As expected, Patriots will be without Brown, Parker, and Jackson in roster moves that were announced ahead of Sunday. Ja'Whaun Bentley is another significant loss to New England's run defense, especially against Indy's Jonathan Taylor.
With Parker out, rookie Kayshon Boutte is active for the first time since Week 1. Boutte played 55 snaps in New England's season-opening loss to the Philadelphia Eagles, finishing with no catches on four targets.
8:30: Guten Morgen, Patriots fans.
Here's a look at warmups from Frankfurt:
Sign up for Patriots updates🏈
Get breaking news and analysis delivered to your inbox during football season.