Patriots
NFL insider explains why Robert Kraft won't fire Bill Belichick midseason
"They'd at least want some sort of compensation to make this happen."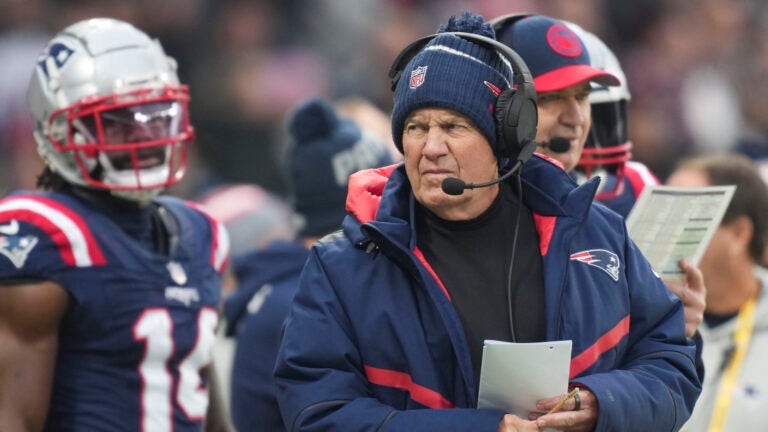 Things haven't been going well for Bill Belichick in 2023.
With New England mired in a 2-7 start entering Sunday's international game against the Colts in Germany, questions regarding Belichick's job security have swirled around the Patriots over the last few weeks.
But even if New England continues to flounder at the bottom of the AFC standings, could Robert Kraft opt to fire the legendary head coach before this 2023 campaign wraps?
It would be a shocking result for a Patriots franchise anchored by stability for most of Belichick's 24 seasons in Foxborough.
But even if Kraft eventually decides that a seismic shift in New England's leadership is needed, NFL Network's Ian Rapoport explained why any move doesn't make sense in the middle of the season.
"First of all, it's the greatest coach of all time. Sometimes these guys are treated differently," Rapoport noted on NFL GameDay. "The other part of this, functionally, if Belichick is going to somehow, someway going to coach elsewhere next year, the Patriots have him under contract. They'd at least want some sort of compensation to make this happen.
"If you're going to fire him, what's that going to do? Does it give you a jump on a process when you may already have his successor in the building in Jerod Mayo? A lot of reasons why it would not make sense to move on from Bill Belichick, at least during the season."
Rapoport also noted that Belichick's "multi-year" contract extension is only running through the 2024 season. Not only does that give New England an incentive to seek compensation if it does decide to let Belichick coach elsewhere next season, but it's also far from a lengthy contract that gives Belichick plenty of breathing room at his current post.
"It is a new contract for Bill Belichick that puts him under contract at least this year and next year — that show of support from owner Robert Kraft and the team's brass before the season," Rapoport said. "That is the contractual end of this.
"My understanding is Robert Kraft, the owner, is not inclined to fire Bill Belichick midseason, which is unbelievable and amazing that we're even discussing this. But given the record, given the last couple years, at least it is a topic in New England on the airwaves and elsewhere."
Sign up for Patriots updates🏈
Get breaking news and analysis delivered to your inbox during football season.