Patriots
What Adam Schefter, other media personalities are saying about Bill Belichick's future with Patriots
"I think he will be in either the nation's capital or he'll be coaching the Los Angeles Chargers."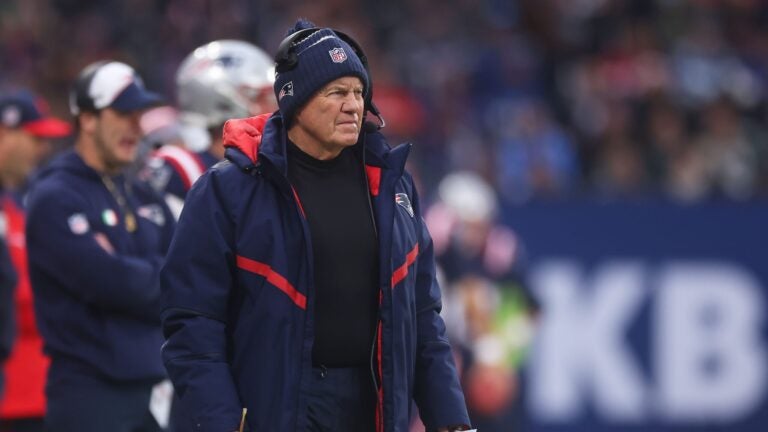 With the Patriots floundering at 2-8 entering their bye week, all eyes are on Bill Belichick and whether or not his reign in Foxborough is coming to an end.
The discourse surrounding Belichick's job security has ramped up with each new loss doled out to a lackluster roster largely assembled by the future Hall-of-Fame coach.
And even though former Patriots like Tedy Bruschi and NFL insiders like Ian Rapoport have brushed aside talk that Robert Kraft might opt to fire Belichick before the 2023 season comes to a close, it's becoming clear that even a coach with Belichick's lofty resume will not be immune to whatever ramifications come from a massively disappointing campaign.
Speaking on "The Pat McAfee Show," on Monday, ESPN insider Adam Schefter acknowledged that Belichick's long-term future in Foxborough is far from a guarantee, with Kraft's decision looming as one of the storylines in the NFL.
"We're in the time of the year where teams are making a playoff push or their coach is coming under fire … "Belichick I think, obviously, becomes the most interesting topic of almost any NFL story right now, and what a decorated franchise and an accomplished owner and historic coach all decide to do at the end of the season," Schefter said. "And we don't know how that's gonna go.
"None of us know how that's gonna go. But everybody's waiting to see and the fact that it is even a topic is what makes it so interesting."
Speaking during NBC's NFL coverage on Sunday night, former Cowboys head coach Jason Garrett joined the large chorus of former football players, coaches and staffers who don't believe that Kraft will rip off the Band-Aid and fire Belichick either during the bye week or over the Patriots' final seven games.
"This idea that they're going to make a move with Bill Belichick during the season, to me, is just unconscionable," Garrett said. "I don't care what the record is, I don't care what decision was made. It's unconscionable. Over the last 22 years, this has been the model franchise in all of sports. There's some credibility there. He should be able to weather a few storms."
ESPN's Stephen A. Smith doesn't just believe that Belichick's tenure with the Patriots is about to come to an end. He's already predicting where he'll end up coaching in 2024 and beyond.
"I think it's over," Smith said on ESPN's "First Take" on Monday. "I think that ultimately Bill Belichick will be gone. I think he will be in either the nation's capital or he'll be coaching the Los Angeles Chargers. God knows they need a new head coach. There's no question about that. It's just the way that it goes. The reality is that this is a bad situation."
Longtime football scribe Peter King also mapped out a few potential landing spots for Belichick if the Patriots opt to part ways — listing the Dallas Cowboys, Washington Commanders, Los Angeles Chargers, and Chicago Bears as viable options in his latest column for NBC Sports.
"The Cowboys could be in play, I think, only if they don't win the division, have some sketchy outings down the stretch and go winless in the playoffs," King wrote. "In that case, I could see Jerry Jones chasing Belichick, repeating history from two decades ago. Before you say Belichick would never work for Jerry, remember 2003, when we all thought Bill Parcells would never work for Jones."
Sign up for Patriots updates🏈
Get breaking news and analysis delivered to your inbox during football season.
Newsletter Signup
Stay up to date on all the latest news from Boston.com