Patriots
Rex Ryan rips Mac Jones' 'absolutely atrocious' performance vs. Colts
"It's never personal. The guy can't play. I said it four years ago and I still believe it."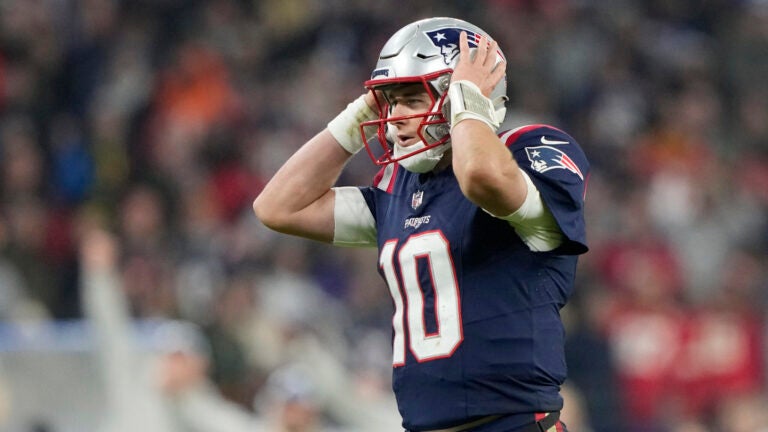 Mac Jones has faced plenty of criticism this year for his poor decision-making, lapses in execution, and weak throws that have played a major role in the Patriots' dreadful 2-8 start to the 2023 season.
But if you ask former Jets head coach Rex Ryan, everyone else has been late to the party when it comes to the harsh critiques doled out against New England's starting quarterback.
Ryan has made his opinions known about Jones and his viability as a starting QB in the NFL for years now — calling him "Peashooter Jones" in 2021 during his rookie season in Foxborough.
As expected, Ryan did not hold back Monday when asked about Jones' latest performance on the gridiron against the Colts on Sunday in Frankfurt, Germany.
For the third time in 10 games this season, Jones was benched by Bill Belichick, this time in the closing minutes of the fourth quarter of Sunday's game.
Jones was knocked for his league-leading 10th interception just minutes earlier, tossing an under-thrown ball headed for Mike Gesicki in the end zone that would have given the Patriots a late lead.
Instead, Jones' throw off his back foot ran out of air in short order, with Colts safety Julian Blackmon snagging the ball at Indianapolis 2-yard line to snuff out hopes of a New England comeback win.
"It's never a personal thing, I just give my opinion. I don't know this young man from anybody, but he's not an NFL quarterback," Ryan said of Jones Monday morning during ESPN's "Get Up" program. "He lacks the arm talent. Here's the other thing: Any time the guy extends plays, which is what you have to do in today's game, he's awful. He's absolutely atrocious. The worst part about this game, to me, is four sacks on third down. What are you doing?
"Can I prove that he's got no arm? He averages 4.3 yards past the line of scrimmage on his pass attempts. That would be 32nd in the league. He completed 15 passes. Good for you. You take four sacks on third down. All you're doing is hitting the check-downs because that's all he can throw. Anything where he has to push the ball down the field, he struggles. It's never personal. The guy can't play. I said it four years ago and I still believe it."
Ryan believes that Jones' time as New England's signal-caller has come to an end. It remains to be seen if Bill Belichick and New England's coaching staff agree with the same sentiment.
"I don't know. We hadn't really talked about that. We're just getting back from Germany, just trying to get reorganized here," Belichick said of Jones' standing as QB1 on Monday morning. "We haven't talked about any of that."
Sign up for Patriots updates🏈
Get breaking news and analysis delivered to your inbox during football season.
Newsletter Signup
Stay up to date on all the latest news from Boston.com