Patriots
Tom Brady addresses 2-8 Patriots, offers advice to Texans rookie C.J. Stroud
"There's a lot of things that need to go right in order to win and succeed."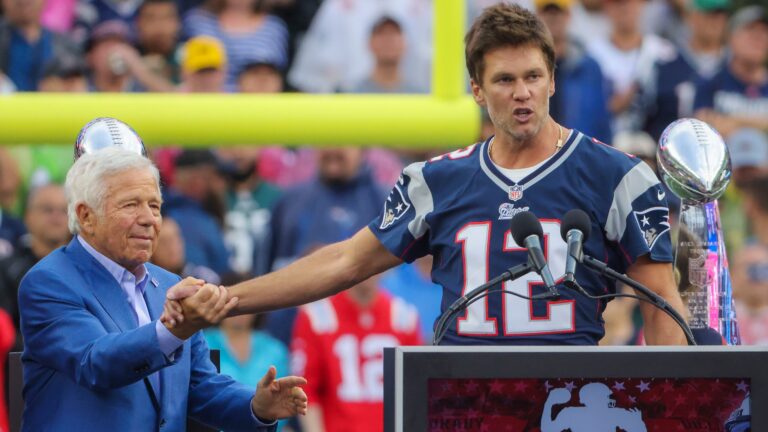 As the Patriots continue to tumble down the NFL hierarchy, even Tom Brady has had to address the spiral.
On the latest episode of Brady's Let's Go! podcast, the seven-time Super Bowl champion briefly spoke on the state of the team and an apparent lack of confidence.
"You've got to change your strategy, different weeks there's different challenges, and I think the Patriots, they're just having a tough stretch, just not playing with the kind of confidence that you've always seen," he said. "Obviously Coach Belichick, I don't think he's coaching any different now than the way he coached when we were undefeated. There's a lot of things that need to go right in order to win and succeed.
"The more I sit back and watch — everyone wants to celebrate when you win as organization; everyone's responsible," he added. "And the same's true, everyone's responsible when you lose, too. Everyone can't be on the bus when you win and be off the bus when you lose and [say], 'Let's point the finger at one person.' When you look at losing, the organization loses, the fan base loses; everyone's in it together."
Brady noted that seemingly better football teams lost this week as well. The ups and downs of momentum make the league challenging.
"You're not in a situation where you're Floyd Mayweather and you're just better than everybody every time you take the fight to the ring," he said. "You're not like Tiger Woods [where] every time you tee it up, you're better than your opponent. The NFL is tough."
Meanwhile, hype continues to build around Houston Texans rookie quarterback C.J. Stroud after he led another thrilling win against the Bengals on Sunday. The Texans are now 5-4 with the No. 2 overall pick and Stroud was a featured guest on Brady's podcast.
During the episode, Stroud asked for advice on how to manage his growing spotlight.
"I think the important thing I really want you to realize is: This is now your job," Brady told Stroud. "Everyone, when they come to the game, it's a vacation; it's fun for them. 'Oh my god, we're here to watch CJ play. For you — you don't bust in on your on your friends at their job, when they're trying to be really focused and do what they need to do . . . You don't need to be the source of people's entertainment over the course of the season.
"The process of winning is fun," Brady added. "The memories you're going to have from a great season are fun. The games are fun; the practice [and] the camaraderie is fun. Trying to create fun for everybody else outside of that isn't your responsibility. You're not [the] camp counselor for everyone's fun activities. You're out there trying to perform, trying to dig deep for your teammates, and that requires intense focus for a long period of time."
Stroud and other rookie quarterbacks met with Brady during camp over the summer, and Stroud said the interaction left a lasting impact.
"Personally, it was it was like a cheat code for not only being an NFL quarterback, but to being a professional person and a real man," he said.
Stroud, who starred at Ohio State, has a natural rival with Brady and Michigan. Brady even offered to bet one of his Super Bowl rings on the outcome of this year's Michigan-Ohio State rivalry game; Stroud laughed off the wager and said he wanted a ring of his own.
But Brady gave glowing praise to the young quarterback, who has helped rapidly turn around the Texans.
"The way you're succeeding now — you're going to have to keep evolving and growing over time in order to reach your goals — but I know you know you have big goals ahead of you," he told Stroud. "You have such a fire within you and it burns really bright, and everybody sees it. So I'm really proud of you."
Sign up for Patriots updates🏈
Get breaking news and analysis delivered to your inbox during football season.