Patriots
'Spoiled brats': Bill Burr rips fellow Patriots fans that want Bill Belichick fired
The Canton native and "diehard Patriots fan" thinks it's "too early to even remotely think about" the Patriots firing Belichick.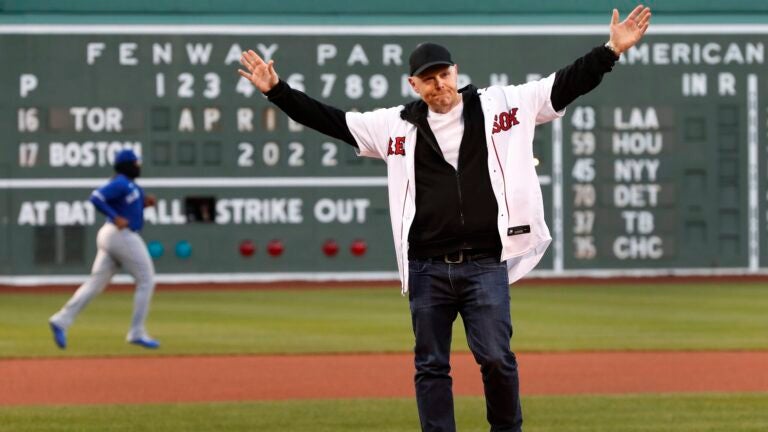 Bill Belichick's hot seat in New England has grown hotter than ever. One notable Patriots fan isn't happy about it.
Comedian Bill Burr criticized Patriots fans and media members who questioned whether Belichick should remain the team's head coach in the midst of their 2-8 season during an appearance on "The Rich Eisen Show." In the seven-minute-long clip, the Canton native questioned why anyone would ever want the Patriots to replace Belichick considering his success, arguing that people are just looking to spice up a discussion.
"That whole conversation about him, that they're going to fire him, is just scuttlebutt invented by the local radio, where they were just like, 'It's just the time,'" Burr said, mimicking sports talk radio hosts. "In other words, the phone lines aren't lit up and it just catches fire and everybody's talking about this.
"You know what nobody is talking about? Who you're going to replace him with. The guy just coached a team for over 20 years and they were the team of the decade two decades in a row. Nobody has ever done that. The second that there's a little rough water for two seasons it's like, 'He has to go.' He has to go? The whole league ripped off what he did. The whole league has studied him."
Burr, 55, reminded Patriots fans who are questioning Belichick that the team was "horrible" before his hiring in 2000, going without a title and only two Super Bowl appearances in the franchise's first 40 years. He also called Belichick "the modern day Paul Brown" for his ability to turn the lifeless franchise around to win six Super Bowls over his first 19 seasons as coach.
Eisen, who was on the call for the Patriots' game against the Colts in Germany on NFL Network, recalled a conversation he overheard between two Patriots fans before flying back home following the game. He said he heard one Patriots fan say, 'They should've paid us to come over here and watch this game."
"It's spoiled brats," Burr said of those fans. "They came of age when we were just going to go to the AFC Championship Game every other year. We were going to go to nine Super Bowls and win six — like, nobody's done that, especially in the modern era with 32 teams."
The famous comedian — who last year became the first comic to headline a show at Fenway Park — went on to say that it was "too early to even remotely think about" the Patriots firing Belichick.
"It's all BS," Burr said. "This is all because there's 24 hours of sports media and you have to come up with some stuff. I don't understand it. OK, we're 2-[8]. We have no offensive line right now, for whatever reason. Mac Jones is running for his life. You bring in [Bailey] Zappe, he's running for his life. The play can't develop. You're gonna have problems.
"This is why marriages don't work out, the second there's rough water, people leave and what do they do? They don't stay single, they get married again. You're signing up for the same ride. So, what are you gonna do? You're gonna get rid of Bill Belichick and bring some guy in with no rings? 'Yeah, but it's somebody new.'"
A member of Eisen's show who's also a Patriots fan pushed back on Burr's opinion that it's too soon to get rid of Belichick, pointing to the team's lackluster drafts over the last several years and calling him a "bad" general manager over the last decade.
Burr questioned the member of Eisen's show, saying, "When are you tired of winning championships?"
Burr also took issue with anyone saying that Tom Brady was the one solely responsible for the Patriots' two decades of success.
"Now it's because of Brady," Burr said. "When they won the first three, it was because 'Brady's a system quarterback and you can plug anybody in.'
"It's because of both of them," Burr continued. "That win [over the Seahawks in Super Bowl XLIX] was [Belichick's] genius in preparing his team so that they were ready for that play. Everybody comes down on Pete Carroll, but every time they ran that play the whole year it was either an incompletion or a touchdown. It was a total safe play until you ran into Bill Belichick."
Sign up for Patriots updates🏈
Get breaking news and analysis delivered to your inbox during football season.