Patriots
Patriots will come out of their bye week with an eye on the future for Bill Belichick and Mac Jones
With the team on track to miss the playoffs for the third time in four seasons since Tom Brady defected to Tampa Bay, Bill Belichick's job is at stake.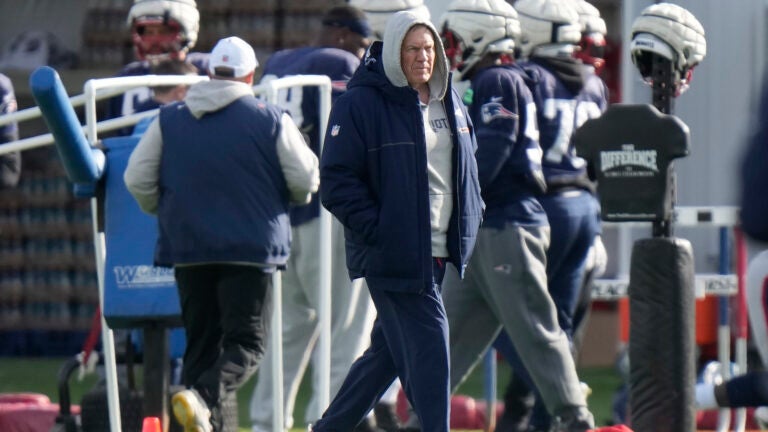 For now, the New England Patriots need to figure out who will play quarterback when they return from the bye week.
Long term, they have even bigger problems.
With the team on track to miss the playoffs for the third time in four seasons since Tom Brady defected to Tampa Bay, Bill Belichick's job is at stake.
Yes, you read that correctly: The six-time Super Bowl champion could be chasing Don Shula's all-time coaching record from a new sideline next year.
Belichick – whose boat is named "Eight Rings" because of the two other NFL titles he won as a New York Giants assistant – is one of the greatest coaches in NFL history. With 330 career wins, including postseason, he needs only 17 more to surpass Shula for No. 1 all-time.
That once looked like a sure thing — just a few more 12-win seasons like he routinely racked up with Brady during the team's string of 17 AFC East titles in 19 years. But his failure to be competitive without Brady, including a 2-8 record this season, means the 71-year-old coach might have to claim the crown somewhere else — if at all.
Belichick is widely presumed to be moving on, with him and team owner Robert Kraft already been positioning themselves through the media for the postseason. Most of the debate is over where he will land, with every utterance about another organization dissected to determine if Belichick is campaigning for a new gig. Conflicting leaks of how long he has remaining on his contract have been seen as the prelude to a fight over whether the Patriots receive compensation if Belichick leaves or is fired.
Belichick has deflected questions about his future with his usual dismissiveness, saying after the 10-6 loss to Indianapolis in Germany on Sunday: "Well, I just do the best I can every day."
The uninspired loss to the Colts was the Patriots' third defeat in a row and it comes during a part of the schedule – against similarly lackluster Washington, Indianapolis and on Nov. 26 against the 2-8 New York Giants — that was supposed to be a chance to move up in the standings. Instead, New England is last in the AFC and 2-8 for the first time since 2000, Belichick's first season with the team.
Kraft, who set a playoff berth as the minimum expectation before the season, told fans in Germany he was disappointed; the fans are openly rooting for the team to tank and put itself in position to draft Southern California's Caleb Williams or another top college quarterback. Asked to respond, Belichick said, "I think we all feel that way. I think we're all disappointed in the season. But we'll keep going here. Seven games to go. Be ready to go next week against the Giants."
But first, the Patriots need to find a quarterback.
And the options aren't so great.
Jones showed promise in 2021 after the Patriots selected him No. 15 overall in the draft, finishing second in the offensive rookie of the year voting — ahead of top-three picks Trevor Lawrence, Zach Wilson and Trey Lance and No. 11 selection Justin Fields. The Patriots went 10-7, and despite a loss in the playoffs it looked as though Belichick had found his next franchise quarterback: Jones was in the top 10 for all qualifying rookie QBs from 2000-22 in passer rating and yards per attempt.
But the Alabama national champion regressed badly in Year 2, when Belichick experimented with an offense largely directed by play caller Matt Patricia and quarterbacks coach Joe Judge.
Under his third offensive coordinator in as many seasons, Jones has been even worse this year, throwing only 10 touchdowns to go with 10 interceptions, including what he admitted was a "terrible throw" against Indianapolis on Sunday when he short-armed a pass to tight end Mike Gesicki, who was open in the end zone with the Patriots down by four late in the fourth quarter.
Jones was replaced for the final drive by Bailey Zappe; it's the third time this season Zappe has come off the bench after Jones was ineffective, with the first two being blowouts. With a chance to rally the Patriots, Zappe was 3 of 7 for 25 yards and finished by throwing an interception on a fake-spike play to seal the game.
In the past two seasons, Jones is near the bottom of the quarterbacks with at least 300 passes thrown in rating (82.8) and yards per attempt (6.6); he is tied for the fourth-most turnovers, with 24. New England also has Will Grier, who started three games for Carolina in 2019, as a third quarterback; rookie Malik Cunningham is on the practice squad.
Belichick said he would assess all positions during the bye week.
Jones said he didn't know what the team had planned. He took snaps with the first team in the portion of practice that was open to the media Wednesday. Asked in Germany if he felt Belichick still had confidence in him, Jones said: "At the end of the day, I've got to play better."
"To make people believe, you've got to be better," he said. "I'm not sure. I don't know."
Sign up for Patriots updates🏈
Get breaking news and analysis delivered to your inbox during football season.