Patriots
Bill O'Brien explained why he was yelling at Mac Jones on the sideline against Colts
"I think that was just coaching in the moment. That's kind of the way I coach."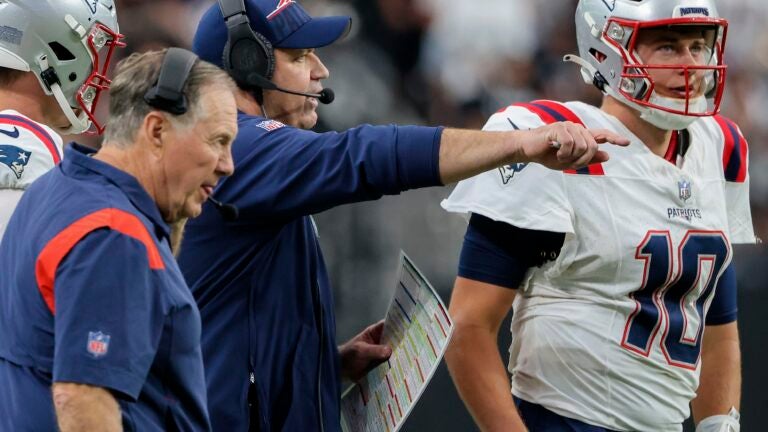 During the Patriots' loss to the Colts on Nov. 12, TV cameras captured a frustrated-looking offensive coordinator Bill O'Brien yelling at Mac Jones on the sideline.
On Monday, reporters asked O'Brien what the screaming was about. Was he frustrated with the way Jones was playing in the moment? Or, was it a build up of things that have occurred over the course of the season?
"I think that was just coaching in the moment. That's kind of the way I coach. Sometimes, the way to get a point across is to be very demanding and very intense about it. That's just the way I coach. That's just who I am. That's how I've always coached.
"Sometimes that rubs players the wrong way," O'Brien continued. "Sometimes players want that. I don't want to speak for Mac, but I think Mac wants to be coached. He wants to be told: 'hey, look this can be better.' I look for the same thing from the players, 'hey coach you've got to explain that better' or whatever it might be. So, you know, that's just the way I coach and that's just coaching in my opinion."
The Patriots have yet to announce whether Jones will be the starter for Sunday's game against the Giants. Bailey Zappe finished the Colts game. Will Grier, who is also on the 53-man roster, has yet to appear in a game this season.
It's Bill Belichick's decision to make, O'Brien said.
"The other day at practice, Mac took the first-team reps," O'Brien said. "Bailey [Zappe] rotated in there. Will Grier rotated in there, you know, so we'll see. I think what I'm saying that's really important – and people may scoff at this – but, like one of the reasons I really enjoy coaching here is you have to earn it on the practice field."
Sign up for Patriots updates🏈
Get breaking news and analysis delivered to your inbox during football season.