Patriots
Punt-block attempt was nothing new for Patriots, according to special teams coach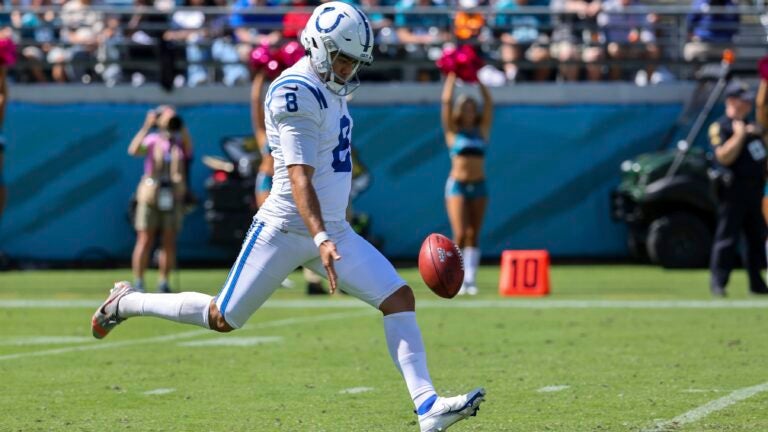 The Patriots took a gamble with a punt-block attempt in the second quarter of their loss to Indianapolis in Week 10. They sent nine men to rush up the middle, while two players covered a pair of Colts who were split out wide.
There was no one back to receive the punt, which Rigoberto Sanchez kicked 69 yards. The Patriots went three-and-out on their next two possessions.
Patriots special teams coach Cam Achord said taking such a risk on special teams is nothing new.
"That's the scheme," Achord said. "If you really look back on it for the last several years, we've ran it multiple times and the results have usually been pretty fairly in our favor.
"We had a free rusher number-wise coming free there and he was able to execute a good punt and it rolled a little bit farther than was anticipated.
"So, I think you've just got to think about the overall. It was an aggressive call and right there they obviously executed. Credit to Sanchez getting the ball off."
Asked why the Patriots had nine players rush instead of 11, Achord said the two on the outside were needed to deter the Colts from attempting a fake.
"You still have the threat of a pass out there to those guys if you don't cover them down," Achord said. "So you've got to make sure you're still sound in the aspect of not giving the ball away to the opponent."
Angered management
The failed punt-block attempt was one of two specific plays during the Colts game that made Kraft Group president Jonathan Kraft angry, according to former Patriots linebacker Rob Ninkovich.
"Jonathan gets very vocal, very vocal. He was just not happy," Ninkovich said during a recent "Dan and Ninko" podcast. "So he was very mad two times. He was very mad. They didn't have a returner on one of the punt rushes. They were trying to block the punt.
"He was like, 'Why the [expletive] don't we have a returner back there? This is stupid. The ball's going to get pinned down there and we're going to be on the 1-yard line.' He was so pissed. [Robert] Kraft is pretty even-keeled, though."
The QB question
Running back Rhamondre Stevenson can be counted among the growing group of Patriots players who are publicly saying it's not important to know which player will be the starting quarterback ahead of Sunday's game against the Giants.
"I feel like even if you're a practice squad guy, you know, or a starter, like you might not get all the reps but we're learning the same things here," said Stevenson. "Everyone is getting the same knowledge. We're in the same meetings.
"So, that quarterback position, I feel that they're all coached the same. They know what to do on the field, so I don't really let that bother me."
David Andrews, Deatrich Wise, Matthew Slater, and others have made similar comments recently.
Asked about the pattern, Slater said he hasn't heard much discussion in the locker room about the topic. Or at least the players know better than to have the conversations around him, he joked.
"I think most guys in this building are focused on doing their job better with more consistency," Slater said. "And they realize, 'Hey, whoever is playing quarterback , whoever's playing receiver, whatever the position, let me just worry about what I need to do.'
"I think culturally, when you end up in a bad place, that's when you start worrying about what everyone else is doing. You're pointing fingers — 'Hey, this guy needs to be doing this' — instead of turning the focus internally and worrying about what you need to do.
"So I think we've handled that about as well as we can. A lot of maturity from this group. Hopefully it stays that way moving forward."
Versatile and valuable
Linebacker Jahlani Tavai is eight tackles away from tying his career high of 69 set last season.
He has played a role in two of the Patriots' last three takeaways, tipping the pass that led to Myles Bryant's interception against the Colts, and forcing a fumble against the Commanders.
Tavai also intercepted a pass against the Raiders.
"I think Jahlani has a lot of versatility within his game plan," linebackers coach Brian Belichick said. "On the ball, off the ball, rush, coverage, man, zone, inside pressure, outside pressure. I think we've always seen that with Jahlani.
"He's had some more opportunities here recently and he's taken advantage of them. He has really good instincts and he's just a really good athlete.
"He does a lot of things really well, so I think that helps him, as well as being smart and a good communicator. So that helps a lot of the guys around him and it helps him, knowing what other guys are doing.
"I'm not surprised by the production that he's had, but it's good. Good to see him go out there and do it. So, happy for him and hopefully it continues."
Sign up for Patriots updates🏈
Get breaking news and analysis delivered to your inbox during football season.