New England Revolution
Revolution hoping to finally find team's identity — and a first playoff win since 2014 — against Montreal
New England aims to hit its stride in the postseason after an unexpectedly difficult year.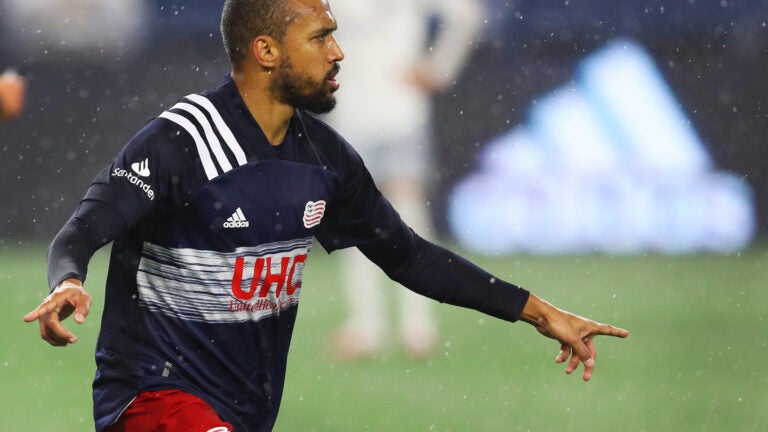 Bruce Arena came about as close as possible to summarizing the inconsistency of the Revolution's 2020 season when he admitted that, months into the year, New England was "still getting a sense of" its identity.
"I don't think we've ever had a rhythm," Arena acknowledged. "It seems like we've had three preseasons and all other kinds of stuff. It's hard creating an identity. There are some teams in the league that have been able to do that. We're not one of them at this point."
The quote was also notable in that it was not recent. It was said in September, following a matchup against a struggling Chicago Fire team in which New England carved out a narrow 2-1 win despite being outshot and, for large stretches, outplayed.
Months later — on the threshold of the postseason — it's as applicable as it was then, as Arena recently admitted.
"I think we're going to find out in the playoffs," he said when asked earlier this week about if the team was any closer to finding its identity.
On the surface, it's remarkable that New England heads into its Friday night (6:30 p.m.) Eastern Conference Play-In Round matchup with the Montreal Impact without a clear sense of itself. But like virtually everything about 2020, New England's season has strayed considerably from what anyone thought it would be.
Looking back on January preseason — when the team gathered at the newly-unveiled Foxborough training facility — it was as optimistic a time as the club has known in the last few years.
Following a run of seasons without a playoff appearance, 2019 ended with a flourish. Arena, appointed head coach and sporting director midway through the year, led the Revolution from the bottom of the standings to the club's first postseason berth since 2015.
And with the blessing of ownership, Arena brought in multiple "Designated Players" (whose salaries are allowed to circumvent MLS cap restrictions, enabling teams to sign higher-profile talents). For the first time in team history, the Revolution filled the maximum number of designated player roster spots (three), and looked poised to build on the potential 2019 had hinted at.
Yet New England (8-8-7 in the 2020 regular season) finds itself as just an eighth seed in the Eastern Conference, and in the play-in round of the postseason. Simply by that measurement, Arena's team has failed to live up to the preseason expectations.
Still, the Revolution's season story cannot be characterized in a traditional narrative of players simply failing to develop chemistry.
This year has been abnormal in every possible way. Anything that could reasonably be called normal ended abruptly in March when the COVID-19 lockdown began.
And the pandemic's ongoing ramifications — a Revolution player was revealed to have tested positive earlier this week — permeate not just the sport but essentially every facet of society.
Arena's reference to having what felt like "three preseasons" was a nod to the stop-start nature of the makeshift MLS schedule (which included a summer tournament in a Disney World bubble).
New England's problems have also piled up in a more familiar category: Injuries. Team captain and 2019 MLS Newcomer of the Year, Carles Gil, missed most of the season with an Achilles injury that eventually required surgery.
Gustavo Bou, who scored nine goals in just 14 games after arriving midway through last year, also missed more than a third of the team's games due to injury.
That two of the team's three designated players missed sizable portions of the season would've been enough on its own to throw any team into disarray. Gil is New England's creative fulcrum, and Bou is its most dynamic forward.
To the Revolution's credit, they've battled on, getting results even in the absence of their stars. In a reversal of preseason prognostications, the defense has been a strength at times as goalkeeper Matt Turner — recently voted Revolution Team MVP — has received endorsements for a spot on the U.S. national team.
Arena and New England's front office also proved adept in handling crises, making multiple midseason trades, including the reacquisition of Revolution All-Time Team member Lee Nguyen to help fill the void left by Gil's absence.
But just as the Revolution seemed to be forming an identity — an aggressive, possession-oriented 4-2-3-1 that incorporated a high defensive line — Gil and Bou both returned to the fold.
In theory, adding two of the team's best players back to the starting lineup would be the final piece of the puzzle, just in time for the playoffs.
The reality has proven more elusive, as Arena discovered in the regular season finale in a 2-0 loss to the Philadelphia Union when he started Bou, Gil, and striker Adam Buksa (the team's third designated player) all together for only the second time this season.
Though it was clear Bou and Gil were not quite back to full match fitness, issues with the lineup ran deeper. The team's shape was thrown off as Arena experimented with trying to fit all of New England's best attackers into the same lineup.
Teal Bunbury, the Revolution's 2020 leading scorer, and emerging 21-year-old winger Tajon Buchanan were fielded alongside outright forwards Buksa and Bou, often resulting in holding midfielder Scott Caldwell being swamped as he tried to mark multiple Philadelphia opponents.
In the end, despite a lineup that possessed plenty of individually talented players, New England could only muster one shot on target in a shutout loss.
Arena's recent assessment that "the days of tinkering are kind of over" was an understatement. In MLS, playoff games are single elimination. There is no longer any margin for error.
Even still, despite the disruption caused by the pandemic, the injuries to key players, and the lack of cohesion created by those circumstances, the possibility of rising to the full level of preseason hype remains.
New England has soundly beaten Montreal on multiple occasions since the league's fall restart, and the Impact will be without star midfielder Victor Wanyama due to COVID-19 travel restrictions following the recent international break.
So if the Revolution can get a result on Friday, it might prove to be more than simply a first playoff win since 2014 (which, in itself, would be an accomplishment for the club). It would be a step towards finally establishing an identity.
Get Boston.com's browser alerts:
Enable breaking news notifications straight to your internet browser.