New England Revolution
Morning sports update: Taylor Twellman thinks underdog Revolution could have advantage against Orlando City
"I think Orlando's got the pressure on them to try to figure out a way to deal with Carles Gil."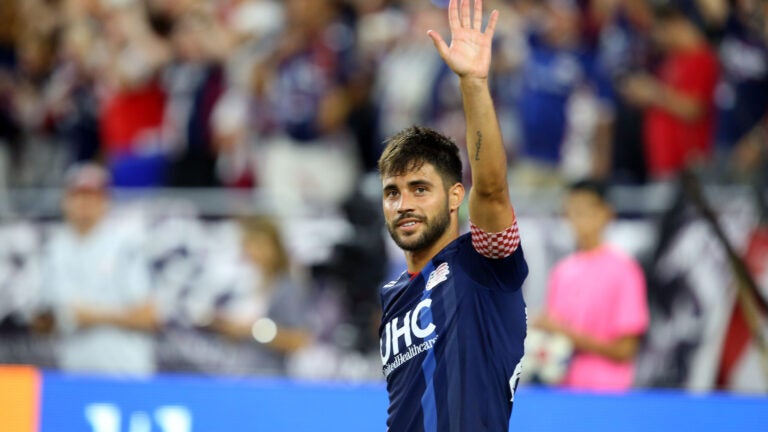 On Tuesday night, the eighth-seeded Revolution upset the Eastern Conference's top-seeded Philadelphia Union with a 2-0 playoff win. Adam Buksa and Tajon Buchanan scored the goals as New England advanced to a conference semifinals matchup with Orlando City on Sunday at 3 p.m.
Elsewhere, Boston College men's basketball gets its season underway tonight at 9:30 p.m. against No. 3 ranked Villanova.
And the Patriots fight to keep playoff hopes alive on Sunday against the Cardinals at 1 p.m.
Taylor Twellman likes the Revolution's chances: After an up-and-down season in which New England struggled for stretches due to injuries to key players, Bruce Arena's team has played much closer to its potential in two playoff wins over the last week.
Following the Revolution's 2-0 upset win over the Philadelphia Union on Tuesday, former New England striker Taylor Twellman (now an ESPN commentator) noted afterward that it was no fluke.
"They were exponentially the better team tonight," Twellman said in the ESPN postgame coverage.
And looking ahead, New England's path was made clearer by Toronto FC (the Eastern Conference's second seed) also losing on Tuesday in a 1-0 extra time defeat to expansion side Nashville SC.
The Revolution, who will face Orlando City, will play at home. But, as Twellman noted, the burden of expectation will be more on the hosts than Arena's team.
"New England's in rhythm," Twellman noted. "So now all of a sudden, they've got a belief. They've got the experienced manager that's pulled it off. I think more pressure's on Orlando City. Yes they're going to be at home. Yes, they're going to be seven, eight thousand fans, so there is going to be a little bit of that home-field advantage that we haven't often seen in 2020.
"But I think Orlando's got the pressure on them to try to figure out a way to deal with Carles Gil," Twellman concluded.
Gil, New England's creative midfielder, missed much of the regular season with an Achilles injury. Now back in the lineup, he provided the assists on both of the Revolution's goals against the Union.
Trivia: Because of the pandemic's effect on MLS scheduling, the Revolution didn't play Orlando City in the regular season. Their last matchup, from 2019, ended in a 3-3 draw. In that game, Portuguese winger Nani scored two goals for Orlando. What club did he make his professional debut for in 2005?
(Answer at the bottom).
Hint: It's the same club that Cristiano Ronaldo also debuted for.
More from Boston.com:
Bruce Arena added to his all-time lead in MLS playoff wins on Tuesday:
14 – The Union are the 14th different team Bruce Arena has eliminated in the #MLSCupPlayoffs in his career. Sage. pic.twitter.com/uJHcTDFZK9

— OptaJack⚽️ (@OptaJack) November 25, 2020
Assessing the Celtics' Gordon Hayward, and what exactly Charlotte got with the signing:
On this day: In 1949, Ted Williams won his second American League MVP after a season in which he hit .343 with 43 home runs and 159 RBIs.
Williams, who also won MVP in 1946, was famously denied in both 1942 and 1947 despite winning the A.L. triple crown (leading in average, home runs, and RBIs).
In the '49 voting, Williams was a decisive winner over Yankees Phil Rizzuto (who hit .275 with five home runs and 18 stolen bases).
Daily highlight: Though it hit the post, the audacity of Carles Gil's chip against MLS Goalkeeper of the Year Andre Blake deserves some attention here nonetheless.
DIOS MIO – if only! pic.twitter.com/tmz4huJlPV

— X-New England Revolution (@NERevolution) November 25, 2020
Trivia answer: Sporting CP