New England Revolution
Diego Fagundez leaves a lasting legacy with the Revolution Academy
"I don't think his impact can be overstated on a generation of young players here in New England."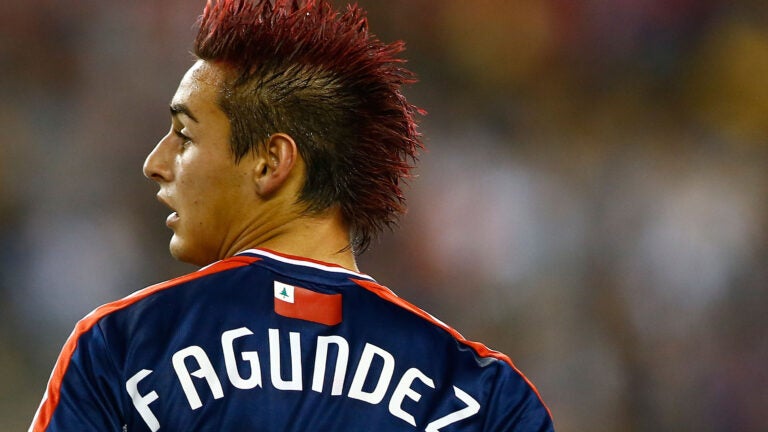 When Bryan Scales thinks back on his first impression of Diego Fagundez in 2009, it's of a particular statement the soccer prodigy made with his hair style.
"He was a little kid with a purple mohawk," recalled Scales, the Revolution's youth development director. "It definitely affirmed that he had some swagger."
Then just 14, Fagundez — who was born in Uruguay but grew up in Leominster — was already jumping into practice sessions with players much older and bigger than he was. He would make his first-team debut a year later, a remarkable feat as a 15-year-old high schooler.
"We were fortunate, because he joined us in year two of the academy," said Scales. "For him to make an immediate impact, it allowed us to [tell] our staff, our players and to our organization that there are players here in New England that can play at a high level here."
Of course, Fagundez's legacy in New England has become a relevant point of discussion in light of the news on Tuesday that the 25-year-old had signed with MLS expansion team Austin FC as a free agent, ending his 10-year run with the Revolution.
A decade in our colors. Thanks for all the memories, @DiegolFagundez!#NERevs pic.twitter.com/R3o2nH1Va8

— New England Revolution (@NERevolution) January 5, 2021
After becoming the club's first homegrown player signing in 2010, Fagundez made his debut in 2011 and stayed with the team through 2020.
"You could tell that there was something special to him," Scales remembered. "As we became more aware of his abilities, you could see that he had a very bright future, a ton of potential, and wouldn't be with us for long in the academy."
Fagundez ended up spending most of his time in New England's starting lineup. He departs tied for the Revolution's all-time record for appearances (261) having scored 53 goals and recorded 45 assists.
He was a central member of the 2014 run to an MLS Cup appearance, and he set MLS records as the youngest player to reach 100 appearances and score 25 goals.
Simultaneously, Fagundez reached milestones of a normal recognizable kind. Even after playing multiple seasons with a professional team, he was only just graduating high school in 2014.
📹 @DiegolFagundez graduates high school in 2014 @JimArmstronger #NERevs #WBZ pic.twitter.com/6VYSvfPSsq

— Joe Giza (@JoeGiza) January 5, 2021
"At the time, our then-general manager Mike Burns would jump into training sessions with Diego and get a feel for how he played and then we would drop him into a first-team session and [then-Revolution head coach] Steve Nicol would get a chance to see him play," Scales recalled. "We kind of kept doing that for a while and then we realized that it didn't matter that this kid was 15 years old. He could play.
"Then it was just a matter of him adapting to a professional environment, competing every day against professionals, against men, and none of that seemed to ever bother him," Scales added. "He didn't shy away from that. He made all of those little and big adjustments when this becomes your profession."
In recent seasons, he became less of a staple in the team's lineup, and he wasn't included in the Revolution's game day roster for three playoff games during the team's 2020 postseason run.
In December, he detailed how he'd wanted to stay in New England, but the club hadn't been interested in negotiating beyond its initial offer. So, having met the conditions for MLS free agency, Fagundez will help launch a new team into the league in 2021.
What he leaves behind is something that Scales and others can point to as an example.
"I don't think his impact can be overstated on a generation of young players here in New England," said Scales. "A talented player in New England has a real pathway here through our academy."
Get Boston.com's browser alerts:
Enable breaking news notifications straight to your internet browser.