New England Revolution
3 takeaways from the Revolution's strong start to the 2021 season
New England sits atop the Eastern Conference after six games.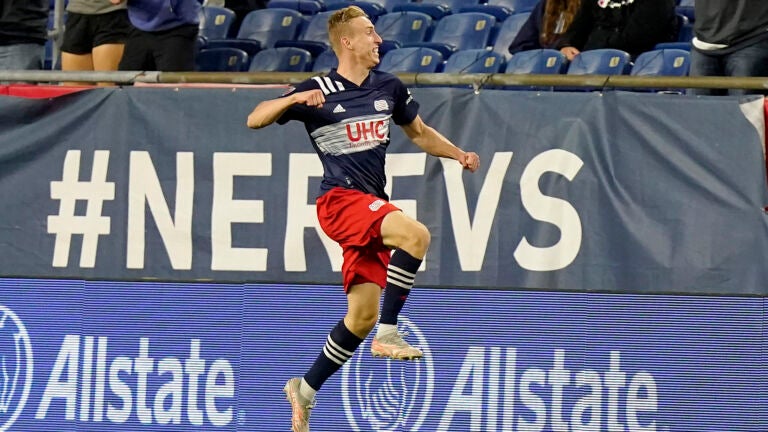 Almost two years to the day since Bruce Arena was named head coach and sporting director of the Revolution, he watched his team wear down the defending MLS Cup champions and grab a late winner to remain atop the Eastern Conference.
The 1-0 victory over Columbus on Sunday, achieved thanks to a dramatic 86th minute winner from substitute Adam Buksa, ensured that New England will enjoy its longest run atop the conference since 2005.
Considering the circumstances of Arena's arrival in 2019 (when the Revolution were tied for last in the East), the overall upward trajectory of the team since that time could be cause for at least a modicum of celebration. But after a busy nine-day stretch in which New England went 1-1-1 against three 2020 playoff teams, Arena was more even-keeled.
"We played I guess you would argue three of the better teams in the Eastern Conference and had a moderate amount of success at it," Arena explained. "It was a pretty solid week for us."
It speaks to Arena's experience — no one has won more MLS Cups than the 69-year-old Hall of Famer — and his understanding of timing through the season. Success has come to him in the past through patience. As he once noted of MLS, "the second half of the season is the season."
Still, early as it is for any kind of definitive judgment on the 2021 Revolution, there have been a few noticeable trends:
New England already have more home wins than in 2020.
One of the major issues the Revolution confronted throughout the 2020 season — unprecedented as it was in every possible way due to COVID-19 — was an inability to consistently win at home. Though New England found momentum in the playoffs (rocketing to the Eastern Conference Finals before falling to Columbus), it came after a regular season in which Arena's team could only manage an eighth place finish in the conference.
The main reason for such a middling record was the team's 2-3-5 mark at Gillette Stadium. Whether it was the lengthy absence of playmaker Carles Gil, a lack of fans, the turf, or simply a combination of all of the above, the Revolution struggled to maximize home game opportunities.
As Sunday showed, 2021 has already been a different story. Through three games at Gillette Stadium, the Revolution are 3-0-0.
"You have to have a home-field advantage here at Gillette, and I think we do," said Arena. He even paid credit to the previously maligned turf.
"We had a new field this year that allows you to play better," Arena noted of the new field turf. "I think it's really been helpful for us."
Carles Gil has been an MVP candidate.
It was arguably Gil's lengthy absence through much of 2020 (due to an Achilles injury) that ended up being the best proof of just how vital his presence is for New England. It's no coincidence that his return shortly before the playoffs last fall coincided with the team's dramatic improvement and subsequent postseason run.
So far in 2021, he's been arguably even better. No one has more key passes in MLS than the 28-year-old Spaniard, and he's assisted on three of the team's seven goals so far this season.
Testament to his effectiveness is how he's been treated by opponents. Gil is tied with teammate Tajon Buchanan as one of the most fouled players in MLS. As Arena noted following a 1-0 win over D.C. United in April, "I think Carles Gil got fouled every time he touched the ball."
But Gil has held up against the physicality, periodically taking his revenge through crowd-pleasing moments of skill, leaving opponents on the ground in his wake.
And as the highlights reveal, numbers alone do not accurately describe Gil's full impact. Both as a leader and a calming presence — simply keeping his team in possession of the ball, especially late in close games — Gil is setting the tone for what could become an MVP-type season.
The best XI remains a mystery.
Despite the good start, plenty of uncertainties remain for the 2021 Revolution. A prominent one is found in the team's current trio of "Designated Players" (an MLS contractual term for a special player whose salary can exceed the league's cap).
Prior to Arena's signing of Buksa before the 2020 season, New England had never fielded a team with three designated players (the MLS limit). And while fans took it as an encouraging sign of investment from ownership that the Revolution finally had three potential stars, the group has yet to hit its stride collectively.
Goal-scoring shouldn't be an issue for a team with Gil, Buksa and forward Gustavo Bou (the team's third designated player). Yet New England has just seven goals in six games, hardly a mark worthy of a team leading the conference.
As was pointed out in ESPN's pregame show on Sunday by former Revolution goal-scorer Taylor Twellman, the difference in New England's total goals scored minus the team's expected goals scored over the last two seasons was the worst in the league.
Sooner or later, Arena will need to work out how to play Buksa and Bou together without losing the balance of the rest of the team.
New England has questions in other parts of the lineup too, including central midfield (where a rotation in 2021 has produced quality performances but no clear answers beyond the dominance of Matt Polster), outside back, and outside midfield. Buchanan, who emerged as a force playing right back in the 2020 postseason, has yet to find his best position (or best form) in 2021.
But for a team that — as Arena candidly admitted — didn't find an identity in 2020 until the playoffs, 2021 already seems to be flowing more smoothly. With Gil ensconced in the midfield, goalkeeper Matt Turner making timely saves, and Buksa scoring Sunday's winner (cheered by actual fans in the stands), the new season has provided more than a few glimpses of the Revolution's full potential.
(Note: An earlier version of this article incorrectly stated that the Revolution had the worst "expected goals" rate in MLS over the last two seasons. In fact, the Revolution have ranked sixth in the league in that time. New England have been worst in goals scored minus expected goals scored.)
Newsletter Signup
Stay up to date on all the latest news from Boston.com