New England Revolution
Carles Gil on why the 'best is yet to come' after agreeing to a Revolution contract extension
"I want to continue to improve, to learn and, of course, try to win some trophies."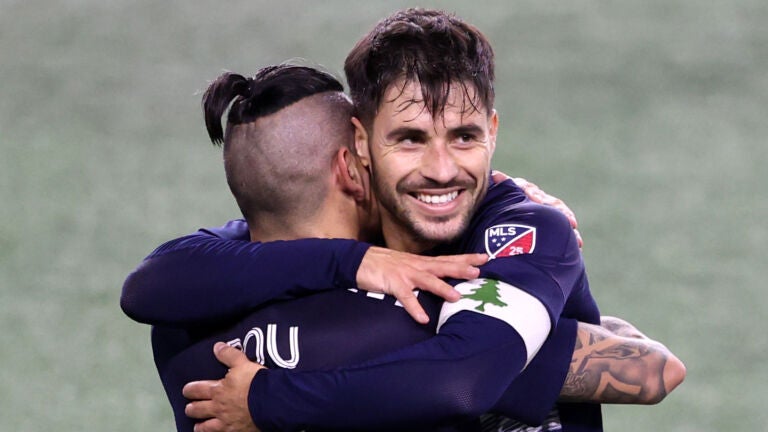 The Revolution announced on Monday that team captain Carles Gil had signed a contract extension that will keep him in New England through the 2024 season, and make the 28-year-old one of the highest paid players in MLS.
For Bruce Arena, it's a crucial part of his larger vision for the club.
"I thought it was important that we move forward with Carles and establish him as a key player in our team a player that we can continue to build the team around," Arena noted in a team interview. "His contract was such that he had has his last option in 2022 and I didn't think it made sense to put him in a position to play out his contract."
And for Gil, it's part of a desire to keep the club moving in the right direction.
"I've experienced some really nice moments here, but without a doubt I believe the best is yet to come," Gil explained during a Monday press conference. "I think it's evident that the club is growing. The requirements are elevated, we are more competitive, and in the end that's a big factor for all of us. Hopefully, we can continue growing and reach our objectives."
The new contract comes at a time when Gil and the Revolution have been experiencing one of the team's greatest runs of success on the field in years.
After reaching the Eastern Conference Finals in 2020, New England has started the 2021 season in fine form. Through seven games, the Revolution have lost just once and are currently enjoying the team's longest run atop the Eastern Conference since 2005.
Gil has been central to New Engand's strong start, assisting on four goals (tied for the league lead) and leading MLS in several other statistics, including key passes.
"I think that without a doubt, I'm a better player now than I was before," Gil said when asked if he thought he was playing the best soccer of his career. "I am in a perfect stage. I think that since I arrived here, I have improved a lot. I am lucky to be around people who help me learn and improve."
Yet it's been Gil's contributions beyond the box score that helped convince Arena of the Spaniard's importance in pushing for a new contract.
"Carles leads by example," said Arena. "I think his play speaks for itself. His desire to be successful, to have the team be successful, to try to elevate our team speaks for itself. He's a great representative of our team on the field. The way he comes into our building each day and trains and has relationships with our coaching staff, our support staff, and the players is outstanding. When you do all these things the right way, you instantly become a leader.
"When you top that off with Carles' play on the field," Arena added, "I think he's an outstanding leader. Maybe he's not real vocal, but his play and his actions speak for itself."
Looking to the future, Gil knows what New England fans covet.
"I want to continue to improve, to learn and, of course, try to win some trophies."
New England's next game comes on May 29 in Cincinnati at 3 p.m.
Newsletter Signup
Stay up to date on all the latest news from Boston.com