New England Revolution
Revolution win third straight with comeback over D.C. United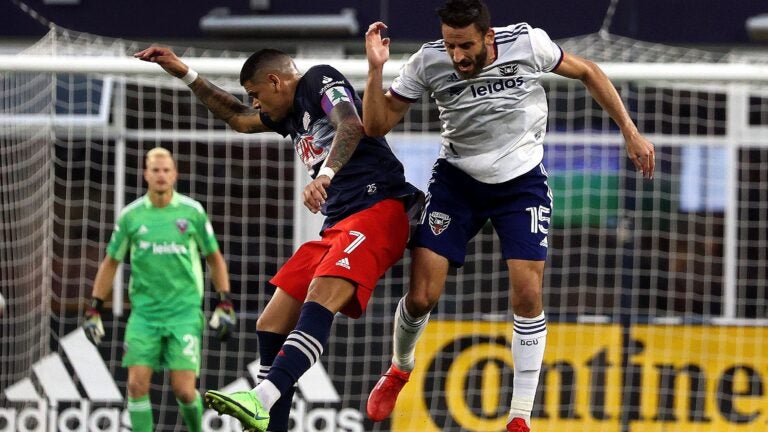 FOXBOROUGH – The Revolution's depth continues to pay off.
This time, left winger Emmanuel Boateng made the difference as the Revolution took a 3-2 win over D.C. United at Gillette Stadium Wednesday night.
The Revolution (14-3-4, 46 points) stretched their lead in the Supporters Shield race and improved their unbeaten streak to eight games. Boateng helped set up second-half goals by Tommy McNamara, Tajon Buchanan, and DeJuan Jones as the Revolution rallied from a 1-0 halftime deficit.
United (8-9-3, 27 points) opened the scoring on Paul Arriola's 10th-minute goal. The Revolution rallied in the second half as sporting director/head coach Bruce Arena made key substitutions, bringing on Boateng, Buchanan, and Adam Buksa.
Arriola went in alone against goalkeeper Matt Turner, finishing with the outside of his right foot in the 10th minute. Arriola set up the sequence, taking possession off Lucas Maciel and finishing a return pass from Edison Flores. Arriola was injured and replaced by Yordy Reyna.
The Revolution's timing seemed off in the first half, but they threatened on a Jones drive directly at D.C. goalkeeper Jon Kempin (21st), an Arnor Traustason open header wide from an A.J. DeLaGarza cross (31st), and a Teal Bunbury left-footer wide off a DeLaGarza feed (41st).
McNamara equalized with a shot from just outside the the penalty area off a Traustason layoff in the 49th minute, a sequence set up by a Boateng cross from the left wing. Boateng then crossed for Buchanan to volley past Kempin at the back post for a 2-1 lead in the 53d minute.
Buksa had a chance to increase the lead, but his header off another Boateng cross was cleared off the line in the 69th minute. Matt Turner preserved the lead, tipping Reyna's shot over the bar (70th) and grabbing a free kick (72d) after Traustason was sent off following a second caution issued by referee Ted Unkel.
Though the Revolution were playing short-handed, they continued to create chances. Buksa broke through and appeared to be taken down from behind, with Unkel issuing a yellow card to Steven Birnbaum (78th). Boateng helped set up the third goal, breaking away on a counterattack, Jones finishing after a Buchanan shot was blocked in the 85th minute.
United coach Hernan Losada introduced Ramon Abila, former Providence College star Julian Gressel, and leading scorer Ola Kamara in the late going, with Abila cutting the deficit to 3-2 in the fifth minute of added time.
The Revolution remain unbeaten (3-0-1) since captain Carles Gil (muscle injury) went down in a July 31 game.
"I thought they brought some energy," Arena said of the substitutes. "I think we picked it up to start the second half and certainly getting two goals early in the second half was big. But I think you roll the dice at times with substitutions. Sometimes they work, sometimes they don't, you know? Today, I think those three players that came in in the second half certainly helped our team."
Observations from Wednesday's game:
⋅ Arena spent the off-season attempting to bolster the left side, but Christian Mafla, Boateng, and Traustason have seldom made a major impact. This was the longest stint on the pitch in four appearances this season for Boateng, who played for Arena with the Los Angeles Galaxy. "He did his job," Arena said of Boateng. "I thought we needed a little bit more quickness in the midfield and inserting him and Tajon I thought helped us in that regard. We needed a little bit more width on the left side of the field and more of a natural left-footed player to put a couple of crosses in."
"I didn't get discouraged," Boateng said. "There were some tough times, but just lately, [Arena] has been telling me to be a little bit more aggressive on the offense and try to take guys on. So, I just came in today and tried to do that."
Arena also strengthened the midfield during the off-season, but the team lacks cohesion and direction without Gil and Matt Polster (knee). Maciel and Wilfrid Kaptoum struggled against United, both replaced after halftime. McNamara and Traustason combined well in midfield as the Revolution went to a 4-2-3-1 in the second half, and Scott Caldwell helped close out the contest. "At halftime, we talked about how we need to have a much better mentality, to be much more aggressive, to be positive, and to really fight for second balls and fight in the game," McNamara said. "So, I thought me and Arnór dropping back into midfield helped a lot with the three guys that came on, and we just had a much better attitude and mindset to start the second half."
⋅ The Revolution have received several wakeup calls this season via slow starts, including a 3-2 loss to Toronto FC on July 7. The Revolution have not lost since that match and improved their home record to 8-1-1 on Wednesday. They have not lost with Turner in goal in nine games, dating back to a 2-1 defeat against the Philadelphia Union Oct. 19.
⋅ The Revolution have scored seven goals in four games without Gil. They lead the league with 40 goals (1.90 per game), and will likely need Gil at full speed to contend for a title.
⋅ In 2005, the Revolution had an 11-4-6 (39 points) record after 21 games – seven points off their current pace – on their way to their best regular-season finish (17-7-8). The Revolution entered the match with a six-point lead over Sporing Kansas City in the Supporters Shield race.
Get the latest Boston sports news
Receive updates on your favorite Boston teams, straight from our newsroom to your inbox.