New England Revolution
3 takeaways as the Revolution set a new MLS points record with a 1-0 win over the Colorado Rapids
New England became the first MLS team to reach 73 points in a single season.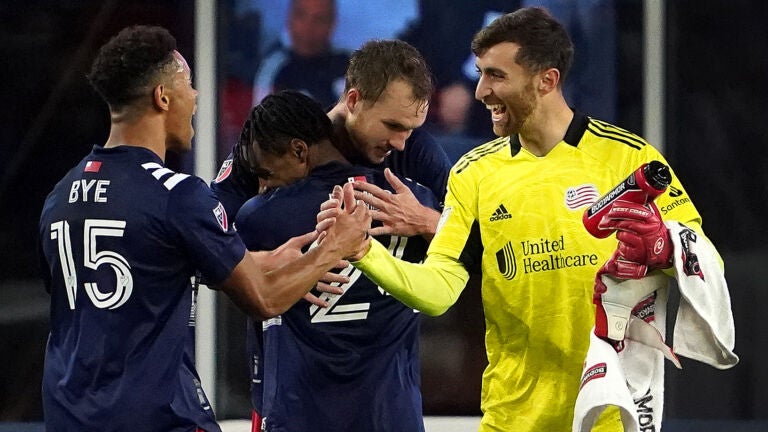 The Revolution set a new record for points in a Major League Soccer season with 73 after Tajon Buchanan's second half goal gave New England a 1-0 win over the Colorado Rapids on Wednesday night.
Playing in a windswept Gillette Stadium amid the vestiges of a nor'easter, New England managed to avoid getting blown off-course, earning the team's first clean sheet since September.
"Well, yeah. I think these 3-2 games are getting a little old," joked Revolution head coach Bruce Arena about his team's recurring number of high-scoring games. "You know, I think we needed to have a grind-out kind of game and that's what tonight was."
And while MLS Cup remains the team's primary goal, players savored the rarified air of a 73-point season (with one regular-season game remaining on Nov. 7).
"It's a great feeling," said DeJuan Jones. "We worked so hard all year, just taking it one game at a time."
Here are a few other takeaways from a historic night:
The best XI haven't found a consistent rhythm yet.
After going with a heavily rotated starting XI in Sunday's draw against Orlando City, Arena went back to what appears to be his ideal lineup.
A fluid front four of Buchanan, Gil (playing deeper), Bou, and Buksa took some time settling into the game, but eventually began to work the ball into increasingly threatening positions.
While the playmaking quality of Gil is always a threat for New England, the passing of Bou and Buksa has elevated in recent weeks. Each has become increasingly capable in setting up — instead of simply finishing off — goal-scoring opportunities.
Still, the Revolution played an inconsistent first half, and weren't particularly threatening even in the first 15 minutes of the second half. Had it not been for goalkeeper Matt Turner's impressive save in the 34th minute, Colorado might have even taken the lead.
While Arena has consistently insisted that he still doesn't know what his playoff lineup will look like, Wednesday's starting XI — which has been used several times over the past few weeks — could be a glimpse at the postseason group.
If that's the case, it's clear that they still have a little ways to go to fully reach their potential (which, considering New England's position in the standings, is a frightening prospect for the rest of the league).
But Arena is hopeful the group will be able to start clicking on all cylinders in time for the playoffs.
"I think we've consistently played this lineup," he explained. "They can get better."
Facing Colorado was a good playoff simulation.
The Rapids currently sit third in the Western Conference, and caused a number of problems throughout the night for the Revolution.
"That's an extremely tough team. Colorado has done really well all season," said New England midfielder Matt Polster. Playing a 3-4-2-1, the Rapids followed a familiar pattern for teams coming into Gillette Stadium to face a talented Revolution attack.
"That's what teams have come here and done. They've sat [back] a little bit more and then tried to break on the counter," Polster explained. "Tonight, they may have frustrated us a little bit but with the quality we have up top and within this team, we always have an opportunity to score goals. That's where we've kind of been really, really strong. So, we know if we can stay in the game, we're most likely going to figure a way out to win."
And after failing to find a way through Colorado's packed defense for 73 minutes, Buchanan capped a nice move from New England (via a Buksa cross) with the go-ahead goal. The 22-year-old Canadian maneuvered his way past the Rapids' defense before firing far post to give the Revolution a deserved lead.
Looking ahead to the playoffs, New England will likely face another team as organized defensively as Colorado. In a sense, Wednesday's game was a good test for what might be ahead.
Henry Kessler's performance typified a hard-fought shutout.
Now in his second season, New England center back Henry Kessler has continued to progress in his development. On Wednesday, he was tested several times on Colorado counterattacks, while also nearly adding a goal off a corner kick that fell to his feet.
Though the Rapids were only able to mount sporadic pressure, Kessler made multiple last-ditch tackles to prevent clear goal-scoring opportunities.
By the final whistle, the 23-year-old had made seven total tackles, by far the most on the team.
With home-field advantage clinched throughout the playoffs, New England has no more road games in the 2021 season. Teams coming to Gillette Stadium looking to pull off a postseason upset will likely follow Colorado's blueprint: sitting deep and hoping to exploit an open counter.
If that's the case, it won't be the last time Kessler and fellow center back Andrew Farrell will be called upon to make one-on-one tackles.
New England plays again on Sunday, Nov. 7 (MLS "Decision Day") against Inter Miami at 3:30 p.m.
Newsletter Signup
Stay up to date on all the latest news from Boston.com