New England Revolution
Bruce Arena on his Achilles injury, the Revolution's pre-playoff plans, and Adam Buksa's status
Arena said New England will play "a couple practice games" ahead of the Nov. 30 playoff matchup.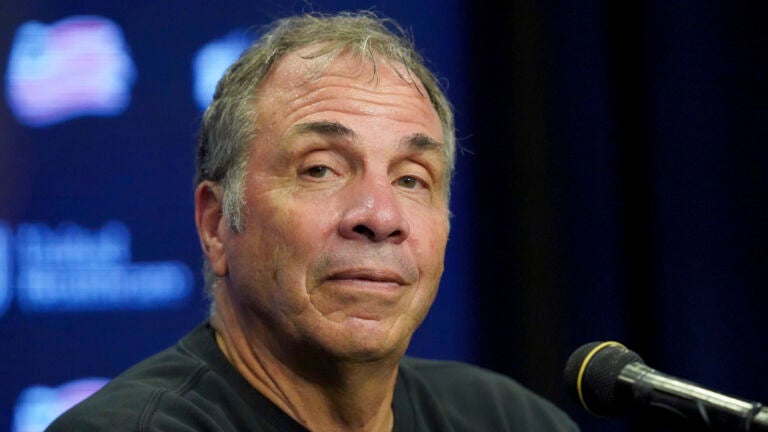 The Revolution have already secured a place in Major League Soccer history with the team's record-setting 2021 regular season, but — as head coach Bruce Arena noted on Thursday — the team is already focused on the task remaining in the upcoming postseason.
During his weekly interview on 98.5 The Sports Hub's "Zolak & Bertrand," Arena also reflected on another piece of recent news: Gustavo Bou's two-year contract extension.
"It's great, and the Krafts have stepped up in their support of the team," Arena said of Bou's new deal, which will keep the Argentinian forward in New England at least through the 2023 season. "And before I got here, I believe there was one designated player in Carles [Gil], and now we've added two. We've re-upped both [Gil and Bou]. It's a sign that the players like it here, that ownership is supporting this team."
New England recently celebrated its first Supporters' Shield win in club history after finishing the regular season with 73 points, the highest total ever by an MLS team.
Still, the regular-season finale was a small letdown as the Revolution lost at home to Inter Miami, 1-0. Arena explained that the defeat might serve as a long-term asset.
"I was disappointed we didn't get the result in the last game, but having said that, it's probably not the worst thing," Arena noted. "It wakes us up a little bit and hopefully has us properly prepared for the next game."
The "next game" will be the Eastern Conference Semifinals, since New England earned the top seed in the playoffs and will get a first-round bye.
The Revolution's opponent will be determined on Nov. 23, with New York City FC and Atlanta United vying for the chance to come to Gillette Stadium.
However it plays out, the one certainty is that Arena will have to plan for his team to overcome an unusually long gap between games. In total, the Revolution will have had a 23-day break between the regular-season finale and the start of their MLS Cup run on Nov. 30.
How is Arena planning to deal with such a challenge?
"We're going to play a couple practice games in Gillette [Stadium] to get us ready," said Arena. "One game against outside opposition. Another game between ourselves, using some of our players from our Revolution II team as well. So we're going to prepare our guys as best we can. And probably one or two additional training sessions in Gillette.
"And then along the way of these 20 days, we'll have a mix of going at it pretty hard and then some days off," Arena continued. "We're going to obviously give them Thanksgiving Day off, and then the day after that. They'll have a two-day break. So, between now and then they'll probably have four [or] five days off. We're going to prepare, put in a few new things to get ready for the playoff game, and hopefully have them ready, but no one ever knows the answer to something like this because this is an unusually long layoff."
As for the status of New England's leading scorer, Polish striker Adam Buksa, Arena said he was confident that the 25-year-old would be recovered from his fractured metatarsal in time for the 30th.
"We do," Arena said when asked if he expects Buksa to be ready to go. "The injury he had he played the last two games with, so we know he's going to be OK. It's a process that it'll take him a couple weeks to get healed properly but he's very anxious to get back on the field and I don't think that's going to be an issue."
And regarding his own health, the 70-year-old Arena acknowledged that he was dealing with a partially torn Achilles tendon.
"It's vertical, which has saved me," said Arena of the injury. "If it was horizontal it would probably be surgery. So a little bit of a tear. It's scarring up, it's getting better and hopefully, I'll be ready for November 30th."
Newsletter Signup
Stay up to date on all the latest news from Boston.com