Sports
3 things to know about the Revolution's already busy offseason
New England added a major piece in Sebastian Lletget.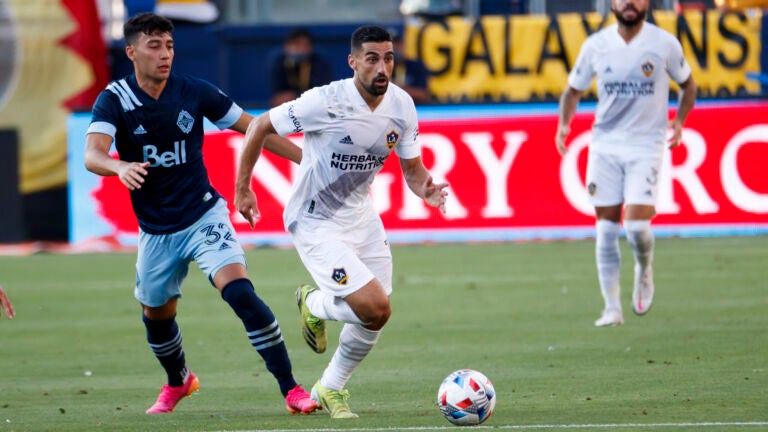 Less than a month after a disappointing exit from MLS Cup playoffs to eventual champions New York City FC on penalty kicks, the Revolution are fully immersed in a busy offseason.
Tajon Buchanan, one of the emerging stars of the team over the last two seasons, has already departed for Europe to join Belgian side Club Brugge (a deal he'd agreed to over the summer, but which didn't take effect until the end of the 2021 MLS season).
DeJuan Jones, the team's talented left back, has re-signed on a three-year contract extension.
Elsewhere, New England managed to avoid any players being selected in the recent MLS Expansion Draft for new club Charlotte FC.
And after causing an unexpected uncertainty about his future in the postgame press conference following the loss to New York, Revolution head coach and sporting director Bruce Arena appeared to clear that up at the ceremony for Carles Gil's MLS MVP award.
"I imagine I'll be around," Arena told reporters.
The ceremony, which took place on Dec. 7, also preceded several offseason moves which Arena hinted at beforehand.
"Our goal is to strengthen our roster for next year," he said. Asked if the club had specific players in mind, Arena simply replied, "Yes."
Teal Bunbury's time in New England ends
Before any additions were made to the team, Revolution fans saw another departure when it was announced that forward Teal Bunbury had been traded to Nashville SC in exchange for $150,000 in general allocation money.
The 31-year-old had played in New England for eight seasons, scoring 45 goals (fourth most in club history) in 231 regular season appearances. Along with helping the Revolution win the 2021 Supporter's Shield with the best-ever regular season in MLS, Bunbury was a member of the team's 2014 run to the MLS Cup.
His goal in the first leg of the 2014 Eastern Conference Finals against the Red Bulls remains an iconic part of the team's history:
Off the field, Bunbury was voted the Revolution's Humanitarian of the Year in both 2020 and 2021 for work he did in the local community.
Landing in Nashville on a team that values defensive solidarity, Bunbury's high off-ball work rate—even as a forward—will be appreciated.
Sebastian Lletget was the first major addition
Attacking midfielder Sebastrian Lletget acquired from the Los Angeles Galaxy earlier in December for $500,000 in allocation money (with the total potentially increasing to as much as $1.3 million after incentives).
Lletget, 29, scored three goals and notched five assists for the Galaxy in 2021. He's also coming off a season with a career-high 16 appearances for the U.S. national team. His skill and passing ability will only add to an already talented Revolution midfield.
While he's able to play out wide, leading some to speculate that he might serve as a potential replacement for Buchanan's role, it appears Lletget will be used more centrally.
"I've always been an attacking central midfielder," Lletget explained in his introductory press conference. "That was part of some issues that I had at my previous club, that I bounced around from position to position, and I've never been given that chance to master one position. I think that's one of the biggest conversations that I've had with Bruce is, 'Is that the type of role that I can play on this team?' and his answer was, 'Yes.' That's kind of what he was already thinking. We definitely saw eye to eye on that."
After spending the early part of his career at West Ham United—where he made only one appearance in an FA Cup match against Nottingham Forest—Lletget joined the Galaxy (then coached by Arena) in 2015. When he arrives for preseason in January, it will be his first time in Boston.
"I've actually never been to Boston, which is super funny," Lletget admitted. "I've always missed that game and never understood why. It's kind of weird. It's going to be new and fresh for me, so it's exciting. This is not one bit negative on any part. This is going to be an awesome experience."
The schedule release and the Champions League
The 2022 MLS schedule was released on Dec. 15, including a few notable dates that already stand out.
The first is that, because of the team's success in winning the Supporter's Shield, New England will participate in the 2022 Concacaf Champions League. The two-leg Round of 16 begins on Feb. 15 with the Revolution facing Haitian side Cavaly AS.
Should New England progress in the competition, it would continue until the finals (also played over two legs) conclude in early May.
The U.S. Open Cup is also currently scheduled to make its return after a two-year hiatus due to the pandemic.
In MLS, New England's schedule is set to return to a pre-pandemic setup in which more Western Conference teams are included. Due to travel restrictions, the 2021 schedule focused mostly on Eastern Conference teams.
The Revolution's first three league games of the 2022 season will come against Western Conference opposition, and Arena's team will also face Sporting Kansas City, Minnesota United, and the Galaxy (among other teams) through the course of the regular season.
Newsletter Signup
Stay up to date on all the latest news from Boston.com