New England Revolution
3 takeaways from the Revolution's snowy Champions League win over Pumas
New England (eventually) found a multi-goal cushion ahead of the second leg in Mexico City.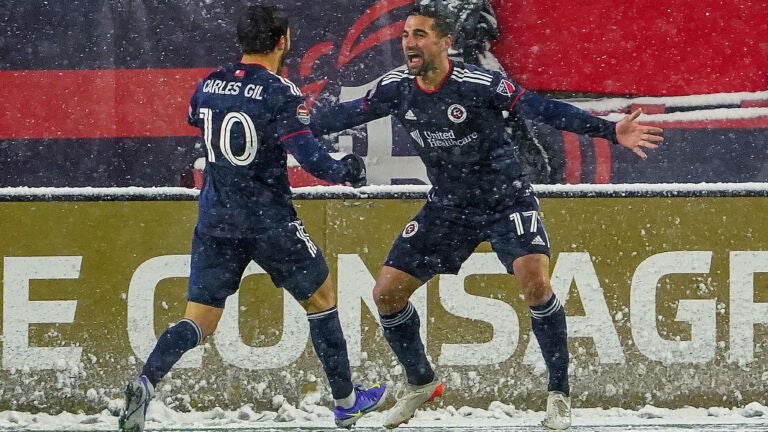 The Revolution marked a return to continental competition for the first time since 2010 with a 3-0 win over Mexican side Pumas UNAM amid snowy scenes at Gillette Stadium on Wednesday night.
New England's win, which came in the first of two legs of the CONCACAF Champions League quarterfinal, was exactly what head coach Bruce Arena was looking for ahead of the return trip to Mexico City on March 16.
"It's very important," Arena said of notching three goals in the Revolution's home leg. "This is a 180-minute game, basically, and away goals count. I think CONCACAF is about a year behind the rest of the world with this stuff. So, away goals count in this competition. So, it was important to score goals, as well as not concede any, so we can go to Mexico City with a little bit of a cushion. But it's not going to be easy."
It was the Revolution's first game in the Champions League since 2008. No MLS team has won the competition in its current iteration (though Arena's D.C. United team won the older Champions Cup in 1998).
The win came in the midst of a snowstorm, a fact which drew a wry smile from midfield playmaker Carles Gil in the postgame press conference.
"It's difficult. I've never had that type of game," Gil said of the snow. "We know that it was hard for both teams, so we tried to play it, to play easy in the defense and try to keep the space behind the defense."
The unusual conditions created a few moments of winter wonder, including forward Gustavo Bou de-icing the crossbar with a second half shot that added to the aesthetic of the game even if it missed its intended target:
Here are a few takeaways from what was (eventually) a comfortable New England win:
This is the Revolution team Arena envisioned in the offseason.
After the Revolution's Round of 16 matchup against Cavaly AS was canceled due to a visa issue from the Haitian side — resulting in New England's automatic advancement — the main problem for Arena's team in the early-going has simply been a lack of games.
Despite playing a competitive slate of preseason friendlies, the Revolution are still just two games into the 2022 MLS regular season. Pumas, meanwhile, are eight games into the Liga MX Clausura season.
So after a season opening draw in Portland and a 1-0 home win against FC Dallas on Saturday, New England had yet to hit their stride. On Wednesday, even with the less-than-ideal conditions, the Revolution began to look like the team that set an MLS regular season points record in 2021.
Gil, the 2021 MLS MVP, was involved in all three goals. Striker Adam Buksa scored twice, and new addition Sebastian Lletget continuing to find his early season form. That, combined with a shutout on the defensive, meant it was a moment where the 2022 Revolution showed a glimpse of the team's potential.
New England pressed when needed, defended well collectively, and — with Gil as the fulcrum — looked dynamic in attack. From the moment Lletget scored the opener, the central question of the game slowly became less about whether or not the Revolution would win, but by what margin.
Echoing Arena, Gil noted that the team's only fault on the night was not scoring even more.
"I think for sure it was our best game of the season," Gil said. "We did an amazing job together in defense and in the attack. We created many, many, many chances. Maybe we could've won by more goals."
But after managing only a 1-0 halftime lead, the Revolution attack found the much desired insurance via Buksa's second half brace.
DeJuan Jones continues to emerge as a standout left back.
Revolution left back DeJuan Jones received his first call-up to the U.S. men's national team earlier in 2022. It's indicative of where the 24-year-old is in his development.
Though he's naturally a right-footed player, and had virtually never played left back when New England drafted him in 2019, Jones has become one of the best at his position in MLS.
While his most noticeable attribute remains his speed — he was clearly the fastest player on the field Wednesday night — Jones's work in continuing to refine the rest of his game is what's elevated him over the last year.
That was on display in New England's first goal, as Jones's well-timed overlapping run down the left was spotted by Bou. But instead of simply blasting a cross towards the near post, Jones skillfully picked out Gil's trailing run. Gil heard Lletget's shout behind him, and deftly left the ball for his new teammate to pass into the net.
It was an especially ominous moment for Pumas, who — clearly still adjusting to the wintry conditions — saw New England link four passes and score all with the ball barely leaving the (snowy) ground.
Jones then continued to assert himself in the game, consistently outrunning and outworking Pumas players who found themselves on his side of the field.
With Tajon Buchanan gone following the 2021 season, Jones's speed down the wing has become even more important for New England's buildup and attack. So far, he's exceeded expectations.
Asked about Jones's early season performances and his ability to be "active in the attack," Arena smiled before giving a repetitive response.
"He's been very active in the attack," Arena joked before adding that Jones "performed well, had a good game. Got a little tired at the end."
Despite missing chances, New England got the necessary scoreline.
Even though the game ended with a resounding 3-0 win, Bou and Buksa were guilty of squandering multiple chances Bou also scored a goal that was ruled out due to a close offside call.
It wasn't until the 72nd minute that New England doubled its lead, finding the third in stoppage time. Arena, who called Buksa's second half goals "huge" in their importance ahead of the second leg, praised his forwards.
"They challenged Adam tonight and he had a tough time in the first half, I thought," Arena noted of the Pumas defense. "And then the second half, he grew into the game a lot better and got two absolutely huge goals for us. And I thought Gustavo played very well in the second half."
On the defensive side, Earl Edwards Jr. continued to fill in for an injured Matt Turner with another composed performance. Though he wasn't called into action frequently, Edwards made saves when needed.
His highlight moment came off a Pumas corner, when Brazilian forward Rogério's header seemed destined for the goal before Edwards's reflex save slapped it wide.
The major benefit of the result is that it gives the Revolution a decent margin of error heading into the second game at the Estadio Olímpico Universitario in Mexico City.
That New England also scored the first goal and dictated much of the game also meant that it wasn't an overly strenuous performance for Arena's team, who are already in the middle of a busy schedule.
The Revolution, having played last weekend, face a Saturday matchup against Real Salt Lake (7:30 p.m.), followed by the second leg away against Pumas on Wednesday. New England will then head straight for North Carolina for March 19 game against expansion side Charlotte.
Arena has already said he plans to rotate his lineup in the coming games.
Should New England get a decent result in Mexico and advance to the Champions League semifinals, the Revolution would face the winner of the CF Montréal-Cruz Azul matchup (Cruz Azul won the first leg on Wednesday, 1-0).
Get the latest Boston sports news
Receive updates on your favorite Boston teams, straight from our newsroom to your inbox.