New England Revolution
5 things to know ahead of the Revolution's 2023 season opener
After a disappointing 2022, Bruce Arena's team has the potential to make a return to the playoffs.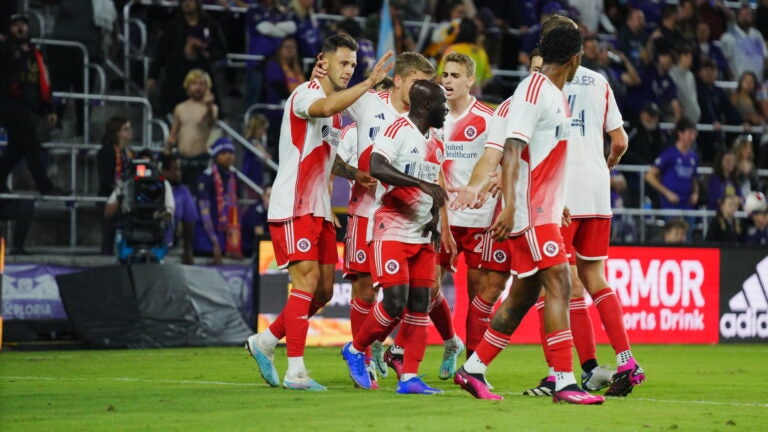 The Revolution begin the 2023 season on Saturday in Charlotte at 7:30 p.m.
The opener, expected to be attended by 60,000 Charlotte FC fans, will provide the first test for Bruce Arena's team since ending a disappointing 2022 season with a (non-playoff) thud.
Before New England kicks off, here are a few things to know:
How to watch the Revolution with Major League Soccer's new Apple TV deal.
Originally announced in 2022, Major League Soccer's 10-year deal with Apple TV officially begins this season.
What that means for fans is a fairly profound change on the surface, though it comes with certain caveats. For starters, every Revolution game will be accessible through Apple TV, with certain games still being broadcast on Fox Sports. The deal also means that the production of local broadcasts will be more regulated, and kickoff times will be more streamlined than in the past.
Apple TV's MLS Season Pass is $14.99 per month or $99 for the season, though several of the games throughout the year (including Saturday's opener) will be free. So if fans don't want to pay for the package, they can still watch several of the games throughout the season.
One additional note on the broadcasting subject: The former Revolution broadcasting partnership, Brad Feldman and Charlie Davies, will still be involved as the team's official radio crew (calling games on 98.5 The Sports Hub).
What went wrong in 2022?
Coming off a record-setting 2021 regular season in which the club won the Supporters' Shield for the first time in team history, expectations were initially high in 2022.
But with several high-profile departures, including U.S. national team goalkeeper Matt Turner to English powerhouse Arsenal, Canadian winger Tajon Buchanan to Belgian side Club Brugge, and leading scorer Adam Buksa to French club Lens, the team was unable to replicate its earlier form.
Aside from losing Buksa's goals, the main issue came on the defensive side. The Revolution squandered more than the team's fair share of points from winning positions, and were consistently susceptible to allowing late goals.
Beyond specific issues with defensive players, the Revolution were less effective in reclaiming possession or simply breaking up opposing teams' passing sequences in the midfield.
Injuries also hampered the campaign, with crucial contributors (including several midseason acquisitions like Giacomo Vrioni and Dylan Borrero) missing weeks at a time. This had predictable consequences, as New England managed just two wins in its final 10 games in 2022, slumping instead of making a playoff push.
What's new in 2023?
To refresh the squad, Arena brought in all-action midfielder Latif Blessing from MLS Cup champions Los Angeles FC and center back Dave Romney from Nashville SC via trades. In addition, Joshua Bolma, a versatile midfielder from the University of Maryland, was selected with the fourth overall pick in the 2023 MLS SuperDraft.
Each player (especially Blessing and Romney) should help shore up the issues the Revolution encountered in 2022. Blessing could slot in alongside defensive midfielder Matt Polster and attacking midfielder Carles Gil (the team's captain and main offensive creator) to help provide support both in and out of possession.
On top of offseason additions, Arena will undoubtedly hope that some of his 2022 signings will be able to make more of an impact. Both Borrero (a 21-year-old Colombian winger), and Vrioni (a 24-year-old Albanian center forward) should provide a more dynamic punch going forward.
In goal, New England will hope to have a full season from 23-year-old Djordje Petrović. Signed in April of 2022, Petrović quickly established himself as one of the more talented goalkeepers in the league. In 2023, expectations are that he could compete for the Goalkeeper of the Year award, and has reportedly drawn the interest of Manchester United.
Will youth get its chance?
Over the last few years, one of the Revolution's major initiatives has been a greater investment in the club's academy and player development.
New England now has a residency program for younger players, and established Revolution II (which plays in the third tier of U.S. soccer, MLS Next Pro) to give players an additional opportunity to get experience.
The results are starting to show, with several players on the cusp of breaking into the first team.
Specifically, midfielders Jack Panayotou (from Cambridge) and Noel Buck (Arlington) could see an increase in minutes in 2023. Both have flashed ability at various points both last season and in preseason earlier this year.
The question will be if Arena decides to play them over more veteran options, though it's likely each will be given chances over the course of the season.
Tactical questions: How will they line up?
A seemingly timeless question during the Arena era in New England has been finding exactly who the team's best starting XI might be. Even in 2021 — as the team set an MLS record for points in a season — the Revolution evolved continually. Arena didn't pick the same starting lineup twice until more than halfway through the season.
In 2023, Arena could opt for a similar strategy of rotation. This could prove to be an asset: the team appears to have a level of depth and player versatility that was a hallmark of its success under Arena in previous seasons (though notably not in 2022).
Beyond specific lineup choices, Arena will have decisions to make over how he wants his team to play, and in what formation (a topic he generally bristles at discussing).
Still, the opener in Charlotte will provide a fascinating first look at his answer to that question. Will it be a three-man defense, or a back four? Will Blessing (or another midfielder) tuck into the middle alongside Polster and Gil? And when Gustavo Bou — whose 2023 preseason debut was delayed as he awaited a green card — eventually makes his return, will the veteran goal-scorer play alongside Vrioni, or will Arena elect to go with a 4-2-3-1?
As Revolution fans ponder those questions, one thing is certain: lineup options abound, and that could be a good thing for a team preparing for the long grind of an MLS season.
Newsletter Signup
Stay up to date on all the latest news from Boston.com