New England Revolution
5 takeaways from the Revolution's season-opening win
New England managed an opening week win for the first time since 2013 thanks to Henry Kessler's late goal.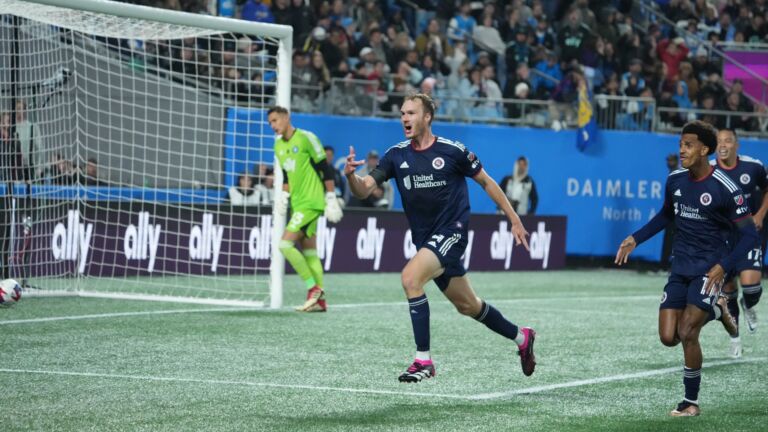 The Revolution opened the 2023 regular season on the road with a 1-0 win in front of nearly 70,000 against Charlotte FC on Saturday.
New England put together a composed game, defending solidly and creating just enough on offense to come away with three points.
Just when it appeared it might end scoreless, Revolution center back Henry Kessler latched onto an 89th minute rebound and applied a finish that any forward would've been proud of.
Here are a few takeaways:
An ideal result from an imperfect performance.
Ultimately, it's three points away from home for the Revolution. Considering New England managed just three away wins in the entirety of the 2022 season — and that it was the team's first victory in a season-opener since 2013 — appreciating the result is easy to do.
Beyond that, head coach Bruce Arena will have some notes for his team going forward, but there was also plenty to like in New England's first test of the new season.
"I thought our team had great composure for an opening game in a venue that was challenging," he said afterward.
New England's approach away from home appeared to be predicated on sitting deeper out of possession, and allowing Charlotte more space out wide. The result was a mostly straightforward defensive effort punctuated by occasional forays forward.
"We had a game-plan to try to deflate the building," Kessler said of New England's approach.
Though Kessler himself gifted the Revolution a winner, Arena will look for more from his attack in future games. Carles Gil, normally New England's attacking fulcrum, was held to a relatively quiet night by his high standards. Getting Gil on the ball more will be an aim in the home opener next Saturday against Houston.
Dave Romney and Henry Kessler were the difference.
Arriving in a trade from Nashville in the offseason, the 29-year-old Romney gave the Revolution a calm defensive presence. Charlotte's crossing and attempted chance creation inside the box frequently met its end in the form of Romney, who swept up breakaways and made timely clearances.
Given the team's periodic defensive issues in 2022 (especially when Andrew Farrell was unavailable), the addition of Romney appears to be exactly what New England needed.
Kessler featured as a right-sided center back, as opposed to his usual left side. The fourth-year defender dealt with the unfamiliar circumstances well, making important interceptions and helping deal with Charlotte's barrage of crosses.
Obviously, his contribution on the attacking end provided the difference in the game on the scoresheet, but Kessler (along with Romney) combined on defense to help stifle Charlotte's attempts, which grew in number especially in the second half.
Brandon Bye and DeJuan Jones played important attacking roles.
Not to be outdone, the outside component of the Revolution's defense also had positive impacts on the game.
Left back DeJuan Jones, who was the subject of European transfer rumors for a time in 2022, showed his ability on both sides of the ball. Jones's opportunistic run forward in the 22nd minute was found by Gil, and his shot to the far post was only denied by a quality save from Charlotte goalkeeper Pablo Sisniega.
Bye, whose cross indirectly wound up feeding Kessler's goal, also found Gil on multiple occasions in dangerous positions, including a looping cross in the 37th minute that Gil mishit on the volley.
It's been a staple of Arena's time in New England that the outside backs — usually Bye and Jones — get involved on the attack. One game into the new season, Revolution fans will be reassured to see that nothing has changed in that regard.
Dylan Borrero could become a game-changer.
Dylan Borrero arrived in New England from Brazilian club Atlético Mineiro last April, but it still feels like the 21-year-old Colombian is settling into the Revolution lineup. Injuries limited his involvement down the stretch last season, but fans got a glimpse on Saturday at why his talent could be a major factor in 2023.
"He can get a little cleaner in the final third but he was threatening from the start of the game," Arena said of Borrero.
Showing his speed and ability to dribble past defenders, Borrero will most likely become a big part of the Revolution attack in the new season if he can stay on the field.
Noel Buck showed his potential.
The 17-year-old Arlington native got the start in part due to injuries, but made much of his opportunity.
Having made his MLS debut in 2022, Buck hardly appears intimidated by the stage despite his age. On the contrary, he created several opportunities (including feeding Kessler for a chance that the defender headed off the post in the 61st minute).
He also played a small but important part in the goal, intercepting an attempted Charlotte counter that Bye then collected to begin the winning move (culminating with Kessler's finish).
Buck's mere involvement is a credit to New England's academy system, which has now graduated several promising players into the first team. Still, he's shown that he genuinely belongs in an MLS midfield, completing more passes than Gil on the night while also leading the Revolution in interceptions (with four).
Get the latest Boston sports news
Receive updates on your favorite Boston teams, straight from our newsroom to your inbox.