New England Revolution
4 takeaways from the Revolution's 3-0 home-opening win
New England has won its first two games to start the new season for the first time in club history.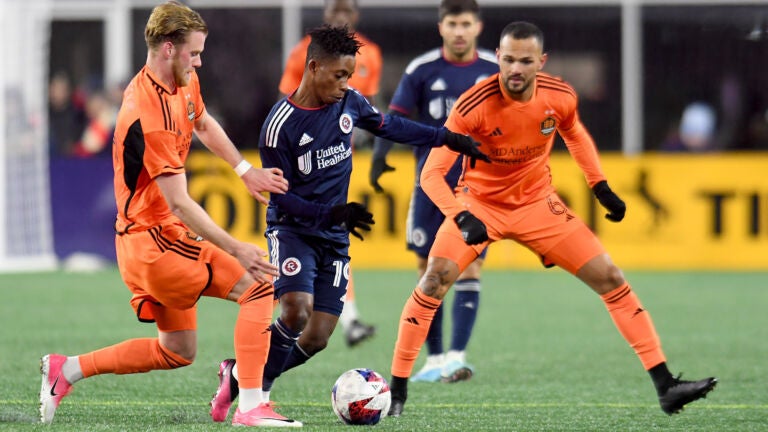 The Revolution romped to a 3-0 win against Houston Dynamo at Gillette Stadium on Saturday in the team's 2023 home opener. Dylan Borrero opened the scoring in the 42nd minute, with Bobby Wood and Brandon Bye adding two more in the second half.
Despite ominous snow forecasts in the buildup to the game — bringing back memories of the 3-2 collapse against Real Salt Lake early in the 2022 season — conditions appeared manageable throughout the night, as New England was able to have it their way most of the night and create a few passing sequences that lead directly to goals.
The win gives the Revolution a 2-0-0 start to the season for the first time in club history.
Here are a few takeaways:
Revolution found the right gear after making a first-half adjustment.
The Revolution opened the night with a pair of changes from the season-opening 1-0 win in Charlotte. Latif Blessing made his club debut starting alongside Noel Buck and Matt Polster in the midfield, and Wood replaced Giacomo Vrioni as the center forward.
New England opened the evening in a 4-1-2-1-2, with Carles Gil featuring as a classic No. 10 playmaker behind Borrero and Wood. As has been the case in the past when Bruce Arena opts for the formation, much of the Revolution's play was at a deliberate pace, passing from side to side in an attempt to free up outside backs DeJuan Jones and Brandon Bye.
After 25 minutes, and with little to show for their early possession, it appeared that New England shifted to more of a 4-3-3, with Wood occupying the lone striker spot and Borrero drifting wide left. Gil, also in search of space, shifted out to the right.
The change eventually produced results. Gil combined with Bye down the right on a give-and-go, eventually allowing the right back to drive a low cross back across goal. Wood, intelligently reading the situation, touched the ball on into the path of Borrero, who calmly placed his finish below the outstretched glove of Houston goalkeeper Steve Clark.
Dylan Borrero will continue to be a problem for MLS defenses.
In the 18th minute, Borrero received the ball on the left wing and danced past Houston left back Griffin Dorsey. Dorsey, attempting to make the tackle, was late with his challenge and chopped Borrero to the ground. It was an informative moment for how the matchup would go between the two players.
After being shown an early yellow card for his foul, Dorsey became Borrero's target for much of the game, especially after the Colombian switched to his more familiar role on the wing midway through the first half.
That he scored the first goal — which, as Houston coach Ben Olsen noted afterward, was critical in opening up the game for New England — was hardly a surprise. His movement and dribbling looked dangerous throughout the 90 minutes, and his fast-paced dribbling was a nightmare for Dynamo defenders (including his work to set up Bye's goal in the second half).
Though it's presumptuous to make too many definitive statements after just two games, it's clear that Borrero has both the skill and confidence to make a dent in MLS in 2023. If he can stay healthy (something that proved a challenge in 2022), he has a real chance to become the natural successor to Tajon Buchanan as a game-changing winger.
Latif Blessing did exactly what the Revolution needed.
Acquired in an offseason trade from defending MLS Cup champions Los Angeles FC, Blessing missed the opener recovering from an injury.
Handed a start on Saturday, he quickly reminded Revolution fans what the team may have been missing in 2022, and why New England made the deal to bring him in.
Moving seamlessly between multiple midfield roles — he dropped deep at times between the center backs, but also shuttled forward on several occasions — Blessing showed his trademark quickness and aggression.
One issue the Revolution had a year ago was in creating ball pressure against teams in the midfield. Too often, New England was unable to really alter or redirect an opponent's passing movement. Blessing can help solve that.
Involved in 14 duels (winning more than half), Blessing also led the Revolution in tackles (with three). His energy and spatial awareness make him a good partner with Polster and Gil (as well as Noel Buck, who made another start in center midfield).
"I thought he was excellent," Arena said of Blessing. "There are a dozen plays he made in that game that just go unnoticed and that's the reason we got him, for those little plays that he makes during the game that I think we miss. We've missed in the last couple of years, actually. His quickness and anticipation in the midfield are a real positive."
Bobby Wood stated his case.
Arena's decision to drop Vrioni for Wood may have drawn some raised eyebrows prior to kickoff, but the 30-year-old's performance on Saturday vindicated his coach.
Having been saddled by injury problems over the past few seasons, Wood — who's represented the United States national team 45 times in his career — remains a quality player when healthy. He showed his ability in both subtle and obvious ways on Saturday.
His role in the opening goal was only appreciated on the replay, as it became clear that he made the near-post run, but diligently laying the ball off for Borrero to run onto it.
His role in scoring the second goal was a little more straightforward, yet his back post run again showed his intelligence in finding space.
New England has multiple Designated Players at the forward position (Vrioni and Gustavo Bou), plus another longtime national player in Jozy Altidore. Getting consistent minutes is far from guaranteed for Wood, but he's looked the part as both a substitute in the opening game and starting against Houston.
Get the latest Boston sports news
Receive updates on your favorite Boston teams, straight from our newsroom to your inbox.