New England Revolution
4 takeaways from the Revolution's lopsided loss against LAFC
New England's 4-0 loss in Los Angeles offered some harsh lessons.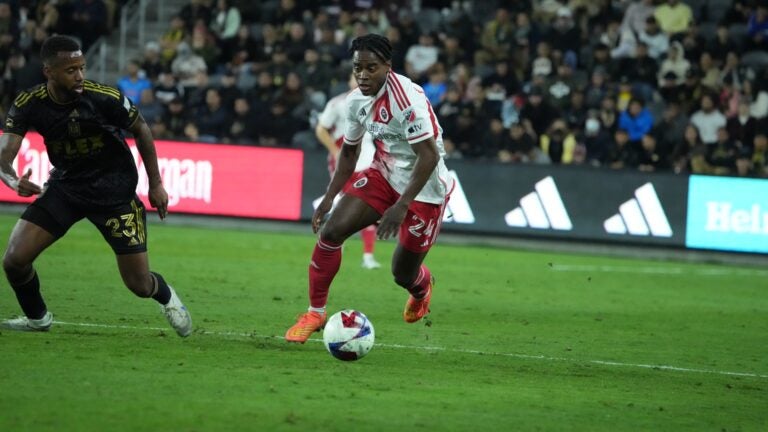 The Revolution were routed by Los Angeles FC 4-0 on Sunday night. A game that was close — at least in scoreline — for the first hour quickly fell apart in the latter stages of the second half as New England unsuccessfully tried to push numbers forward.
The defeat, the Revolution's first of the 2023 season after starting the year 2-0-0, offers a stark reminder of how big a gap currently remains between Bruce Arena's side and the best in MLS.
After forward Gustavo Bou's poorly-timed 14th-minute foul gave away a penalty kick (which Los Angeles forward Denis Bouanga promptly converted to give the home team a 1-0 lead), New England chased the game with increasing desperation. Additional goals (all arriving after the 67th minute) added an exclamation point to a difficult night for the Revolution.
Here are the highlights and a few takeaways:
New England must learn from mistakes after failing an early season test.
Back-to-back wins to open the season was a club first, and it shouldn't be understated as a legitimate accomplishment. Still, the opening victories came against two teams (Charlotte and Houston) that respectively sit at the bottom of both MLS conferences.
Playing LAFC (in Los Angeles) was inevitably a major step up in competition. While the home team trotted out a Starting XI that lacked some of its regular key players (due to midweek CONCACAF Champions League games), the Revolution were also below full-strength. Team captain Carles Gil started on the bench due to what the club described as a "muscle strain."
In certain respects, New England battled admirably, holding possession for extended periods to try and settle the game down in a difficult road-game atmosphere. The midfield trio of Latif Blessing, Matt Polster, and Noel Buck once again offered a high-energy shift.
But Los Angeles gave New England a lesson in what will happen if the team is both sloppy in possession and unable to create through the middle.
Time and again — most notably Timothy Tillman's 83rd-minute goal, which resulted from a Blessing mistake in his own half — effective Los Angeles pressing produced turnovers that led directly to scoring opportunities.
On the flip side, the Revolution proved utterly unable to reciprocate the midfield pressing. While plenty of conversation can be had about both New England's defense and attack, the game was decided in a midfield clash in which Arena's team came off second best.
In a sense, everything that the Revolution midfield did well against Charlotte was done to them by LAFC on Sunday.
An up and down night for DeJuan Jones.
With attacks through the middle proving to be a dead end, New England inevitably fell into a familiar strategy of getting outside backs DeJuan Jones and Brandon Bye involved going forward.
Jones, New England's ever-present left back, was the team's most-involved player. His 106 touches led the Revolution, as he frequently found space out wide from Los Angeles's compact center midfield.
Yet while he continues to look comfortable in possession, frequently charging into the opposition's half, he had trouble defensively.
In part, it was more of a tactical issue that resulted from New England committing to a more aggressive approach to try and find an equalizer. Jones and Bye, as energetic and quick as they are, cannot be in two places at once. Los Angeles intelligently exploited counter-attack situations when the duo were caught upfield.
But Jones was also at fault for Bouanga's second goal, when he was caught out of position and boxed out. He remains one of the team's most talented and important players but still has room to grow to become a more dominant all-around left back.
The attack created virtually nothing.
Bou, making his 2023 debut after a delayed start to the preseason while he waited to get his green card, was deployed as a No. 10 playmaker behind Dylan Borrero and Bobby Wood in Gil's absence.
It was always going to be a tough ask to fill in for Gil, New England's usual attacking fulcrum. And perhaps not surprisingly, the Argentine forward struggled to connect with teammates (completing a team-low 64.3 percent of his passes).
After Wood managed a shot on goal in the 22nd minute, the Revolution did not find the target for the rest of the game. In the end, LAFC managed 12 shots on goal against just one for Arena's team. It's a lopsided statistic that (along with the disparity in xG) effectively summarizes what devolved into a one-sided matchup.
Gil came on in the second half and despite quickly compiling nearly as many touches on the ball (30) as Bou had (31) in double the time, he was unable to change the game significantly.
A greater concern for New England going forward will be the status of Gil, who entered the game in the 63rd minute only to leave it in stoppage time after appearing to develop (or possibly re-aggravate) a muscle injury. As the team's utter lack of chance-creation against Los Angeles showed, his presence in the lineup remains virtually indispensable.
Asked if Gil would be available against Nashville SC on March 18, Arena said after the game that he wasn't sure "at this point."
Djordje Petrovic somehow looked great even while giving up four goals.
One of the definitive silver linings from the otherwise forgettable performance on Sunday was the play of New England's 23-year-old goalkeeper.
Though he probably wishes he could have a second chance at Bouanga's second goal, he was certainly not to blame for the circumstances leading up to it (with the Los Angeles forward out-maneuvering Jones into a breakaway).
And had it not been for Petrovic's consistent saves, especially as the game deteriorated for New England in the second half, the scoreline would've become far more lopsided.
While it feels almost impossible to credit a goalkeeper amid a 4-0 defeat, Petrovic's ability somehow still shined through. Anyone who watched the full 90 minutes would have little doubt that he came away as the Revolution's man of the match.
Newsletter Signup
Stay up to date on all the latest news from Boston.com