New England Revolution
3 takeaways from the Revolution's win over Nashville
A formation switch paid off for Bruce Arena's team in a difficult home matchup.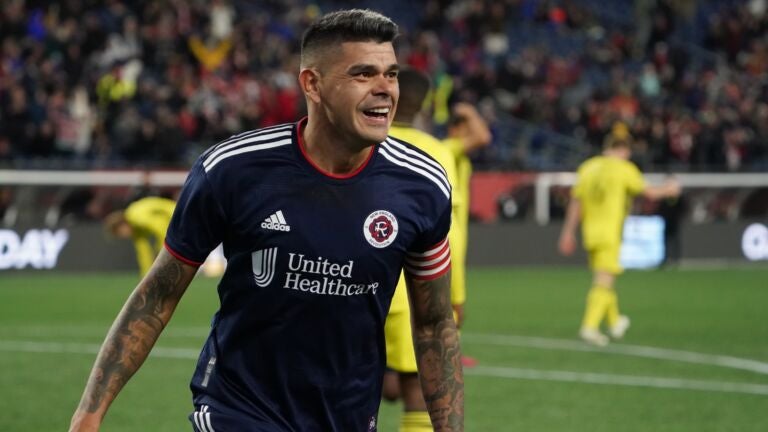 The Revolution emerged with a 1-0 win over Nashville SC on Saturday night at Gillette Stadium. New England is now 3-0-1, and sits second in the Eastern Conference.
Following last week's debacle against Los Angeles FC, the Revolution bounced back with an effective, hard-fought three points against an organized opponent.
The difference in the game came from a rocketed near-post finish scored by forward Gustavo Bou:
Here are a few takeaways:
A formation switch (mostly) worked.
Though Bruce Arena has generally dismissed discussion of formations, his tactical tweak — opting for a more traditional 4-4-2 over the previously preferred 4-1-2-1-2 diamond — helped to deliver the win.
New England deployed Gustavo Bou in more of his favored position as an outright forward (as opposed to an attacking midfielder). With Carles Gil out, Bou still appeared to take an interest in helping connect the Revolution's buildup play, dropping off to receive the ball in the channel and, in turn, spraying passes mostly toward right back Brandon Bye to help create width.
Yet his general positioning was more advanced than in the loss against Los Angeles, and he seemed more in rhythm. That he scored the game's lone goal appeared to be a natural extension of his overall quality performance.
"In the last game in Los Angeles, I didn't play a position that my characteristics are known for," Bou explained afterward. "I tried to do my best for the team in the place that Carles usually occupies. The coaches were confident in me. Personally, I didn't feel good. I didn't feel like I was great for the team, but my mentality was to give it my best for the coaches and for my teammates. I tried to do what I do best and tonight I felt more comfortable."
Noel Buck, used in previous games as part of a center midfield trio, was pushed outside as a wide right midfielder. While this tactic left New England slightly more exposed in the middle of the field (with 2022 MLS MVP Hany Mukhtar finding a few pockets of space to fire shots from distance), it also helped the Revolution exploit wide areas in attack more consistently.
Arena is still finding out who his best starting lineup can be, and how best to utilize those players, but in the circumstances (missing Gil, his regular captain), the New England coach coaxed a productive result with a formation shift.
The final 15 minutes didn't need to be such a struggle.
Despite limiting Nashville's attacking capabilities for much of the night, the game's final period proved to be a struggle for New England.
Clinging with increasing desperation to a one-goal lead, the Revolution proved unable to take the sting out of the game by simply holding the ball. Gil's absence was most glaring in the latter portion of the night as Nashville was gifted a larger share of possession.
"For 75 minutes, it was real good. I didn't like the last 10 to 15 minutes," Arena said following the game. "But overall, a good performance against a good team."
"We were a little bit too negative in the way we played," Arena added later when asked what he didn't like about the final period of the game. "We weren't as well organized as we needed to be across our backline."
A third shutout in four games.
Despite the frantic nature of the final 15 minutes, New England was able to hold on and keep the clean sheet.
The efficiency of the defense shouldn't be underestimated. No team dropped more points in the final 15 minutes of games in 2022 than the Revolution, so the simple act of preserving a shutout is an objective improvement for Arena's team so far in 2023.
As much credit as the Revolution back line has earned, including goalkeeper Djordje Petrović, the improvement defensively has happened also partly thanks to midfielders Latif Blessing and Matt Polster.
Polster's hustle and no-nonsense defending helped cut out Nashville's attempted counter-attacks, while Blessing's energy and quick distribution helped keep New England on the front foot. The duo's work rate also allowed the Revolution to get away with the switch to 4-4-2 (and being occasionally outnumbered in the middle of the field).
Nashville's most consistent (and dangerous) threat for most of the game came from set pieces. Center back Walker Zimmerman nearly found an equalizer from headers on corner kicks, and Arena will undoubtedly looked to improve how his team defends those situations.
Newsletter Signup
Stay up to date on all the latest news from Boston.com