New England Revolution
4 takeaways from the Revolution's 4-0 win over Montreal
Dylan Borrero's well-placed curling goal highlighted a dominant win for New England.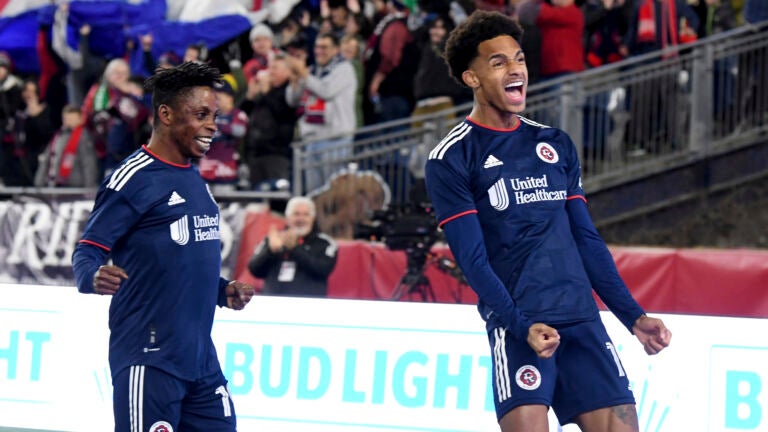 The Revolution cruised to an easy 4-0 win over a backpedaling CF Montreal at Gillette Stadium on Saturday night. It was a confident performance from New England in a game in which they were rarely challenged.
Dylan Borrero opened the scoring for the Revolution in the 21st minute with one of the best goals of the season, curling his shot into the upper far corner of the net. Carles Gil doubled the lead from the penalty spot just before halftime.
In the second half, Bobby Wood pounced on a loose ball, patiently maneuvering his way into position before applying the finish for a third goal, and Giacomo Vrioni — on for Wood as a substitute — combined an impressive individual run with a quality finish for his first goal of 2023.
Here are a few takeaways:
Borrero, Blessing, and Polster return to the starting lineup
Due to both injuries and the international call-ups, Bruce Arena's lineup was forced to change over the past several weeks.
But with Borrero, Latif Blessing, and Matt Polster all back in the Starting XI, Arena was able to shift towards a 4-3-3 (as opposed to the variations of 4-4-2 used against D.C United and New York City FC).
Gustavo Bou and Borrero played on either side of Wood, with Polster and Blessing combining with Gil in midfield. Given Montreal's commitment to a three-back system, New England's shift to a more aggressive setup meant that Borrero and Bou found space.
Though Montreal tried to press the Revolution midfield for a large portion of the first half, the visitors were unable to consistently generate chances on offense (creating essentially their best opportunity in the opening minute, with little after that).
In possession for most of the game, and playing a system that allowed for their best players to frequently get on the ball in the final third, the Revolution established a lead on Borrero's brilliant opener and never looked back.
Set piece routines pay off
Set pieces were an area of strength for the Revolution on Saturday, reversing a mini-trend from early in the season (when defending set pieces has proven difficult at times).
Whether it was a particular emphasis or just good player awareness from the likes of Gil and Bou, New England worked a variety of quick and clever routines.
After creating a few early openings (including a deflected Dave Romney header that eventually hit against the post), it was a short corner that put Borrero in position to hit his highlight strike. Bou and Gil combined before the Argentine slid the ball to his fellow South American, who netted his second goal of the year.
Latif Blessing once again showed what he can do
After missing the last two weeks with an injury, the 26-year-old Blessing jumped right back into the lineup with characteristic energy.
Playing effectively alongside Polster in center midfield, Blessing again showed an impressive ability to be as active defensively as he was when New England had possession.
The highlight of these combined efforts happened at the end of the first half, when he jumped in to reclaim possession at the top of the Montreal box. Surging toward goal, he found Wood with a pass to the forward's feet (and his ensuing shot drew the penalty kick after it struck Gabriele Corbo's hand).
Giacomo Vrioni gets his goal
With the scoreline at 3-0 by the time he came into the game, Vrioni wasn't exactly playing critical minutes, but it was yet another opportunity for the Albanian international player.
Clearly set behind Wood and Bou in New England's current depth chart at forward (which also includes Jozy Altidore and Justin Rennicks), Vrioni needed to find the net.
In the end, what he accomplished was inconsequential regarding the actual outcome of the game (which, by that point, was long since decided). Yet Vrioni's turn-and-run followed by an emphatic finish in the 86th minute showed two things.
First, it was a display of Vrioni's potential. He took the ball down from Djordje Petrović's goal kick with skill, settling it off his shoulder and immediately sprinting towards goal. When an errant touch appeared to take him wide, he unleashed a powerful shot beyond the reach of Montreal goalkeeper Jonathan Sirois. It was a goal that exemplified the talent New England saw in Vrioni before signing him from Juventus a year ago.
Second, it was a timely reminder that, when everyone's healthy, New England possesses a plethora of capable strikers. Wood has been the early-season starter — and certainly did little to hurt his place in the team by scoring — but Vrioni helped his case to get another chance soon.
Newsletter Signup
Stay up to date on all the latest news from Boston.com