New England Revolution
5 takeaways from the Revolution's 1-1 draw against the Columbus Crew
New England played well away from home, but couldn't quite hang on for the full three points.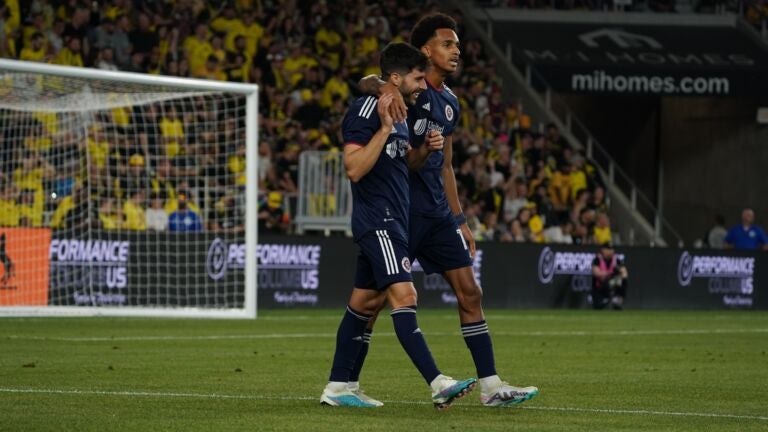 The Revolution emerged with a 1-1 draw against the Columbus Crew in a difficult road test on Saturday. Though a point away from home against a fellow Eastern Conference contender would normally be seen as a quality result, the circumstances — in which the Crew found an equalizer on practically the last kick (or header) of the game — meant New England may have left the field feeling slightly disappointed.
The Revolution looked to be the better team through most of the opening hour, taking a 1-0 lead on an own goal after Dylan Borrero's cross was accidentally swatted in by Crew center back Miloš Degenek.
Yet Borrero was also responsible for a pair of yellow cards which saw New England reduced to ten players over the last half hour. This changed the dynamic in the game, and though it took until almost the very end, Columbus eventually found an equalizer.
Revolution head coach Bruce Arena (as well as several New England players) protested at the amount of stoppage time that had been given following the final whistle, but it only resulted in Arena also being shown a yellow card.
Here are a few takeaways:
Everything went to plan for a little over an hour.
Facing a Columbus team that has dominated possession through early games in 2023 (particularly when at home), the pregame expectation was that New England would spend most of the night without the ball.
Instead, the Revolution found ways of dealing with the Crew's attempts to use a defensive press. The simplest and sometimes most effective route proved to be long balls in Giacomo Vrioni's direction. Vrioni, making his first start since the season opener in Charlotte, made the most of the passes sent his way. His hold-up play was effective, and he made intelligent runs to give New England an outlet.
In addition, the midfield trio of Carles Gil, Latif Blessing, and Matt Polster proved effective in both navigating pressure and limiting Crew playmaker Lucas Zelarayán.
The result was that the visitors held a majority of the possession by halftime, and had created the better chances.
In the second half, continued pressure eventually made the difference for the Revolution.
The goal came at the end of a satisfying sequence for New England. Center back Andrew Farrell — making his first start of the season — recovered possession, quickly finding Blessing in center midfield. Blessing turned and find Gil on the left, who quickly played Borrero in. From there, the Colombian winger showed his speed, and his cross caught Degenek wrong-footed, resulting in the own goal.
Dylan Borrero gives and takes.
As good as he has been for much of 2023, Borrero had a somewhat difficult night that ended early after he was issued a second yellow card shortly after the hour mark.
And yet, Borrero was essentially responsible for New England's goal, showcasing his importance to the team even on an otherwise forgettable performance.
Both yellow cards were avoidable mistakes. The first was given in the 56th after he argued a little too vociferously about a goal kick that he thought should've been a corner. The second was clearly a poorly-timed tackle. Given that it came on the sideline in the Crew's own half of the field, it was also an entirely unnecessary challenge to have even made considering that it altered the game.
The 21-year-old Borrero possesses immense ability, and he's starting to tap into that so far this season with the Revolution. He will undoubtedly learn from what happened.
Unfortunately for New England, the short-term consequence of Borrero's sending-off was that possession flowed increasingly downhill towards Djordje Petrović's goal, culminating with the costly equalizer.
Djordje Petrović showed again why he is elite.
Aside from an unstoppable tying goal that the Crew found at the very end, Petrović played an almost flawless game.
On top of calmly dealing with Columbus trying to pressure New England in possession, Petrović also showed that he can boom accurate long balls to Vrioni. It's a tactic that might not be the prettiest, but seems to be effective when those two players can connect.
And in terms of shot-stopping, Petrović parried what looked like a certain goal in the 80th minute, when Columbus' Alexandru Mățan cut back in the box and fired a shot that looked destined for the net at the far post.
Instead, the New England goalkeeper made a full-extension save, and held a follow-up shot to prevent any chance at a rebound. His night may not have ended with a clean sheet, but Petrović played very well yet again.
Giacomo Vrioni played well despite not scoring.
Whether it was deft hold-up play (which included winning multiple set pieces to help relieve Crew pressure) or showing strength against opposing center backs, Vrioni did almost everything that was asked of him in a difficult away game.
The one statistic he couldn't find a way to contribute in was scoring a goal. He came as close as possible, hitting the crossbar with an attempted chip in the first half, and recording a few other shots.
After scoring an impressive (if somewhat meaningless) goal at the end of last week's 4-0 win over Montreal, Bruce Arena gave Vrioni a start when both Gustavo Bou and Bobby Wood were ruled out due to injury.
Vrioni, goal or no goal, showed he can be a valuable contributor in what was a tough game for the Revolution.
Dave Romney continues to excel.
As has been the case since arriving in New England, center back Dave Romney has been steady and dependable. Along with Farrell, he anchored the Revolution back line.
Romney blocked four shots and recorded a team-high 11 clearances. More than any defensive statistic, he helped New England keep organized and focused even as Columbus pressed.
While "Designated Players" are often the flashy Major League Soccer acquisitions, the case of Romney — acquired in a January trade that involved General Allocation Money — shows how much of an impact a more regular roster addition can make.
Get the latest Boston sports news
Receive updates on your favorite Boston teams, straight from our newsroom to your inbox.