New England Revolution
3 takeaways from the Revolution's 2-1 win over Sporting Kansas City
New England sits atop the Eastern Conference and remains unbeaten at home in 2023, but Bruce Arena was unimpressed with his team's second half performance.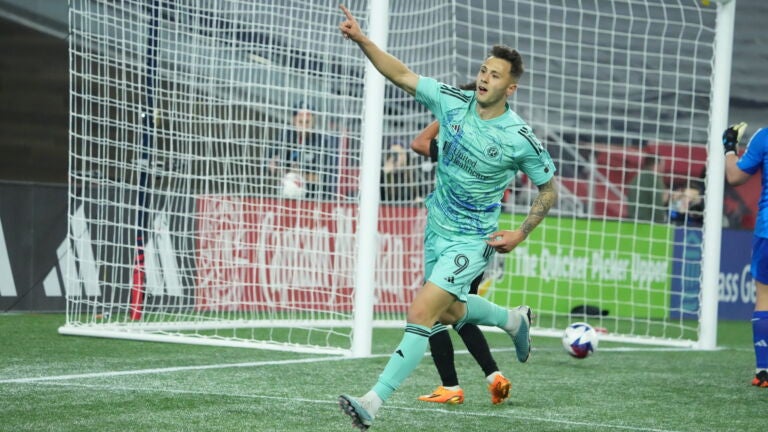 The Revolution defeated Sporting Kansas City 2-1 on Saturday night, extending the team's home unbeaten run (4-0-1) to open the 2023 season. Two goals from New England forward Giacomo Vrioni proved to be the difference, though it was a tale of two halves in Bruce Arena's mind.
"Good first half. Crappy second half," Arena summarized after the game, adding characteristic color. The New England head coach thought his team had "played very poorly in the second half," but was happy to take the three points anyway.
The final 45 minutes proved to be an anxious occasion, as a 50th minute goal from Kansas City winger Johnny Russell made it a one-goal game. From that point on — even when presented with a numerical advantage following Sporting defender Andreu Fontas's 61st minute red card — it was a struggle for the Revolution. But in the end, Arena's team held on for the expected win.
Here are a few takeaways from a night when the Revolution managed a win without a full team:
The squad depth delivered
Due to a variety of factors, including a plethora of early season injuries, New England could only name a squad of 18 players on Saturday (league rules allow for up to 20). It was a clear test of the team's depth.
In previous years of Arena's tenure, missing key players at all three levels — defense, midfield, and attack — would've severely limited the Revolution. The early season evidence has offered glimpses that the team in 2023 might possess a greater level of cover among bench options.
Facing a winless Kansas City team, New England was without Henry Kessler (now out for four months following surgery due to a hamstring injury), DeJuan Jones, Gustavo Bou, and Bobby Wood due to injury.
Midfielder Latif Blessing was unavailable as he is helping his family complete visa paperwork to move from Ghana to Boston (Arena said after the game that he expects Blessing will be back on Monday). And Dylan Borrero, sent off a week ago in the draw against Columbus, sat out with his one-match ban.
Among those who stepped in were Andrew Farrell at center back, Christian Makoun at left back, Noel Buck in center midfield, Emmanuel Boateng at left wing, and Vrioni (for the second week in a row) at striker.
Boateng and Vrioni were integral, combining with Revolution captain Carles Gil to form the team's most dangerous moves. On several occasions in the first half, Gil sprang Boateng down the left, and his crosses came close to finding Vrioni in the box.
When that same pattern resulted in the 31st minute opening goal, it was hardly a surprise:
The second goal was similar, with Gil and Boateng combining before Vrioni eventually put the rebound of Gil's shot into the back of the net.
Another good night for Vrioni
After being relegated to the bench for weeks, Vrioni has reemerged and begun to find his MLS form. The Albanian international has three goals in his last two home games, and was exactly what the Revolution needed to take care of business against a struggling opponent.
"He's a really hard worker and we've been working a lot on trying to get our timing and everything," Boateng said after the game regarding Vrioni. He was impressed with the forward's near post run on the opening goal.
"It was perfect. When I got through, I knew he was going to do something so I was just waiting for him to make his run. Brilliant first run [to the] back post to get the defender to think he is going to go back post and then come back in," said Boateng. "I just had to find him, and I know he has the quality to finish it."
Arena faces a generally good problem when all of his forwards are healthy. Does he play Vrioni, Wood, Bou, or some combination of that group? Add in fellow forwards Justin Rennicks (who found the field on Saturday, once again displaying his high work rate), and Jozy Altidore (who was also out with an injury), and Arena will have decisions to make if the group is ever 100 percent fit.
Yet until that day actually arrives, New England can have confidence that in Vrioni — the team's third Designated Player — they have at least one genuine goal-scorer up front.
Second half struggles
In a mirror of the game a week ago, it was New England who went up a player in the second half. Just as Borrero was sent off shortly after the hour mark in Columbus, it was Fontas who was dismissed in the 61st minute (having drawn a second yellow for preventing a Vrioni goal-scoring opportunity).
Yet instead of taking advantage of the situation, the Revolution regressed. Sloppy passing, defensive miscues, and poor finishing resulted in a nervous final period, in which New England goalkeeper Djordje Petrović made multiple timely saves.
"We had a great first half as a team and we're not happy with the way we ended the game," said Boateng. "Being up a man and still looking like we're going to give up chances wasn't the way we wanted to end it. So we're happy we got the three points but [it] could have been a better second half."
Arena forced himself to take the long view, but couldn't avoid his frustration.
"They've done a good job to date, but we can't walk off the field tonight feeling good about that performance," he bluntly explained.
The Revolution now sits tied atop the Eastern Conference, equal with Cincinnati at 20 points (6-2-1). The two teams will meet next week (April 29) at Gillette Stadium in what will be an early-season showdown.
Newsletter Signup
Stay up to date on all the latest news from Boston.com